Podcast: Play in new window | Download
Subscribe: RSS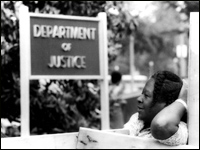 What a stunning idea – that swaths of economically disadvantaged people would join together, across racial lines, and create a community to fight the problems and injustices they shared.
In 1968, while on assignment from Life Magazine, photographer Robert Houston captured images of America's poor living in the tent village of Resurrection City, on the National Mall. His work is currently being exhibited in the James E. Lewis Museum of Art at Morgan State University.
Robert Houston, along with Lenneal Henderson, a Professor at the University of Baltimore and Douglas Sands, a pastor at the Simpson-Hamline United Methodist Church in Washington DC, will join Marc to discuss the 1968 Poor People's Campaign. What was it like to be involved in this movement? What can it teach us today? Learn more about the exhibit by clicking here.
Be sure to check out our ongoing five part series for the Maryland Humanities Council, They Fought Too: Remembering Maryland's Civil Rights Pioneers. These pieces offer a glimpse into the lives and minds of four Maryland Civil Rights heroes. We've been playing the series during our live broadcasts; you can find the segments here along with additional interviews and links.