Podcast: Play in new window | Download
Subscribe: RSS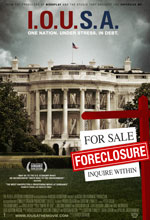 Has the economic turmoil of late piqued your interest in all things financial?  Still trying to make sense of it all?  This hour is for you, we took a look at the new book and documentary film I.O.U.S.A., which attempts to demistify the nation's financial practices and policies.  We were joined by the co-authors of the book, Addison Wiggin and Kate Incontrera.
Also joining us for part of the discussion were Robert Bixby, Executive Director of The Concord Coalition, Dean Baker, Co-Director of the Center on Economics and Policy Research and Stephen Shore, assistant professor of economics at Johns Hopkins University.
I.O.U.S.A. is currently playing at The Charles Theater in Baltimore.  Check their website for movie times.