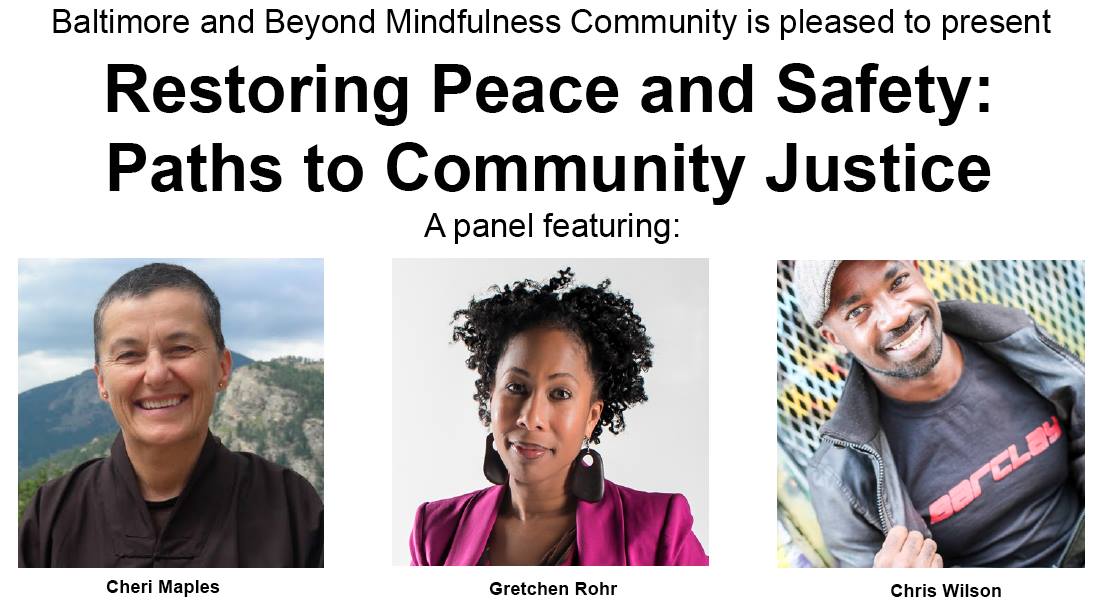 Podcast: Play in new window | Download
Subscribe: RSS
August 23, 2016 – Segment 3 
We have a fascinating discussion on Mindfulness and Criminal Justice. With: Dr. Marisela Gomez, physician, community activist and author of Race, Class, Power, and Organizing in East Baltimore: Rebuilding Abandoned Communities in America; and Chris Wilson, motivational speaker, former prisoner, owner and founder of the Barclay Investment Corporation, and owner of House of DaVinci (a high-end furniture restoration, repair, and upholstery company).
Chris Wilson will be speaking on a panel at Restoring Peace and Safety: Paths to Community Justice, on Wednesday, August 24, 6:30pm, at St. Wenceslaus Hall, 2100 E. Madison Street in Baltimore.
This public event will bring Cheri Maples of the Center for Mindfulness and Justice and DC Superior Court Judge Gretchen Rohr to Baltimore to discuss mindfulness and its potential impact on transforming the criminal justice system. Baltimore resident Chris Wilson will also be a panelist.  Representatives of the Holistic Life Foundation will lead the group in a breathing exercise at the beginning and/or midpoint of the discussion.  Two local groups, Out4Justice and Black Womyn Rising are co-sponsors and will offer comments and perspectives from the audience.  Street parking is available and there is a parking lot behind the building open as well.