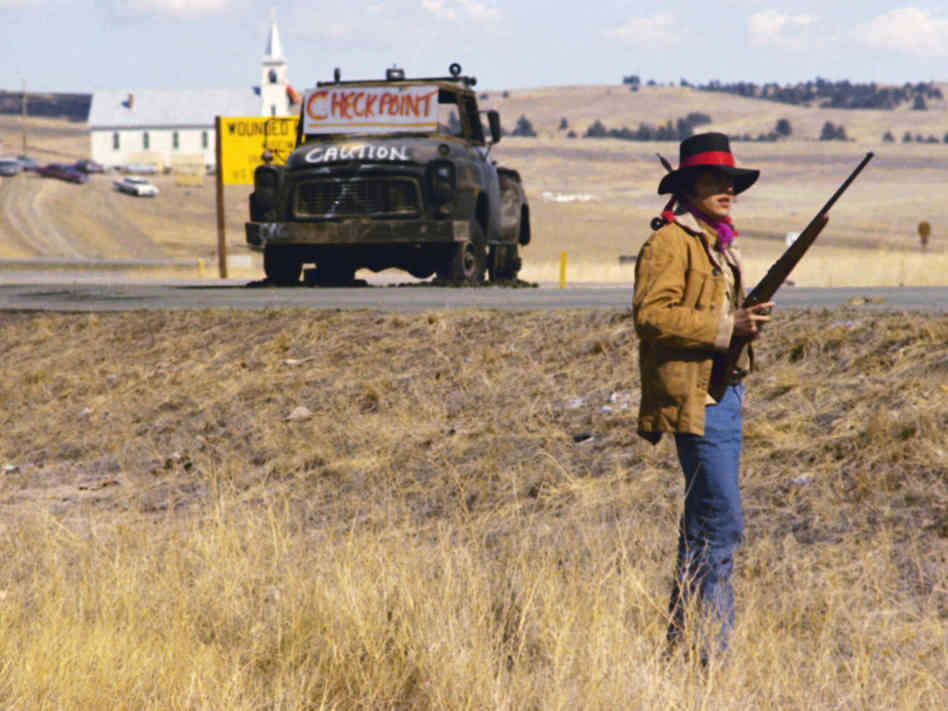 Podcast: Play in new window | Download
Subscribe: RSS
May 8, 2014 – Segment 1
Marc shares some of the events that happened on this day in history, including the end of the 1973 American Indian Movement occupation of Wounded Knee on the Pine Ridge Reservation in South Dakota, Joan of Arc leading French troops in the siege of Orleans, and the founding of the Brotherhood of Sleeping Car Porters, the trailblazing black labor union, by A. Philip Randolph.
On this day in history:        
1429: Joan of Arc led French troops in the siege of Orleans
1725: In one of the last battles of Lovewell's or Father Rasle's War, Pigwacket Indians defeat a British army under Captain John Lovewell at Fryeburg, Maine.
1886 – Pharmacist John Pemberton first sells a carbonated beverage named "Coca-Cola" as a patent medicine.
1914: President Woodrow Wilson declares Mother's Day a national holiday in the U.S.
1925 – The Brotherhood of Sleeping Car Porters, the trailblazing black labor union, was organized by A. Philip Randolph.
1933 – Mohandas Gandhi begins a 21-day fast in protest against the British rule in India.
1939: Calls for peace continue with Europe on the brink of war including Pope Pius XII who asks the nations involved to try to come to a peaceful settlement , Currently Britain is worried as if the Soviets and Nazis do make a pact to join forces, war could be that much closer and will involve all the countries in Europe.
1941: Anita O'Day recorded "Let Me Off Uptown" with Gene Krupa and his band. O'Day was one of the more prominent jazz singers of her day and has often been compared to greats like Billie Holiday, Sarah Vaughn and Ella Fitzgerald.
1945: President Truman and Prime minister Churchill declared victory in Europe today, celebrating the defeat of Nazi Germany . Following the announcement huge crowds, many dressed in red, white and blue, gathered outside Buckingham Palace in London and were cheered as the King, Queen and two Princesses came out onto the balcony.
1967:  Following the publication of his book "unsafe at any speed" Published in 1965 which highlights the Chevrolet Corvair as an unsafe and unreliable example of automobiles offered to American Consumers. Ralph Nader is part of a symposium on "Automobile Crash Injuries" at the Upstate Medical Center as part of the pressure on the government and the automobile industry to improve safety in cars.
1970:  About 200 construction workers in New York City attack a crowd of Vietnam war protesters four days after the Kent State killings. More than 70 people were injured, including four police officers. Peter Brennan, head of the New York building trades, was honored at the Nixon White House two weeks later, eventually named Secretary of Labor.
1973:  Battle Of Wounded Knee Ends.  After more than two months when 120 armed members of the American Indian Movement and their supporters who had seized the old town of Wounded Knee on the Pine Ridge Reservation in South Dakota lay down their arms and surrendered the town to wary Federal officials.
1980 – The eradication of smallpox is endorsed by the World Health Organization.
1984 – The Soviet Union announces that it will boycott the 1984 Summer Olympics in Los Angeles.
2006: The Iranian President Ahmadinejad sent a lengthy letter to United States President Bush, the first time such a move had been made in twenty-seven years. According to US Secretary of State Condoleeza Rice, the letter covered such topics as history and philosophy, but did not make any comment or diplomatic address to the nuclear concerns and conflicts the two nations had been facing.
Born on this day in history:           
1828 – Henry Dunant, Swiss businessman and activist, co-founded the Red Cross, Nobel Prize laureate (d. 1910)
1858 – John Brown held antislavery convention, which was attended by twelve whites and thirty-four Blacks, at Chatham, Canada. The Escape, first play by an American Black, Published by William Wells Brown.
1884 – Harry S. Truman, American colonel and politician, 33rd President of the United States (d. 1972)
1899 – Friedrich Hayek, Austrian-English economist and philosopher, Nobel Prize laureate (d. 1992)
1910 – Mary Lou Williams, American pianist and composer (d. 1981)
1911: Born on this day, Robert Johnson, blues singer, guitarist. Influenced Muddy Waters, Elmore James, Eric Clapton, (Cream covered 'Crossroads) The Rolling Stones, ('Love In Vain'). Johnson died on 16th August 1938.
1926 – Don Rickles, American comedian and actor
1928 – Ted Sorensen, American lawyer, 8th White House Counsel (d. 2010)
1932 – Heavyweight boxer Charles "Sonny" Liston born in St. Francis, County, Arkansas. Liston had 54 fights, including a 1962 bout in which he knocked out Floyd Patterson to win the World Heavyweight Title.
1940 – Peter Benchley, American author and screenwriter (d. 2006)
1951 – Philip Bailey, American singer-songwriter, drummer, and actor (Earth, Wind & Fire)
1953 – Alex Van Halen, Dutch-American drummer (Van Halen)
1964 – Melissa Gilbert, American actress and director
On this day in history, we lost:
1873 – John Stuart Mill, English economist and civil servant (b. 1806)
1891 – Helena Blavatsky, Russian author (b. 1831)
1915 – Death of Henry McNeal Turner (82), first Black chaplain in the U.S. Army and AME bishop.
1955: Maud Wood Park died (suffragist)
1967 – LaVerne Andrews, American singer (The Andrews Sisters) (b. 1911)
1984 – Lila Bell Wallace, American publisher, co-founded Reader's Digest (b. 1890)
2012:  American author of famed children's book "Where the While Things Are" Maurice Sendak died at the age of eighty-three after having complications due to a stroke. The author and illustrator had written numerous books and won many awards including the Caldecott Medal and the Hans Christian Andersen medal for illustration.