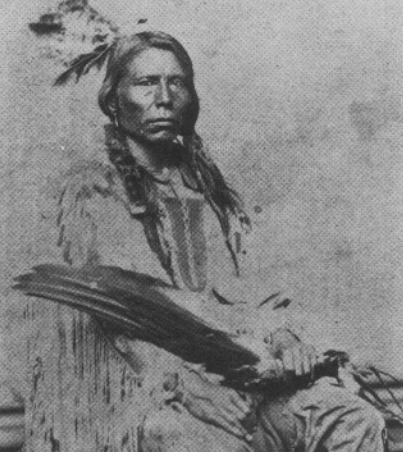 Podcast: Play in new window | Download
Subscribe: RSS
May 6, 2014 – Segment 1
Marc talks about what happened on this day in history, including the day Chief Crazy Horse of the Oglala Sioux surrendered to U.S. troops in Nebraska, the day President Eisenhower signed Civil Rights Act of 1960, and the day American author and philosopher Henry David Thoreau died.
EVENTS
1861 – Arkansas secedes from the Union.
1877 – Chief Crazy Horse of the Oglala Sioux surrenders to United States troops in Nebraska.
1882 – The United States Congress passes the Chinese Exclusion Act.
1916 – 21 Lebanese nationalists executed in the Martyrs' Square, Beirut by Jamal Pasha, the Ottoman wāli.
1935 – New Deal: Executive Order 7034 creates the Works Progress Administration.
1940 – John Steinbeck is awarded the Pulitzer Prize for his novel The Grapes of Wrath.
1945 – World War II: Axis Sally delivers her last propaganda broadcast to Allied troops.
1945 – World War II: The Prague Offensive, the last major battle of the Eastern Front, begins.
1949 – EDSAC, the first practical electronic digital stored-program computer, runs its first operation.
1954 – Roger Bannister becomes the first person to run the mile in under four minutes.
1960 – President Eisenhower signed Civil Rights Act of 1960.
1965 – In their Clearwater, Florida hotel room, Mick Jagger and Keith Richards worked out the opening guitar riff of 'Satisfaction', following Richard's purchase of a Gibson fuzz-box earlier that day.
1967 – Four hundred students seized administration building at Cheyney State College.
1981 – A jury of architects and sculptors unanimously selects Maya Ying Lin's design for the Vietnam Veterans Memorial from 1,421 other entries.
1994 – Former Arkansas state worker Paula Jones files a lawsuit against President Bill Clinton, alleging that he had sexually harassed her in 1991.
1996 – The body of former CIA director William Colby is found washed up on a riverbank in southern Maryland, eight days after he disappeared.
1999 – The first elections to the devolved Scottish Parliament and Welsh Assembly are held.
2001 – Destiny's Child started a two-week run at No.1 on the UK album charts with 'Survivor'.
2001 – During a trip to Syria, Pope John Paul II becomes the first pope to enter a mosque.
2003 – After the controversy regading Dixie Chicks member Natalie Maines' comments about President George W. Bush and the Iraq war, a Colorado radio station suspended two of its disc jockeys for playing music by Dixie Chicks.
2013 – Three women missing for more than a decade are found alive in the U.S. city of Cleveland, Ohio, while a 52-year-old man, Ariel Castro, is taken into custody.
BIRTHS
1758 – Maximilien de Robespierre, French lawyer and politician (d. 1794)
1812 – Marin R. Delany, pioneer Black nationalist, born free in Charles Town, Virginia.
1856 – Sigmund Freud, Austrian neurologist (d. 1939)
1895 – Rudolph Valentino, Italian-American actor (d. 1926)
1904 – Moshé Feldenkrais, Ukrainian-Israeli physicist (d. 1984)
1915 – Orson Welles, American actor, director, producer, and screenwriter (d. 1985)
1931 – Willie Mays, American baseball player
1937 – Rubin Carter, American boxer (d. 2014)
1945 – Bob Seger, American singer-songwriter and guitarist
1953 – Tony Blair, Scottish-English politician, Prime Minister of the United Kingdom
1961 – George Clooney, American actor, director, producer, and screenwriter
1987 – Meek Mill, American rapper
DEATHS
1862 – Henry David Thoreau, American author and philosopher (b. 1817)
1919 – L. Frank Baum, American author (b. 1856)
1992 – Marlene Dietrich, German-American actress and singer (b. 1901)
2002 – American songwriter and producer Otis Blackwell died from a heart attack. He wrote the classic songs 'All Shook Up', 'Return To Sender', 'Don't Be Cruel', 'Great Balls Of Fire' and 'Fever.' Over the years, Blackwell's songs have sold more than 185 million copies.
Sources: The People History; This Day in Labor History; Wikipedia List of Historical Anniversaries; This Day in Women's History; This Day in African History;History.com; History Orb; Yenoba; Selected Black Facts; Phil Konstantin's North American Indian History; and This Day in Music