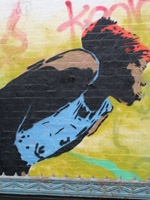 First, another segment in our Your Money Matters series.  We talk with Aziza Gary from MECU about payday loans. 
This Saturday the Creative Alliance will be kicking off its new series on the connections between the inner city and Appalachia. They'll start things off with FUSION:Hip Hop on the Mountain, a concert featuring local beat boxer Shodekeh collaborating with the acapella spiritual singers the Shape Note Sisters, cloggers dancing with breakers, and many more exciting partnerships. At the same time the exhibit Ain't Goin' Home will open.
Today we sat down with Megan Hamilton from the Creative Alliance as well as the two artists featured in Ain't Goin' Home – the accomplished graffiti artist Chris Stain, and Leon Reid IV, who created a huge statue of John Henry from found materials.