Podcast: Play in new window | Download
Subscribe:
May 29, 2014 – Segment 1
Marc shares information about some of what happened on this day in history, including the day the Tribes of the Powhatan Confederacy signed a treaty with the English in Virginia, the day Sojourner Truth delivered her infamous "Ain't I A Woman?" speech to the Ohio Women's Rights Convention, and the day guitarist Doc Watson passed away.
Today is:
Ascension of Bahá'u'lláh (Bahá'í Faith)
Democracy Day (Nigeria)
International Day of United Nations Peacekeepers (International)
Oak Apple Day (England)
Statehood Day (Rhode Island and Wisconsin)
On this day in history:
1677: Pamunkey, Roanoke, Nottaway and Nansemond Tribes of the Powhatan Confederacy sign a treaty with the English in Virginia.
1733 – The right of Canadians to keep Indian slaves is upheld at Quebec City.
1790 – Rhode Island becomes the last of the original United States' colonies to ratify the Constitution and is admitted as the 13th U.S. state.
1851 – Sojourner Truth delivers her infamous "Ain't I A Woman?" speech to the Ohio Women's Rights Convention.
1865 – President Andrew Johnson announced his program of Reconstruction. It required ratification of the 13th amendment, but did not guarantee black suffrage.
1876: The Interior Department is told to cooperate with the War Department so the military can round up the "hostiles" whenever they may appear on a reservation or an agency.
1886 – The Pharmacist John Pemberton places his first advertisement for Coca-Cola, the ad appearing in The Atlanta Journal.
1919 – Albert Einstein's theory of general relativity is tested (later confirmed) by Arthur Eddington and Andrew Claude de la Cherois Crommelin.
1932: As the great depression of the 70's continue World War I veterans known as the " Bonus Army " begin arriving in Washington to demand cash bonuses they weren't scheduled to receive for another 13 years be paid early to allow them to survive, by late June over 20,000 World War I vets were camped in vacant government buildings and open fields around the capitol.
1941: Animators working for Walt Disney begin what was to become a successful 5-week strike for recognition of their union, the Screen Cartoonists' Guild. The animated feature Dumbo was being created at the time and, according to Wikipedia, a number of strikers are caricatured in the feature as clowns who go to "hit the big boss for a raise."
1942: Bing Crosby records the world's top selling record White Christmas , for the soundtrack of the film Holiday Inn.
1946: A contract between the United Mine Workers and the U.S. government establishes one of the nation's first union medical and pension plans, the multi-employer UMWA Welfare and Retirement Fund.
1953: Edmund Hillary of New Zealand and Tenzing Norgay of Nepal become the first explorers to reach the top of Mount Everest. Due to the amount of time it took to descend the mountain it was June 2nd before the rest of the world were told about the conquest.
1962: Chubby Checker won a Grammy Award for Best Rock and Roll Recording for 'Let's Twist Again' and Ray Charles won Best Rhythm & Blues Recording for 'Hit The Road Jack'.
1968: The (TILA) Truth In Lending Act passes into law with regulations designed to protect consumers in credit transactions requiring clear disclosure of key terms of the lending arrangement and all costs. It is part of the "Consumer Credit Protection Act".
1973 – Tom Bradley is elected the first black mayor of Los Angeles, California.
1976: Diana Ross started a two week run No.1 on the US singles chart with 'Love Hangover', her fourth US No.1, it made No.10 in the UK.
1980 – Vernon E. Jordan Jr., President of the National Urban League, critically injured in attempted assassination in Fort Wayne, Indiana.
1988 – The U.S. President Ronald Reagan begins his first visit to the Soviet Union when he arrives in Moscow for a superpower summit with the Soviet leader Mikhail Gorbachev.
1990: Boris N. Yeltsin elected president of the Russian republic by the Russian parliament.
1996: Benjamin Netanyahu becomes the Israeli prime minister.
1996: The United Farm Workers of America reaches agreement with Bruce Church Inc. on a contract for 450 lettuce harvesters, ending a 17-year-long boycott. The pact raised wages, provided company-paid health benefits to workers and their families, created a seniority system to deal with seasonal layoffs and recalls, and established a pesticide monitoring system.
1999: The Discovery Space Shuttle completes the first docking with the International Space Station.
2001 – The U.S. Supreme Court rules that the disabled golfer Casey Martin can use a cart to ride in tournaments.
2004: The World War II memorial on the National Mall in Washington, D.C. is dedicated to veterans from World War II.
2009: UAW members at General Motors accept major contract concessions in return for 17.5 percent stake in the financially struggling company.
2013: Two men, Vince Autin and Bruno Boileau, became the first gay couple to be married in Montpellier, France. There was tight security at the event as the new law had conjured up violent protests and was considered controversial in the country.
Born on this day in history:
1845: Elizabeth Waties Allston Pringle born (writer)
1874: Leila Mechlin born (art critic, editor, manager)
1876: Helen Woodard Atwater born (home economist)
1903 – Bob Hope, English-American actor, singer, and producer (d. 2003)
1917 – John F. Kennedy, American lieutenant and politician, 35th President of the United States (d. 1963)
1932 – Paul R. Ehrlich, American biologist and author
1956: Born on this day, Larry Blackmon, Cameo, (1986 UK No.3 single 'Word Up').
1956 – La Toya Jackson, American singer-songwriter and actress
1958 – Annette Bening, American actress
1975 – Melanie Brown, English singer-songwriter, dancer, and actress (Spice Girls)
1984 – Carmelo Anthony, American basketball player
On this day in history, we lost:
1892 – Bahá'u'lláh, Persian religious leader, founded the Bahá'í Faith (b. 1817)
1911 – W. S. Gilbert, English playwright and poet (b. 1836)
1998 – Barry Goldwater, American general and politician (b. 1909)
2010 – Dennis Hopper, American actor, director, and screenwriter (b. 1936)
2012 – Doc Watson, American singer-songwriter and guitarist (b. 1923)
2013 – Mulgrew Miller, American pianist (b. 1955)
Sources: The People History; This Day in Labor History; Wikipedia List of Historical Anniversaries; This Day in Women's History; This Day in African History;History.com; History Orb; Yenoba; Selected Black Facts; Phil Konstantin's North American Indian History; and This Day in Music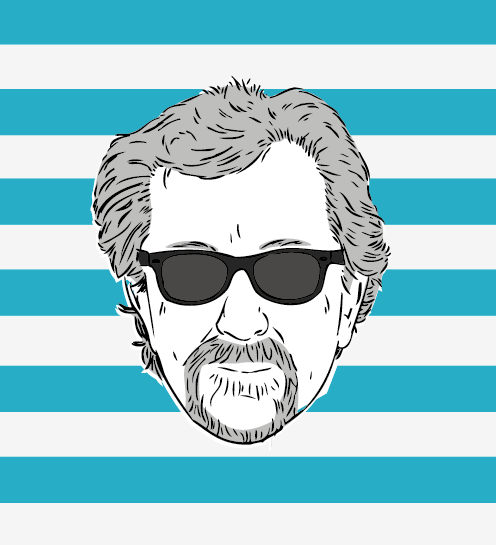 The Marc Steiner Show currently airs on The Real News Network. The show covers the topics that matter, engaging real voices, from Charm City to Cairo and beyond. Email us to share your comments with us.