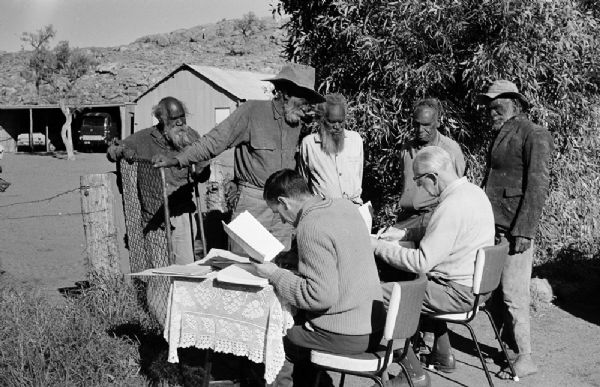 Podcast: Play in new window | Download
Subscribe: RSS
May 27, 2014 – Segment 1
Marc talks about what happened on this day in history, including the day Ernest Green graduated from Little Rock's Central High School with six hundred white classmates, the day Australians voted to count Aborigines in the census, and the day Virginia had its first significant battle between Indians and European settlers.
Today is:
Armed Forces Day (Nicaragua)
Children's Day (Nigeria)
Mother's Day or Día de la Madre (Bolivia)
Slavery Abolition Day (Guadeloupe, Saint Barthélemy, Saint Martin)
On this day in history:
1607: Virginia has its first significant battle between Indians and European settlers.
1703 – Tsar Peter the Great founds the city of Saint Petersburg.
1847: The Oregon Country publication "The Spectator" has an article by its editor, George L. Curry. He blames much of the problems with the local Indians on their use of alcohol. He asks for better enforcement of the laws prohibiting the sale of "intoxicants" to Indians.
1863 – The assault of the Louisiana Colored Volunteers on the Confederate breastworks at Port Hudson was the first major battle in which Negro Troops took part.
1908 – Khilafat Day – the day of establishment of Khilafat in Islam Ahmadiyya.
1917 – Race riot, East St. Louis, Illinois. One Black killed.
1933 – New Deal: The U.S. Federal Securities Act is signed into law requiring the registration of securities with the Federal Trade Commission.
1933 – The Walt Disney Company releases the cartoon Three Little Pigs, with its hit song "Who's Afraid of the Big Bad Wolf?"
1935: The U.S. Supreme Court declares the Depression-era National Industrial Recovery Act to be unconstitutional, about a month before it was set to expire.
1937: Golden Gate Bridge connecting San Francisco and Marin County, California is opened to pedestrian traffic and more than 200,000 pedestrians walked across on opening day. The next day the Golden Gate Bridge is opened to vehicular traffic.
1941 – World War II: The U.S. President Franklin D. Roosevelt proclaims an "unlimited national emergency".
1942: Dorie Miller, a Mess Attendant is awarded the Navy Cross for his heroic deeds at Pearl Harbor.
1943: The Ballpoint pen , is patented in America by Hungarian Laszlo Biro.
1950: Frank Sinatra made his TV debut on NBC's "Star-Spangled Review." He went on to be one of the most successful and recognizable figures in music history.
1958 – Ernest Green graduated from Little Rock's Central High School with six hundred white classmates.
1959: The CIO-affiliated Insurance Workers of America merges with its AFL counterpart, the Insurance Agents International Union to form the Insurance Workers International Union. The union later became part of the United Food and Commercial Workers.
1963: The Kenya African Nation Union, wins the country's first general election and the leader of the party Jomo Kenyatta will become Kenya's first premier.
1967 – Ninety per cent of white Australians voted in today's referendum for a proposal to count Aborigines in the census and to allow the federal government to make special laws for them. Until now their affairs have been administered solely by the states.
1968 – Major League Baseball's National League awards Montreal the first franchise in Canada and the first franchise outside the United States. (the Montreal Expos).
1994: After 20 years of exile in the United States the dissident Nobel Prize-winning author Alexander Solzhenitsyn returns to his native Russia.
1995: Actor Christopher Reeve best known for his Superman Movies is paralyzed when thrown from his horse during a jumping event in Charlottesville, Va.
1997 – The U.S. Supreme Court rules that Paula Jones can pursue her sexual harassment lawsuit against President Bill Clinton while he is in office.
1999: The Hague war crimes tribunal indicted Slobodan Milosevic for crimes against humanity and genocide holding the Yugoslav president personally responsible for the horrors in Kosovo.
2000: Scottish farmers who accidentally planted Advanta genetically modified Rapeseed have been advised by MAFF to dig up the crop as under EU rules, the GM crops produced from the seed cannot be marketed within Europe. They are now seeking compensation from Advanta who have apologized for providing GM contaminated seed.
Born on this day in history:
1792: Julia Evelina Smith born (suffragist)
1818 – Amelia Bloomer, American activist (d. 1894)
1819 – Julia Ward Howe, American poet (d. 1910)
1837 – Wild Bill Hickok, American lawman (d. 1876)
1844: May Wright Sewall born (educator, reformer)
1849: Alzina Parsons Stevens born (journalist, labor leader, Hull House settlement worker)
1861: Victoria Earle Matthews born (writer, reformer, clubwoman, social worker)
1907: Rachel Carson born (writer, biologist, reformer)
1911 – Vincent Price, American actor (d. 1993)
1923 – Henry Kissinger, German-American politician, 56th United States Secretary of State, Nobel Prize laureate
1935 – Ramsey Lewis, American pianist and composer
1936 – Louis Gossett, Jr., American actor and producer
1944 – Chris Dodd, American lawyer and politician
1971: Born on this day, Lisa Lopes, Left-Eye, vocals, TLC, (1995 US No.1 & UK No.4 single 'Waterfalls' 1999 US No.1 album 'Fanmail' spent 57 weeks on the UK chart). ). Lisa was killed in a car accident on April 26th 2002.
On this day in history, we lost:
1564 – John Calvin, French pastor and theologian (b. 1509)
1831 – Jedediah Smith, American hunter, explorer, and author (b. 1799)
1949 – Robert Ripley, American cartoonist, publisher, and businessman, founded Ripley's Believe It or Not! (b. 1890)
1964: Jawaharlal Nehru the founder of modern India and prime minister, dies at the age of 74.
Sources: The People History; This Day in Labor History; Wikipedia List of Historical Anniversaries; This Day in Women's History; This Day in African History;History.com; History Orb; Yenoba; Selected Black Facts; Phil Konstantin's North American Indian History; and This Day in Music