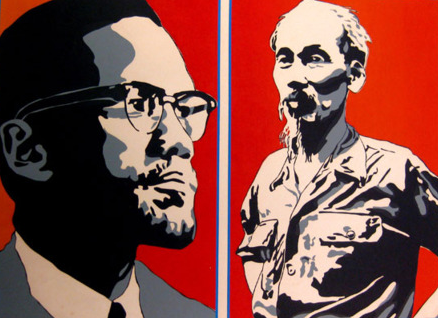 Podcast: Play in new window | Download
Subscribe: RSS
May 19, 2014 – Segment 1
Marc talks about what happened on this day in history, including the birthdays of Malcolm X and Hồ Chí Minh, the day the New York Post Sunday Magazine published Dr. Martin Luther King, Jr.'s Letter from Birmingham Jail, and the day Cuban journalist, poet, and philosopher José Martí passed away.
Today is:
Commemoration of Atatürk, Youth and Sports Day (Turkey, Northern Cyprus)
Greek Genocide Remembrance Day (Greece)
Hồ Chí Minh's Birthday (Vietnam)
Malcolm X Day (United States of America)
On this day in history:        
1795: A treaty is signed between the Chippewa and the Canadian government. Second Lieutenant J. Givins represents the crown and several Chippewa Chiefs are present. It is signed at "York, in the Province of Upper Canada" (Penetanguishene, Ontario).
1796: Congress passes "An Act Making Appropriations for Defraying the Expenses Which May Arise in Carrying into Effect a Treaty Made Between the United States and Certain Indian Tribes, Northwest of the River Ohio."
1836: Cynthia Ann Parker captured by Comanches (ca.1827-ca.1864) – mother of Comanche chief Quanah Parker.
1848 – Mexican–American War: Mexico ratifies the Treaty of Guadalupe Hidalgo thus ending the war and ceding California, Nevada, Utah and parts of four other modern-day U.S. states to the United States for US$15 million.
1878 – Blanche Kelso Bruce appointed register of treasury by President Garfield.
1897 – Oscar Wilde is released from Reading Gaol.
1921: The Emergency Quota Act was passed into law which limits the number of immigrants admitted into the US.
1932: As relief funds in city after city are coming to an end and with over 8,000,000 now unemployed and many close to starvation, the federal government is putting through plans for major construction projects on public works the total is in excess of 1 billion dollars but are still waiting for a vote for funding. Also because of the large scale unemployment cuts in up to 40 cents per hour or a 30% wage cut are now in force for 12 months to help together with the mass funding into banks to help keep them solvent and supply much needed capital for businesses to survive.
1959: The head of the Teamsters Union James R Hoffa has threatened a nationwide strike of the teamsters union if unions are subjected to the new anti-trust laws being applied to transport unions.
1959 – The North Vietnamese Army establishes Group 559, whose responsibility is to determine how to maintain supply lines to South Vietnam; the resulting route is the Ho Chi Minh trail.
1961 – Venera program: Venera 1 becomes the first man-made object to fly-by another planet by passing Venus (the probe had lost contact with Earth a month earlier and did not send back any data).
1963 – The New York Post Sunday Magazine publishes Dr. Martin Luther King, Jr.'s Letter from Birmingham Jail, drafted shortly after his arrest on April 12th during the Birmingham campaign advocating for civil rights and an end to segregation in Birmingham, Alabama. The letter was in response to "A Call for Unity": a statement made by eight white Alabama clergymen against King and his methods, following his arrest, and became one of the most-anthologized statements of the African-American Civil Rights Movement.
1965 – Patricia R. Harris named ambassador to Luxembourg. She was the first Black woman ambassador.
1973: Stevie Wonder went to No.1 on the US singles chart with 'You Are The Sunshine Of My Life'. His third US No.1, won Wonder a Grammy Award for Best Male Pop Vocal Performance. This song was the second single released from the album 'Talking Book'.
1978: Dire Straits released their first major label single 'Sultans Of Swing', recorded on a £120 budget. The song was first recorded as a demo at Pathway Studios, North London, in July 1977, and quickly acquired a following after it was put on rotation at Radio London.
1984: Bob Marley and the Wailers started a 12-week run at No.1 on the UK album chart with the compilation album 'Legend', released to commemorate the third anniversary of Marley's death.
1986: South African troops launch multiple raids on Zambia, Zimbabwe and Botswana in an effort to destroy bases purportedly used by the anti-apartheid organization the African National Congress (ANC). The Nations of Angola, Mozambique, Zambia, Zimbabwe, Botswana and Tanzania, form the so-called "frontline states" that support the ANC in their struggle against white minority rule. During the Mid to Late 1980s sanctions imposed by the US, most Commonwealth nations and the European Community forced South Africa to end its anti-apartheid policies and in 1994 the ANC formed South Africa's first democratically elected government with Mr. Mandela as the country's first black president.
1991 – Willy T. Ribbs becomes the first African American driver to qualify for the Indianapolis 500.
1992: The 27th Amendment to the US constitution is ratified.
2006: World Leaders urge the Bush administration to close its prison in Guantanamo Bay, saying the indefinite detention of terror suspects there violated the world's ban on torture.
Born on this day in history:           
1795 – Johns Hopkins, American businessman and philanthropist (d. 1873)
1800: Sarah Miriam Peale born (painter).
1849: Mary Clare De Graffenried born (reformer).
1890 – Ho Chi Minh, Vietnamese politician, 1st President of Vietnam (d. 1969)
1921 – Yuri Kochiyama, American activist.
1925 – Malcolm X, American minister and activist (d. 1965)
1930 – Birth date of playwright Lorraine Hansberry, who was born in Chicago. Her only two plays, "A Raisin in the Sun" and "The Sign in Sidney Burstein's Window," became famous.
1945 – Pete Townshend, English singer-songwriter and guitarist (The Who, Deep End, and Thunderclap Newman)
1948 – Grace Jones, Jamaican-American singer-songwriter and actress
On this day in history, we lost:
1536 – Anne Boleyn, the second wife of Henry VIII of England, is beheaded for adultery, treason, and incest.
1864 – Nathaniel Hawthorne, American author (b. 1804)
1895 – José Martí, Cuban journalist, poet, and philosopher (b. 1853)
1904 – Jamsetji Tata, Indian businessman, founded Tata Group (b. 1839)
1969 – Coleman Hawkins, American saxophonist (b. 1901)
1986 – Jimmy Lyons, American saxophonist (b. 1931)
1994: The former First Lady (President Kennedy's wife) Jacqueline Kennedy Onassis died today of lymphoma at the age of 64.
2001 – Susannah McCorkle, American singer (b. 1946)
Sources: The People History; This Day in Labor History; Wikipedia List of Historical Anniversaries; This Day in Women's History; This Day in African History;History.com; History Orb; Yenoba; Selected Black Facts; Phil Konstantin's North American Indian History; and This Day in Music