Podcast: Play in new window | Download
Subscribe: RSS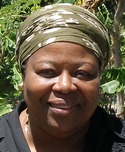 Just over four month's ago, Haiti was devastated by a tremendous earthquake.  This hour, we discuss the ongoing relief efforts with two people who recently returned from visits there.
Marie Saint Cyr is the Chair of the Lambi Fund of Haiti, which works to promote grassroots involvement in the rebuilding effort.  Ben Piven is a freelance multimedia journalist whose coverage of the relief efforts has been featured in the Huffington Post.
Click here for ways to support the Lambi Fund of Haiti.