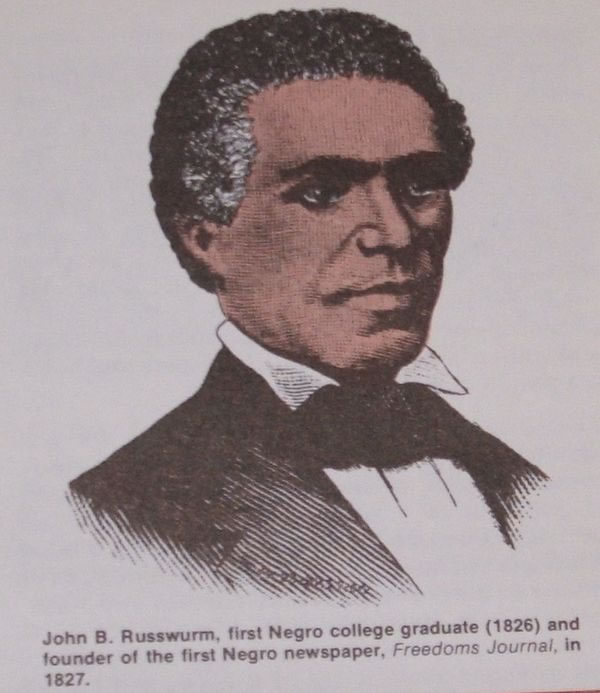 Podcast: Play in new window | Download
Subscribe: RSS
May 16, 2014 – Segment 1
Marc talks about what happened on this day in history, including the day Joan of Arc was canonized, the day John Russwurm became the 1st Black college graduate, and the day Stokely Carmichael was named chairman of the Student Nonviolent Coordinating Committee.
Today is:
Mass Graves Day (Iraq)
National Day, declared by Salva Kiir Mayardit (South Sudan)
Teachers' Day (Malaysia)
On this day in history:
1677: Mugg, an Arosaguntacook Indian Chief, dies in Black Point, Maine. At the outset of King Philip's war, Mugg attempted to arrange a peace treaty with the British. Instead they jail him for a short time, and gain a bitter enemy. He destroys much of Black Point, Maine in a raid on October 12, 1676. Later he captures a few ships and stages a brief naval war before his death.
1760: Creek warrior Chief Hobbythacco (Handsome Fellow) has often supported the English, but, at the outbreak of the Cherokee war, he decides to support the Cherokees. He leads an attack on a group of English traders in Georgia. Thirteen of the traders are killed during the fighting. Creek Chief "The Mortar" also participates in the fighting.
1826 – John Russwurm becomes The 1st black college graduate by receiving his degree from Bowdoin College in Maine.*This claim is disputed by some sources which claim that Edward Jones graduated from Amherst a few days earlier. However Russwurm is recorded first.
1843 – The first major wagon train heading for the Pacific Northwest sets out on the Oregon Trail with one thousand pioneers from Elm Grove, Missouri.
1888 – Nikola Tesla delivers a lecture describing the equipment which will allow efficient generation and use of alternating currents to transmit electric power over long distances.
1918 – The Sedition Act of 1918 is passed by the U.S. Congress, making criticism of the government during wartime an imprisonable offense. It will be repealed less than two years later.
1919: U.S. Congress sent the 19th Amendment to the states for approval.
1920 – In Rome, Pope Benedict XV canonizes Joan of Arc.
1929: The First ever Academy Awards of Motion Picture Arts and Sciences Awards were handed out at a banquet held at the Hollywood Roosevelt Hotel.
1938: U.S. Supreme Court issues Mackay decision, which permits the permanent replacement of striking workers. The decision had little impact until Ronald Reagan's replacement of striking air traffic controllers (PATCO) in 1981, a move that signaled anti-union private sector employers that it was OK to do likewise.
1943: Resistance in the Jewish ghetto in Warsaw has ended as SS Police and Wehrmacht units using tanks and other armoured vehicles take back control of the ghetto crushing resistance after 1 month of fighting.
1964: Mary Wells started a two week run at No.1 on the US singles chart with 'My Guy'. Written and produced by Smokey Robinson and The Miracles, it made No.5 in the UK.
1966 – The Communist Party of China issues the "May 16 Notice", marking the beginning of the Cultural Revolution.
1966 – Stokely Carmichael named chairman of the Student Nonviolent Coordinating Committee. National Welfare Rights Organization organized.
1969: Rioting and protests against the war in Vietnam continue on campuses throughout California with local National Guardsman patrolling Berkeley campus of the University of California area with fixed bayonets to keep peace and order.
1975 – Junko Tabei becomes the first woman to reach the summit of Mount Everest.
1988: The Surgeon General C Everett Koop has declared that Nicotine is a as addictive as Heroin and Cocaine and that all cigarette packets should carry a public health warning, we have included a graphic with his suggestions.
2005 – Kuwait permits women's suffrage in a 35-23 National Assembly vote.
Born on this day in history:
1718: Maria Agnesi born (mathematician)
1804: Elizabeth Palmer Peabody born (educator, publisher, writer, kindergarten reformer, Transcendentalist)
1905 – Henry Fonda, American actor, singer, and producer (d. 1982)
1919 – Liberace, American singer, pianist, and actor (d. 1987)
1929 – John Conyers, American lawyer and politician.
1929: Adrienne Rich born (poet, activist)
1930 – Betty Carter, American singer (d. 1998)
1939: Born on this day, Pervis Jackson, vocals, The Detroit Spinners, (1980 UK No.1 & US No.2 single 'Working My Way Back To You'). Died of cancer on 18th Aug 2008.
1944 – Billy Cobham, Panamanian-American drummer, composer, and bandleader (Mahavishnu Orchestra, New York Jazz Quartet, Jazz Is Dead, and Bobby and the Midnites)
1944 – Danny Trejo, American actor.
1944: Born on this day, Billy Cobham, jazz drummer, worked with Miles Davis, Mahavishnu Orchestra, James Brown, Santana and Soundtrack to the film 'Shaft'.
1947 – Barbara Lee, American singer (The Chiffons) (d. 1992)
1955 – Debra Winger, American actress.
1966 – Janet Jackson, American singer-songwriter, producer, dancer, and actress.
1983 – Nancy Ajram, Lebanese singer.
On this day in history, we lost:
1979 – Black labor leader and peace activist A. Philip Randolph dies. He was president of the Brotherhood of Sleeping Car Porters and first Black on the AFL-CIO executive board, and a principal organizer of the 1963 March on Washington.
1981 – Ernie Freeman, American pianist, composer, and bandleader (b. 1922)
1984 – Andy Kaufman, American actor and screenwriter (b. 1949)
1990 – Sammy Davis, Jr., American singer, dancer, and actor (b. 1925)
1990 – Jim Henson, American puppeteer, director, screenwriter, and producer, created The Muppets (b. 1936)
1993 – Marv Johnson, American singer-songwriter and pianist (b. 1938)
2010 – Hank Jones, American pianist, composer, and bandleader (b. 1918)
2012 – Chuck Brown, American singer-songwriter, guitarist, and producer (b. 1936)
Sources: The People History; This Day in Labor History; Wikipedia List of Historical Anniversaries; This Day in Women's History; This Day in African History;History.com; History Orb; Yenoba; Selected Black Facts; Phil Konstantin's North American Indian History; and This Day in Music