Podcast: Play in new window | Download
Subscribe: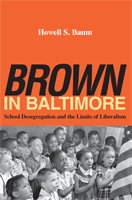 We're joined by Howell S. Baum, author of the new book Brown in Baltimore: School Desegregation and the Limits of Liberalism.  Why has segregation continued in Baltimore's schools over fifty-five years after legal school segregation was outlawed?
Click here for the review of Brown in Baltimore by Michael Corbin in this month's issue of Urbanite Magazine.