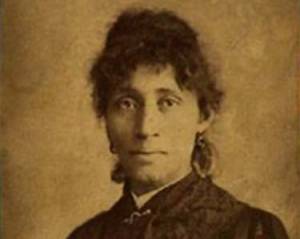 Podcast: Play in new window | Download
Subscribe: RSS
March 7, 2014 – Segment 1
Marc talks about what happened on this day in history, including the birth of Thomas Aquinas, Bloody Sunday, when civil rights marchers in Alabama were brutally attacked by police and deputized citizens, the death of Baltimore-born drag queen and actor Divine, and the death of labor organizer Lucy Parsons.
Today is:
Thomas Aquinas, Doctor and Poet, 1274 (commemoration, Anglicanism)
On this day in history:
1539: Estavanico Dorantes, a black Moorish slave, leads a Spanish expedition to the southwestern North American continent in search for El Dorado, the lost City of Gold. Their search is unsuccessful and Estavanico is later killed by native peoples.
1859: The Acting Commissioner of General Lands for the United States, J.S. Wilson, stated that blacks were not citizens of the United States, and therefore were not legally entitled to preempt public land
1870: Gov. William W. Holden of North Carolina denounced Klan violence and issued proclamation declaring Almanance County in a state of insurrection.
1876: Alexander Graham Bell receives a patent for his revolutionary new invention the telephone.
1936: Nazi leader Adolf Hitler violates the Treaty of Versailles by sending German military forces into the Rhineland, a demilitarized zone along the Rhine River in western Germany.
1942: First cadets graduated from flying school at Tuskegee.
1965: (Bloody Sunday) Troopers with night sticks, shotguns and tear-gas grenades violently confronted 600 civil rights marchers during an attempted 50-mile march from Selma to the Alabama state capitol Montgomery. Thousands of marchers, led by Martin Luther King Jr. completed first leg of five-day Selma-to-Montgomery march. Marchers were protected by federalized Alabama National Guardsmen and U.S. Army troops. Selma-to-Montgomery march ended with rally of some fifty thousands at Alabama capitol. One of the marchers, a white civil rights worker named Viola Liuzzo, was shot to death on U.S. Highway after the rally by white terrorists. Three Klansmen were convicted of violating her civil rights and sentenced to ten years in prison. Through the 25th, Alabama state troopers and sheriff's deputies dispersed Selma-to-Montgomery civil rights march with tear gas and billy clubs, Three white Unitarian ministers, including Rev. James J. Reeb, attacked on streets of Selma, Alabama. Reeb, who was participating in civil rights demonstrations, died later in Birmingham hospital.
1966: Tina Turner recorded her vocal on the Phil Spector produced 'River Deep Mountain High'. It went on to make No.3 in the UK but only No.88 on the US chart.
1969: Israel elects Golda Meir, to become the first female prime minister of Israel.
1970: Simon and Garfunkels album 'Bridge Over Troubled Water' started a ten week run at No.1 on the US chart. The duo had split-up by the time of release.
1985: The song "We Are the World" receives its international release.
1994: Copyright Law: The U.S. Supreme Court rules that parodies of an original work are generally covered by the doctrine of fair use.
2012: People in the United States and several other countries marked the one hundredth birthday of the ever popular Oreo cookie. The cookie is credited as the best-selling cookie in the world and has been sold in over one hundred countries since its created in a Nabisco factory in 1912.
2013: The Arkansas state legislature passed a strict anti-abortion law that would not allow most abortions after twelve weeks. The governor of the state had vetoed the bill, warning that it would bring the state into lawsuits and court issues but the legislature overrode his veto.
Born on this day in history:
1914: Lee Young, American drummer and singer (d. 2008)
1917: Janet Collins, ballerina, was born in New Orleans, Louisiana
1934: Willard Scott, American journalist, actor, and author
1945: Anthony Bonair, photographer
1952: Ernie Isley, American guitarist and songwriter (The Isley Brothers and Isley-Jasper-Isley) The Isley Brothers had the 1968 UK No.3 single 'This Old Heart Of Mine' and the 1969 US No.2 single 'It's Your Thing'.
1952: Lynn Swann, American football player
1964: Denyce Graves, American soprano
1964: Wanda Sykes, American comedian, actress, and screenwriter
On this day in history, we lost:
1942: Lucy Parsons, American activist (b. 1853)
1988: Divine, American drag queen performer (b. 1945)
1999: Stanley Kubrick, an American Filmmaker, died on this day in England. He was born in 1928, and lived to age 70. Kubrick had created a total of 13 films featuring characteristics of the dark side of humans, and is one of the most recognized film directors of the 1900s. Some of his productions, such as Dr. Strangelove received nominations for awards such as Best Screenplay, Best Actor, or Best Direction. Other films such as A Space Odyssey were recognized as well. For this film, Kubrick had won an award for best visual effects.
2004: Paul Winfield, American actor (b. 1941)
2006: Gordon Parks, American photographer, director, and composer (b. 1912)
2012: Big Walter Price, American singer-songwriter and pianist (b. 1914)
Sources: The People History; This Day in Labor History; Wikipedia List of Historical Anniversaries; This Day in Women's History; This Day in African History;History.com; History Orb; Yenoba; Selected Black Facts; Phil Konstantin's North American Indian History; and This Day in Music