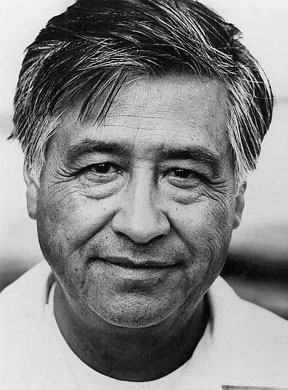 Podcast: Play in new window | Download
Subscribe: RSS
March 31, 2014 – Segment 1
Marc shares some of what happened on this day in history, including the death of Frank Perdue, the birth of Cesar Chavez, and the release of Chuck Berry's "Johnny B. Goode."
Today is:
César Chávez Day (United States of America)
On this day in history:
1492: Queen Isabella and King Ferdinand issue edict expelling Jews from Spain
1741 – Succession of suspicious fires and reports of slave conspiracies created hysteria in New York in March and April. Thirty-one slaves and five whites were executed.
1774 – American Revolutionary War: The Kingdom of Great Britain orders the port of Boston, Massachusetts closed pursuant to the Boston Port Act.
1776: Abigail Adams writes to her husband, John Adams: "If particular care and attention is not paid to the ladies, we are determined to foment a rebellion, and will not hold ourselves bound by any laws in which we have no voice or representation."
1889: The Eiffel Tower, or the Tour Eiffel, was opened on March 31st, 1889 , and was the work of a Gustave Eiffel, who was a bridge engineer. It was made for the centenary of the French Revolution and was chosen instead of over one hundred other plans that were given.
1906 – The Intercollegiate Athletic Association of the United States (later the National Collegiate Athletic Association) is established to set rules for college sports in the United States.
1917 – The United States takes possession of the Danish West Indies after paying $25 million to Denmark, and renames the territory the United States Virgin Islands.
1918 – Daylight saving time goes into effect in the United States for the first time.
1918 – Massacre of ethnic Azerbaijanis is committed by allied armed groups of Armenian Revolutionary Federation and Bolsheviks. Nearly 12,000 Azerbaijani Muslims are killed.
1930 – President Hoover nominated Judge John J. Parker of North Carolina for a seat on the U.S. Supreme Court. The NAACP launched a national campaign against the appointment. Parker was not confirmed by the Senate.
1931 – Cab Calloway recorded "Minnie the Moocher"-the first jazz album to sell a million copies.
1933 – The Civilian Conservation Corps is established with the mission of relieving rampant unemployment in the United States.
1943: The musical "Oklahoma!" debuts on Broadway. This play, written by the famed duo Rodgers and Hammerstein, was originally titled "Away We Go" and continues to be produced by theaters across the country.
1948 – A. Phillip Randolph told Senate Armed Services Committee that unless segregation and discrimination were banned in draft programs he would urge Black youths to resist induction by civil disobedience.
1958: Chuck Berry's rock 'n' roll classic 'Johnny B. Goode' single was released. It entered the US charts six weeks later and peaked at No.8 on the chart. The song's original lyrics referred to Johnny as a "colored boy", but Berry later acknowledged that he changed it to "country boy" to ensure radio play.
1959: The spiritual leader of Tibet, the Dalai Lama, has crossed the border into India after a 15 day journey on foot from the Tibetan capital, Lhasa, over the Himalayan mountains seeking asylum. This follows the Chinese repression of the rebellion by Tibetans in Lhasa. The Dalai Lama, is granted political asylum in India.
1966 – The Soviet Union launches Luna 10 which later becomes the first space probe to enter orbit around the Moon.
1984: Kenny Loggins started a three week run at No.1 on the US singles chart with 'Footloose', the theme from the film with the same name, a No.6 hit in the UK.
1988 – Toni Morrison wins the Pulitzer Prize for her novel Beloved
1991: The Warsaw Pact a military alliance between the Soviet Union and its eastern European neighbors ends.
1991 – Georgian independence referendum, 1991: Nearly 99 percent of the voters support the country's independence from the Soviet Union.
1992 – The USS Missouri, the last active United States Navy battleship, is decommissioned in Long Beach, California.
1994 – The journal Nature reports the finding in Ethiopia of the first complete Australopithecus afarensis skull.
2009: The Supreme Court has dismissed the appeal that's been made by the cigarette maker Philip Morris over the $79.5 millon award it gave to the widow of a long-term Oregon smoker. The court has upheld the 1999 ruling by the Oregon Supreme Court in favour of Mayola Williams. The judges have said that they were not passing judgement on the legal issues presented. Jesse Williams died of lung cancer in 1997, having smoked for forty years. It was Mrs Williams that sued the cigarette manufacturer for fraud on behalf of her husband. She said that Philip Morris had committed a 'massive market-directed fraud' for misleading people on whether smoking cigarettes wasn't addictive or dangerous.
Born on this day in history:
1732 – Joseph Haydn, Austrian composer (d. 1809)
1809 – Edward FitzGerald, English poet (d. 1883)
1823 – Mary Boykin Chesnut, American author (d. 1886)
1856 – Henry Ossian Flipper, the first African American graduate of the U.S. Military Academy at West Point, was born in Thomasville, Georgia. Enduring heavy racism during his schooling, Flipper went on to establish a military career. This was ended however after he was falsely accused of embezzling funds.
1865 – Anandi Gopal Joshi, First Indian and Hindu woman to obtain a degree in Western medicine (d. 1887)
1878 – Boxer controversial heavyweight champion (1908-15) and 1st black to hold title; defeated Tommy Burns for crown at age 30; fled to Europe in 1913 after Mann Act conviction; lost title to Jess Willard in Havana, but claimed to have taken a dive; pro record 78-8-12 with 45 KOs.
1913 – Etta Baker, American singer and guitarist (d. 2006)
1914 – Octavio Paz, Mexican author, poet, and diplomat, Nobel Prize laureate (d. 1998)
1927 – Cesar Chavez, American activist (d. 1993)
1934 – Shirley Jones, American actress and singer
1937: Born on this day, Herb Alpert, trumpet, vocals, (1968 US No.1 & UK No.3 single 'This Guy's In Love With You'). Formed A&M Records with Jerry Moss, at first operating from his garage at home.
1942 – Michael Savage, American radio host and author
1943 – Christopher Walken, American actor
1948 – Al Gore, American politician, 45th Vice President of the United States and Nobel Prize laureate
1948 – Rhea Perlman, American actress
1955 – Angus Young, Scottish-born Australian guitarist with AC/DC, known for his energetic performances and schoolboy-uniform stage outfits. 1980 UK No.36 single 'Whole Lotta Rosie' and 1980 UK No.1 & US No.14 album 'Back in Black.' AC/DC are the fifth-best-selling band in US history with over 70 million albums sold.
On this day in history, we lost:
1855: Charlotte Brontë died of pregnancy complications
1913 – J. P. Morgan, American banker and financier, founded J.P. Morgan & Co. (b. 1837)
1931 – TWA Flight 599 crashes near Bazaar, Kansas killing eight, including University of Notre Dame head football coach Knute Rockne.
1978 – Charles Herbert Best, American-Canadian medical scientist, co-discovered Insulin (b. 1899)
1980 – Jesse Owens, American sprinter and long jumper (b. 1913)
1986 – O'Kelly Isley of The Isley Brothers died of a heart attack, aged 48. Had a hit in 1962 original version of 'Twist and Shout', (later covered by the Beatles) and the 1968 UK No.3 single 'This Old Heart Of Mine' and 1969 US No.2 single 'It's Your Thing'. (b. 1937)
1993 – Brandon Lee, American actor and martial artist (b. 1965)
1995: Grammy award winning Mexican American singer Selena Quintanilla-Pérez was shot and murdered in a motel room by the woman who was the president of her fan club
2005 – Frank Perdue, American businessman (b. 1920)
2005: Terri Schiavo, the center of the most heavily litigated right-to-die dispute in U.S. history, died today, 13 days after her feeding tube was removed.
2006 – Jackie McLean, American saxophonist and composer (b. 1931)
2011 – Gil Clancy, American boxing trainer (b. 1922)
Sources: The People History; This Day in Labor History; Wikipedia List of Historical Anniversaries; This Day in Women's History; This Day in African History;History.com; History Orb; Yenoba; Selected Black Facts; Phil Konstantin's North American Indian History; and This Day in Music