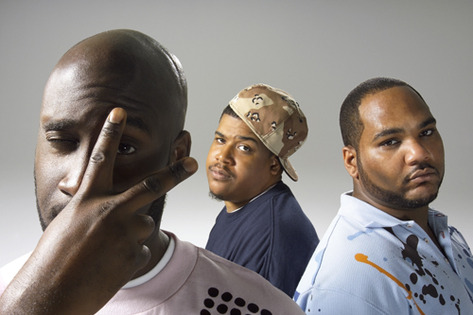 Podcast: Play in new window | Download
Subscribe: RSS
March 24, 2015 – Segment 1
Marc shares some of the events that happened on this day in history, including the birth of Pasemaster Mace of De La Soul, the abolition of slavery in Venezuela in 1854, and Halle Berry becoming the first Black woman to win an Academy Award for Best Actress in 2002 for the movie "Monster's Ball."
De La Soul – Ring Ring Ring (Ha Ha Hey)
https://www.youtube.com/watch?v=gC1xuVCBl4o
That was "Ring Ring Ring (Ha Ha Hey)" by De La Soul. Today is the birthday of DJ and rapper Pasemaster Mace who was one third of that influential hip hop group.
And today in 1896, the first radio signal transmission in history was made by A.S. Popov of the Russian Torpedo School.
Venezuela officially abolished slavery today in 1854, over a decade before the United States. It was a long and arduous struggle to abolish slavery in Venezuela.  The first Africans were brought there in the 16th century to mine and dive for pearls. When Simon Bolivar led the South American liberation struggle against the Spanish in 1819, he did not want to use Afro-Venezuelans who had a long history of fighting for freedom. But, he was forced to because he could not do it without them. Still, all people of African descent were not given freedom until 1854 — over 30 years after their fight for Venezuela's liberation — when a huge revolt was brewing.
And a little further north in Canada, pressure from formerly-enslaved African Americans and Afro-Canadians pushed for the right to vote which Black men won in 1837. Slavery had been abolished in Canada 4 years earlier in 1834, which for context was over 30 years before the United States followed suit.
And there are two important pieces of women's history today that center around African American women:
Halle Berry became the first Black woman to win an Academy Award for Best Actress in 2002 for the movie "Monster's Ball."
And it is the birthday of Dorothy Irene Height, who was born in 1912. She was the President of the National Council for Negro Women for over 30 years and fought and organized to have a statue of Mary McLeod Bethune placed in Washington, DC. She eventually won that fight, and that statue became the first statue of an African American in a public park in the nation's capital. She died in 2010.
And today, over 11 million gallons of crude oil were spilled into Alaska's Prince William Sound in 1989 after a reef ripped holes in the Exxon Valdez oil tanker. The result was a five-mile oil slick, one of the most devastating environmental disasters ever. Hundreds of thousands of animals died, including seabirds, sea otters, harbor seals, bald eagles and killer whales.
Today in Argentina, it is the Day of Remembrance for Truth and Justice. It remembers the coup d'etat in Argentina in 1976, where the constitutional government of President Isabel Perón was overthrown and replaced by a brutal 7-year dictatorship, officially called the National Reorganization Process, but commonly called the Dirty War. Nearly 100,000 left-wing activists, militants, trade unionists, students, journalists, Marxists, and sympathizers were "disappeared" by the government, and some believe the numbers of those disappeared to be much higher.  The people of Argentina remember that period that lasted until 1983 and those they lost today.
And we remember an important Latin American figure who died today in 1980: Archbishop Óscar Romero. He was killed celebrating mass in San Salvador.
Here's a song for you on this March 24th. Today is the birthday of the prolific bass player Carol Kaye. She is 80 years old today. She was born in 1935 in Everett, Washington to musician parents Clyde and Dot Smith. She started teaching guitar lessons when she was 14 and went on play guitar with many jazz bands. She worked as a session musician, playing bass for Phil Spector, Brian Wilson, Simon & Garfunkel, the Beach Boys, and on Richie Valens song "La Bamba." Here's her rendition of "The Searchers."
Carol Kaye – The Searchers