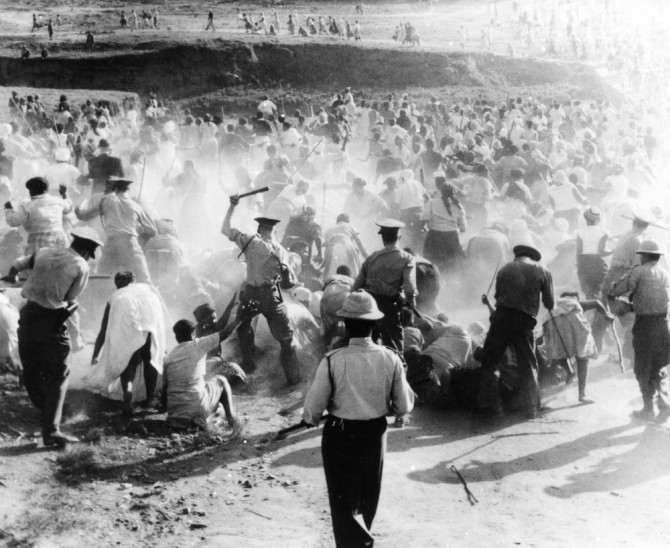 Podcast: Play in new window | Download
Subscribe: RSS
March 21, 2014 – Segment 1
Marc talks about what happened on this day in history, including Persian New Year, the Sharpeville Massacre in South Africa, and the birthday of the king of king of rock & soul, Solomon Burke.
Today is:
Persian New Year (Navroz)
Harmony Day (Australia)
Human Rights Day (South Africa)
Independence Day, celebrates the independence of Namibia from South African mandate in 1990.
International Day for the Elimination of Racial Discrimination (International)
International Day of Forests (International), by proclamation of the United Nations General Assembly
Mother's Day (most of the Arab World)
Truant's Day (Poland)
Vernal Equinox related observances (see March 20)
World Down Syndrome Day (International)
World Poetry Day (International)
World Puppetry Day (International)
Youth Day (Tunisia)
On this day in history:
1844: The Bahá'í calendar begins. This is the first day of the first year of the Bahá'í calendar. It is annually celebrated by members of the Bahá'í Faith as the Bahá'í New Year or Náw-Rúz.
1871: Journalist Henry Morton Stanley begins his trek to find the missionary and explorer David Livingstone.
1925: The Butler Act prohibits the teaching of human evolution in Tennessee.
1935: Shah of Iran Reza Shah Pahlavi formally asks the international community to call Persia by its native name, Iran, meaning "Land of the Aryans".
1939: Kate Smith records the patriotic song "God Bless America." It is still sung at some sports events and other celebrations in combination with the national anthem.
1946: The Los Angeles Rams sign Kenny Washington, making him the first African American player in the American football since 1933.
1947: James Baskett (1904-1948) won a Special Academy Award for his part in Disney's "Song Of The South". He was the second American of African descent to receive an Academy Award. Baskett was also the first American of African descent hired by Disney. Unfortunately Baskett was unable to attend the premiere in Atlanta because he was unable to get accommodations.
1952: Alan Freed presents the Moondog Coronation Ball, the first rock and roll concert, in Cleveland, Ohio.
1960: Afrikaner police open fire on a group of unarmed black South African demonstrators in the black township of Sharpeville, near Johannesburg, South Africa, killing 69 people and wounding 180 in a hail of submachine-gun fire.
1965: Following the Bloody Sunday March earlier in the month, Dr. Martin Luther King Jr. led 3,000 civil rights demonstrators in a march in Alabama from Selma to Montgomery under the protection of army units deployed by President Lyndon B. Johnson.
1970: The first Earth Day proclamation is issued by Mayor of San Francisco Joseph Alioto.
1972: Equal Rights Amendment sent by Congress to the States for ratification.
1980: President Carter told U.S. Olympic athletes that the U.S. will be boycotting the 1980 Summer Olympics in Moscow
1987: Club Nouveau started a two week run at No.1 on the US singles chart with their version of Bill Withers 'Lean On Me', a No.3 hit in the UK.
1990: Namibia becomes independent after 75 years of South African rule.
1992: Vanessa Williams started a five week run at No.1 on the US singles chart with 'Save The Best To Last', a No.3 hit in the UK.
1999: Bertrand Piccard and Brian Jones become the first to circumnavigate the Earth in a hot air balloon.
2007: Iran's supreme leader has warned that his country will be pursuing nuclear activities outside of international law if illegal action is taken against it. Khamenei's comments came as the U.N. Security Council has been preparing further sanctions against Iran as a means of halting its nuclear program. Tehran has already rejected the earlier U.N. resolution imposing sanctions against it as illegitimate. It denies Western claims that it is seeking to produce nuclear weapons, and says that its nuclear program is for purely for peaceful purposes. A draft resolution containing additional sanctions has been agreed upon by ambassadors of the council's five permanent members.
Born on this day in history:
1857: Alice Henry born: journalist, women's suffrage activist, author: The Trade Union Woman; she was a member of the Women's Trade Union League
1867: Florenz Ziegfeld, Jr., American director and producer (d. 1932)
1902: Son House, American singer and guitarist (d. 1988)
1906: John D. Rockefeller III, American philanthropist (d. 1978)
1930: Otis Spann, American singer and pianist (d. 1970)
1934: Al Freeman, Jr., American actor and director (d. 2012)
1940: Solomon Burke, US singer, the king of rock & soul, (1961 US No.24 single 'Just Out Of Reach Of My Open Arms', 1963 US No.1 R&B hit, 'Got To Get You Off My Mind'). (d. 2010)
1944: Gaye Adegbalola, American singer and guitarist (Saffire – The Uppity Blues Women)
1945: Rosemary Stone, vocals, piano, Sly and The Family Stone, (1971 US No.1 & 1972 UK No.15 single 'Family Affair').
1953: Born on this day, Robert Johnson, KC and the Sunshine Band, (1975 US No.1 single 'That's The Way, I Like It', 1983 UK No.1 single 'Give It Up').
1962: Matthew Broderick, American actor, singer, and director
1962: Rosie O'Donnell, American actress and talk show host
1966: DJ Premier, American DJ and producer (Gang Starr)
On this day in history, we lost:
1617: Pocahontas (Mataoka) buried: born about 1595
1943: Cornelia Fort, military pilot, died when another plane on the same air ferry mission clipped her plane's wing, crashing her plane; she was the first female pilot in America to die on active duty, a member of the precurser of WASP
1970: Walter White (61), New York City. Roy Willkins succeeded him as NAACP executive dierctor, April 11.
2005: Bobby Short, American singer and pianist (b. 1924)
2013: Chinua Achebe, Nigerian poet and author (b. 1930)
Sources: The People History; This Day in Labor History; Wikipedia List of Historical Anniversaries; This Day in Women's History; This Day in African History;History.com; History Orb; Yenoba; Selected Black Facts; Phil Konstantin's North American Indian History; and This Day in Music