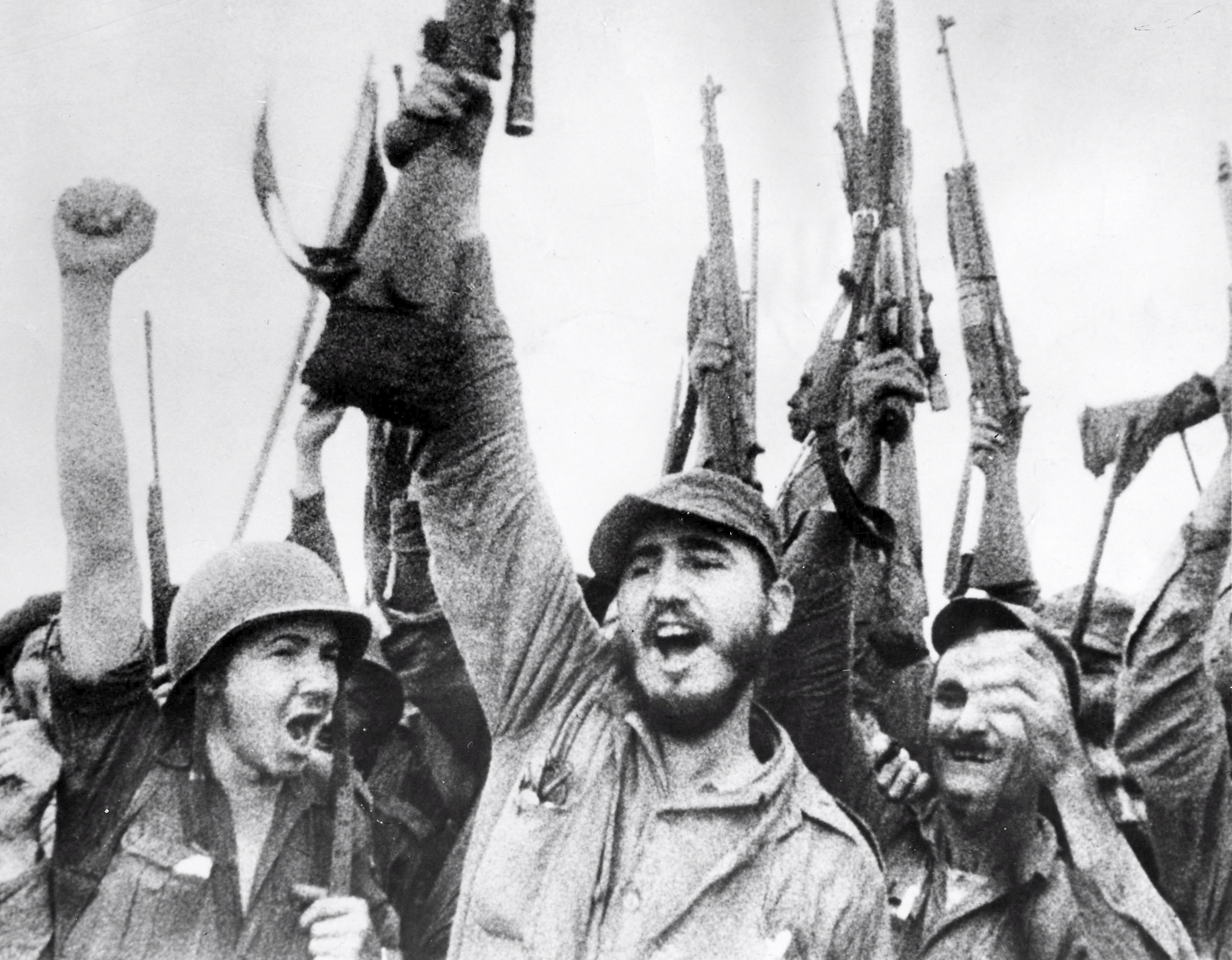 Podcast: Play in new window | Download
Subscribe: RSS
March 19, 2014 – Segment 1
Marc talks about what happened on this day in history, including the birthday of William Tucker, the first African child born in the colonies, the day Cuban leader Fidel Castro stepped down forty-nine years after taking power in an armed revolution, and the day saxophonist Ornette Coleman passed away.
Today is:
Father's Day (Spain, Portugal, Belgium, Italy, Honduras, and Bolivia)
"Return of the Swallow", annual observance of the swallows' return to Mission San Juan Capistrano in California.
On this day in history:
1619: Birthday of William Tucker, the first African child born in the colonies. Tucker was baptized in Jamestown, Virginia. There are unconfirmed reports that he lived to be 108 yrs. old.
1861: Congressman Thaddeus Stevens called resolution providing for the enforcement of the Second Confiscation Act of July, 1962. The measure, which provided for the distribution of public and confiscated land to the freedmen, was defeated.
1916: The first use of air combat by the US when Eight Curtiss "Jenny" planes of the First Aero Squadron are used in support for the 7,000 U.S. troops who invaded Mexico to capture Mexican revolutionary Pancho Villa.
1918: The U.S. Congress establishes time zones and approves daylight saving time.
1920: The United States Senate rejects the Treaty of Versailles for the second time (the first time was on November 19, 1919).
1939: The New Negro Theater is founded in Los Angeles, California by Langston Hughes.
1941: World War II: The 99th Pursuit Squadron also known as the Tuskegee Airmen, the first all-black unit of the Army Air Corp, is activated.
1941: Jimmy Dorsey and his orchestra record the hits "Green Eyes" and "Maria Elena." The album hit the Billboard charts two months later and spent 17 weeks on it, peaking at #1 in mid-June. Both songs eventually hit #1, making the album a major hit.
1954: Willie Mosconi sets a world record by running 526 consecutive balls without a miss during a straight pool exhibition at East High Billiard Club in Springfield, Ohio. The record still stands today.
1966: Texas Western becomes the first college basketball team to win the Final Four with an all-black starting lineup.
1975: James B. Parsons becomes the first African American chief judge of a federal court, the U.S. District Court of Chicago. In 1961, Parsons became the first African American district court judge.
1979: The United States House of Representatives begins broadcasting its day-to-day business via the cable television network C-SPAN.
1982: 50 Argentines land at Leith Harbour, on South Georgia a British colony of the Falkland Islands in the south Atlantic and planted their nation's flag. Argentina invades the Falkland Islands on April 2nd and British Marines are deployed to regain the Island on April 25th.
1990: Unification was a hot topic driving free elections in Germany. The Alliance for Germany Party and the Social Democrats won a majority of the seats in the German Parliament.
The above-mentioned parties managed to win more of the votes than the other major party-the Communist Party (renamed The Party of Democratic Socialism). Only one major party along with a group of about 20 smaller parties received less votes than the formerly-named Communist ticket.
2001: California officials order the first of a further two days of rolling blackouts. The California electricity crisis which included extremely high prices and Rolling blackouts was a direct result from the manipulation of energy of a partially deregulated California energy system by companies like Enron and Reliant Energy.
2003: President George W. Bush addresses the nation via live television and announces that Operation Iraqi Freedom has begun to rid Iraq of tyrannical dictator Saddam Hussein and eliminate Iraq's ability to develop weapons of mass destruction. The American led coalition launched began with the launch of U.S. cruise missiles and precision-guided bombs aimed at Saddam Hussein near Baghdad.
2006: Iyad Allawi has said that Iraq is in the middle of a civil war. His television interview said that they had not reached to 'the point of no return,' but if the country fell apart, then sectarianism would spread across the region. The U.S. has repeatedly denied Iraq is having a civil war, but Allawi suggests that there is no other way to describing the sectarian violence that is taking place. 'If this is not civil war, then God knows what civil war is,' he said.
President Bush has said that Iraq had not descended into civil war, and urged the nation's leaders to confront the sectarian violence that was taking place. Mr. Bush said Iraqis had 'had a chance to fall apart and they didn't.'
2008: The Cuban leader Fidel Castro has stepped down, forty-nine years after taking power in an armed revolution. This has ended the Cold War fracas that has made him an icon to leftists, and a tyrant to his foes. Castro, 81, who has not appeared in public since undergoing stomach surgery, said he would not be seeking a new term as president or leader of Cuba's armed forces when the National Assembly meets again. His retirement has raised expectations for a post-communist system of government, and calls by the United States for democracy.
2011: Libyan civil war: After the failure of Muammar Gaddafi's forces to take Benghazi, French Air Force launches Opération Harmattan, beginning foreign military intervention in Libya.
Born on this day in history:
1848: Wyatt Earp, American police officer (d. 1929)
1859: Ellen Gates Starr born: founded Hull House in Chicago with Jane Addams
1868: Senda Berenson born: organized first women's basketball team
1881: Edith Nourse Rogers: volunteer, member of the US House of Representatives 1925 – 1960
1882: Minnie Fisher Cunningham: politician, women's suffrage activist
1891: Earl Warren, American politician and jurist, 14th Chief Justice of the United States (d. 1974)
1894: Moms Mabley, American comedian and actress (d. 1975)
1930: Ornette Coleman, saxophonist
1937: Clarence "Frogman" Henry, American singer and pianist
1946: Ruth Pointer, The Pointer Sisters, (1981 US No.2 single, 'Slow Hand', 1984 UK No.2 single 'Automatic').
1947: Glenn Close: actress
1955: Actor and singer Bruce Willis, (1987 UK No.2 single 'Under The Boardwalk').
On this day in history, we lost:
1930: Arthur Balfour, Scottish politician, Prime Minister of the United Kingdom (b. 1848)
1939: Lloyd L. Gaines, American activist (b. 1911)
2007: US soul singer Luther Ingram died from a heart attack at the age of 69. Ingram scored the 1972 US No.2 hit '(If Loving You Is Wrong) I Don't Want to Be Right' and wrote the Staple Singers' hit 'Respect Yourself'. (b. 1937)
2008: Arthur C. Clarke, English author (b. 1917)
Sources: The People History; This Day in Labor History; Wikipedia List of Historical Anniversaries; This Day in Women's History; This Day in African History;History.com; History Orb; Yenoba; Selected Black Facts; Phil Konstantin's North American Indian History; and This Day in Music