Podcast: Play in new window | Download
Subscribe: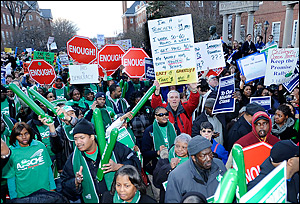 How will the political battle in Wisconsin over the state budget and power of unions inform the political landscape around the country, from decisions over local budgets to the next Presidential election?  What similar issues are being debated in Maryland now, in the face of a reduced state budget?
We're joined by Anne McCarthy, former Republican candidate for Comptroller of Maryland, and Cory McCray, Board Chair of the Young Trade Unionists.