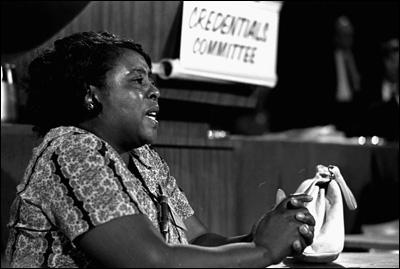 Podcast: Play in new window | Download
Subscribe: RSS
March 14, 2014 – Segment 1
Marc reflects on some of the events that happened on this day in history, including the deaths of Fannie Lou Hamer and Karl Marx, and the birth of Quincy Jones.

Today is:
Heroes' Day (Saint Vincent and the Grenadines)
Mother Tongue Day (Estonia)
Nanakshahi New Year, first day of the month of Chet (Sikhism)
Pi Day, also see July 22–"Pi Approximation Day"
Second Equirria (Roman Empire)
Spring Day (Albania)
White Day, complementary day of Valentine's Day when men give gifts to women. (Japan and Korea)
On this day in history:
44 BC: Casca and Cassius decide, on the night before the Assassination of Julius Caesar, that Mark Antony should stay alive.
1794: Eli Whitney patented cotton gin which made cotton king and increased demand for slave labor.
1838: Blacks held a mass meeting in Philadelphia to protest the action of the Pennsylvania Reform Convention of 1837 which denied them the right to vote.
1885: The Mikado, a light opera by W. S. Gilbert and Arthur Sullivan, receives its first public performance in London.
1900: The Gold Standard Act is ratified, placing United States currency on the gold standard.
1903: The Hay–Herrán Treaty, granting the United States the right to build the Panama Canal, is ratified by the United States Senate. The Colombian Senate would later reject the treaty.
1903: The Pelican Island National Wildlife Refuge is established by US President Theodore Roosevelt.
1917: First training camp for "colored" officers is established by the U.S. Army in Des Moines, Iowa
1951: Seoul had been captured by communist forces on January 4th, 1951 and on 14th March United Nations forces recapture Seoul during the Korean War.
1964: Jack Ruby is convicted of the murder of Lee Harvey Oswald, the alleged assassin of President Kennedy, he is sentenced to death. The ruling is later overturned when his defense lawyers argued he did not receive a fair trial in Dallas due to the excessive publicity . A later date is set for a second trial at a change of venue, but he died of natural causes while waiting for the new trial.
1967: The body of U.S. President John F. Kennedy is moved to a permanent burial place at Arlington National Cemetery.
1978: The Israeli Defense Force invades and occupies southern Lebanon, in Operation Litani.
1990: Michael Jackson was voted artist of the decade at the annual 'Soul Train Awards.'
1995: The US Astronaut Norman Thagard becomes the first American to enter space aboard a Russian rocket as he and two cosmonauts blasted off aboard a Soyuz spacecraft, headed for the Mir space station.
1995: With the release of 'Me Against the World' Tupac Shakur became the first male solo artist to have a No.1 album on the Billboard chart while in prison.
1998: Will Smith started a three week run at No.1 on the US singles chart with 'Gettin' Jiggy Wit It'.
2002: Arthur Andersen the accounting firm is charged by federal prosecutors with obstruction of justice, securing its first indictment in the collapse of Enron.
2004: Following the Madrid terrorist bombing which the public blamed on the conservative government's support for the US led war in Iraq. Spaniards go to the polls and elect a socialist government into power.
2005: Following ex Prime Minister of Lebanon's Rafik Hariri murder in February one million people take to the streets protesting in Beirut, Lebanon, demanding Syrian withdrawal and the arrest of his killers.
2008: A series of riots, protests, and demonstrations erupt in Lhasa and elsewhere in Tibet.
2013: Newly elected Pope Francis held his first mass in the Sistine Chapel, delivering his homily to the Cardinals.
Born on this day in history:
1833: Lucy Hobbs Taylor, dentist, women's rights advocate; first woman in US to be granted a dentistry degree (d. 1866)
1863: Casey Jones, American engineer (d. 1900)
1868: Emily Murphy born: Canadian women's rights advocate, one of the Famous Five in the Persons Case
1879: Albert Einstein, German-American physicist, Nobel Prize laureate (d. 1955)
1903: Adolph Gottlieb, American painter (d. 1974)
1914: Lee Hays, American singer-songwriter (The Weavers) (d. 1981)
1933: Michael Caine, English actor and author
1933: Quincy Jones, American singer-songwriter, trumpet player, and producer
1943: Leroy "Sugarfoot" Bonner, American singer, guitarist, and producer (Ohio Players) (d. 2013)
1945: Born on this day, Walter Parazaider, sax, Chicago, (1976 UK & US No. 1 single 'If You Leave Me Now', five US NO.1 albums during the 70's).
1946: Wes Unseld, American basketball player, coach, and manager
1948: Billy Crystal, American actor, director, screenwriter, and producer
1951: Jerry Greenfield, American businessman, co-founded Ben & Jerry's
1959: Tamara Tunie, American actress, director, and producer
1960: Kirby Puckett, American baseball player (d. 2006)
1961: Penny Johnson Jerald, American actress
1969: Michael Bland, American drummer (The New Power Generation, Nick Jonas & the Administration, Dr. Mambo's Combo, and Soul Asylum)
1988: Born on this day, Colby O'Donis, American R&B and hip hop singer-songwriter and actor.
On this day in history, we lost:
1883: Karl Marx, German philosopher and theorist (b. 1818)
1932: George Eastman, American inventor and businessman, founded Eastman Kodak (b. 1854)
1972: Soul singer, Linda Jones, died aged 26 in New York after collapsing into a diabetic coma following a performance at Harlem's Apollo Theatre in new York. Jones scored the 1967 US No.21 single 'Hypnotized'.
1975: Susan Hayward, American actress (b. 1917)
1977: Fannie Lou Hamer, American activist (b. 1917)
1989: Edward Abbey, American author and activist (b. 1927)
1991: American songwriter Doc Pomus died. With Mort Shuman he wrote many early 60's hits including, 'A Teenager in Love', 'Save The Last Dance For Me', 'Sweets For My Sweet', 'Can't Get Used to Losing You', 'Little Sister', 'Suspicion', 'Surrender' and 'Viva Las Vegas'.
Sources: The People History; This Day in Labor History; Wikipedia List of Historical Anniversaries; This Day in Women's History; This Day in African History;History.com; History Orb; Yenoba; Selected Black Facts; Phil Konstantin's North American Indian History; and This Day in Music