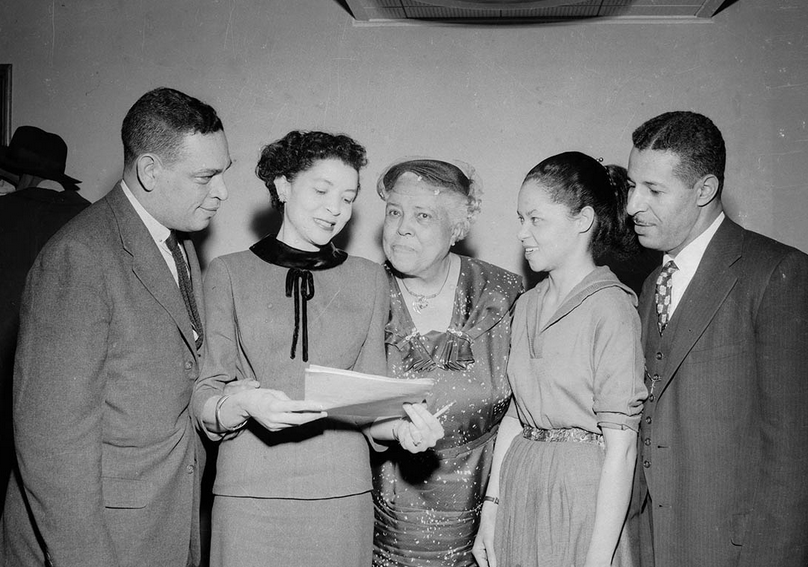 Podcast: Play in new window | Download
Subscribe: RSS
March 10, 2014 – Segment 1
Marc talks about what happened on this day in history, including the day the first successful telephone call was made, the day Harriet Tubman died, and the day Daisy Lampkin, founder of the National Council of Negro Women, died.
DAY IN HISTORY
1804 – Louisiana Purchase: In St. Louis, Missouri, a formal ceremony is conducted to transfer ownership of the Louisiana Territory from France to the United States.
1861 – El-Hadj Omar, Tukulor conqueror, starts his empire with the capture of Segu.
1876 – Alexander Graham Bell makes the first successful telephone call by saying "Mr. Watson, come here, I want to see you."
1906 – The Courrières mine disaster, Europe's worst ever, kills 1099 miners in Northern France.
1922 – Mahatma Gandhi is arrested in India, tried for sedition, and sentenced to six years in prison, only to be released after nearly two years for an appendicitis operation.
1945 – The U.S. Army Air Force firebombs Tokyo, and the resulting firestorm kills more than 100,000 people, mostly civilians.
1952 – Fulgencio Batista leads a successful coup in Cuba and appoints himself as the "provisional president".
1959 – Tibetan uprising: Fearing an abduction attempt by China, 300,000 Tibetans surround the Dalai Lama's palace to prevent his removal.
1966 – Military Prime Minister of South Vietnam Nguyen Cao Ky sacked rival General Nguyen Chanh Thi, precipitating large-scale civil and military dissension in parts of the nation.
1969 – In Memphis, Tennessee, James Earl Ray pleads guilty to assassinating Martin Luther King Jr. He later unsuccessfully attempts to retract his plea.
1970 – Vietnam War: Captain Ernest Medina is charged by the U.S. Military with My Lai war crimes.
1972- Through the 12th – three thousand delegates and five thousand observers attended the first Black political convention in Gary, Indiana. The NAACP and other groups withdrew from the convention after the adoption of resolutions critical of busing and the state of Israel.
1975 – Vietnam War: North Vietnamese troops attack Ban Me Thuot, South Vietnam, on their way to capturing Saigon.
1977 – Rings of Uranus: Astronomers discover rings around Uranus.
1990 – In Haiti, Prosper Avril is ousted 18 months after seizing power in a coup.
BIRTHS
1847 – Katherine Wilson Sheppard, also known as Kate, (10 March 1847 – 13 July 1934) was the most prominent member of New Zealand's women's suffrage (the movement to allow women to vote in New Zealand), and is the country's most famous suffragette. She also appears on the NZ ten-dollar note. Because New Zealand was the first country to introduce universal suffrage, Sheppard's work had a considerable impact on women's suffrage movements in other countries.
1928 – James Earl Ray, American assassin of Martin Luther King, Jr. (d. 1998)
1929 – Huey P. Meaux, American record producer, founded Tear Drop Records and Capri Records (d. 2011)
1929 – Sam Steiger, American journalist and politician (d. 2012)
1936 – Alfredo Zitarrosa, Uruguayan singer-songwriter and journalist (d. 1989)
1938 – Norman Blake, American singer-songwriter and guitarist
1939 – Asghar Ali Engineer, Indian activist and author (d. 2013)
1940 – Chuck Norris, American actor and martial artist
1940 – Dean Torrence, American singer-songwriter (Jan & Dean)
1950 – Hafiz Muhammad Saeed, Pakistani terrorist
1957 – Osama bin Laden, Saudi Arabian terrorist, founded al-Qaeda (d. 2011)
1958 – Sharon Stone, American actress and producer
1963 – Rick Rubin, American record producer, founded Def Jam Recordings
1966 – Edie Brickell, American singer-songwriter and guitarist (The Heavy Circles and Edie Brickell & New Bohemians)
DEATHS
1913 – Death of Harriet Tubman, Auburn, New York.
1940 – Mikhail Bulgakov, Russian author and playwright (b. 1891)
1967 – Yiorgos Batis, Greek bouzouki player and composer (b. 1885)
1948 – Zelda Fitzgerald, American author (b. 1900)
1965 – Daisy Lampkin, founder of the National Council of Negro Women, died from the effects of a December 1964 heart attack.
1988 – Andy Gibb, English-Australian singer (b. 1958)
1989 – Singer Doc Green of the Drifters dies of cancer. He was 54.
1997 – LaVern Baker, American singer and actress (b. 1929)
1998 – Lloyd Bridges, American actor (b. 1913)
2010 – Muhammad Sayyid Tantawy, Egyptian scholar (b. 1928)
Sources: The People History; This Day in Labor History; Wikipedia List of Historical Anniversaries; This Day in Women's History; This Day in African History;History.com; History Orb; Yenoba; Selected Black Facts; Phil Konstantin's North American Indian History; and This Day in Music