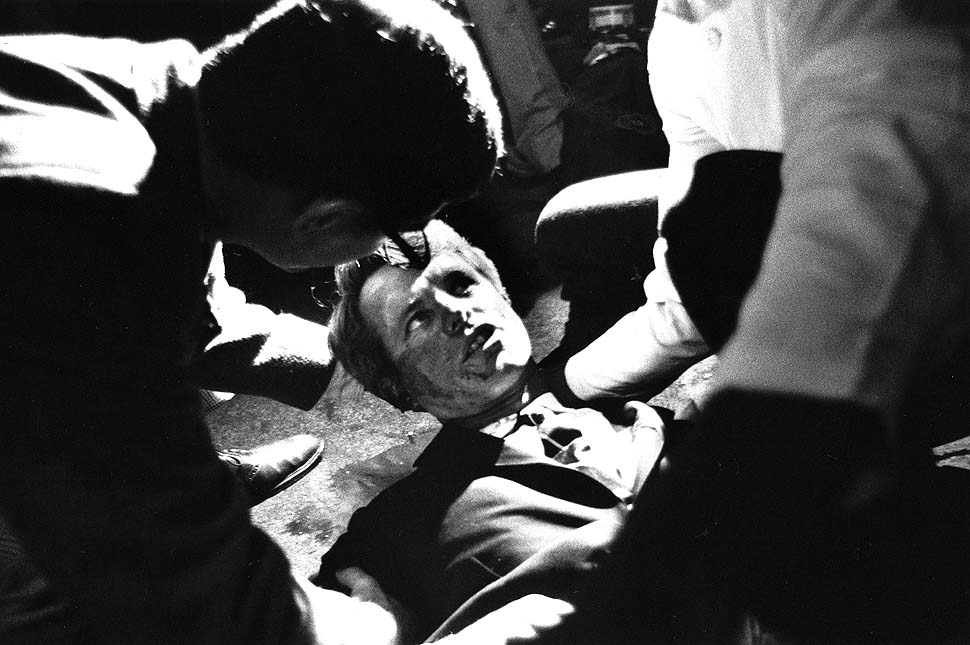 Podcast: Play in new window | Download
Subscribe: RSS
June 5, 2014 – Segment 1
Marc shares some of the events that happened on this day in history, including the beginning of the Six Day War in Israel/Palestine, the birth of Art Donovan, the death of Ronald Reagan, and the assassination of Robert Kennedy.
On this day in history:
1728: Today, DELAWARE Chief Sassoonan will address the Pennsylvania Provincial Council.
He will complain of German immigrants settling on Indian lands in Tulpehocken valley. The
complaint would not be resolved until 1732, when the lands were purchased from the Indians
with trading goods.
1783 – Oliver Cromwell, soldier in the Revolutionary War, receives an honorable discharge and
the Badge of Merit from George Washington.
1851: First installment of Uncle Tom's Cabin published (author: Harriet Beecher Stowe)
1866: This day will start the formal treaty conference at Fort Laramie in southeastern Wyoming.
Leaders from many tribes and bands will be present. The purpose of the treaty will be to
allow passageway for trails, roads, and railroad lines across Indian lands. The meeting will
be postponed for almost a week, at Red Cloud's request, to allow for the arrival of additional
Indians.
1872: Republican National Convention met in Philadelphia with substantial Black representation
from Southern States. For the first time in American History, three Blacks addressed a major
national political convention: Robert B. Elliot, Chairman of the South Carolina delegation;
Joseph H. Rainy, South Carolina delegate; John R. Lynch, Mississippi delegate.
1894 – G.W, Murray patents fertilizer distributor – Patent No. 520,889.
1894 – G.W. Murray patents cotton chopper – Patent No. 520,888.
1894 – G.W. Murray patents Planter – Patent No. 520,887.
1915 – Denmark amends its constitution to allow women's suffrage.
1916 – Louis Brandeis is sworn in as a Justice of the United States Supreme Court; he is the
first American Jew to hold such a position.
1917 – World War I: Conscription begins in the United States as "Army registration day"
1922: The Supreme Court decides that Union organizations are liable for damage or injury
caused during strikes. The decision was regarded as one of the biggest blows to labor unions.
1933 – The U.S. Congress abrogates the United States' use of the gold standard by enacting a
joint resolution (48 Stat. 112) nullifying the right of creditors to demand payment in gold.
1940 – The American Negro Theater was organized by Frederick O'Neal and Abram Hill.
1955 – Martin Luther King Jr. is awarded his doctorate from Boston University.
1950 – U.S. Supreme Court undermined the legal foundations of segregation in three landmark
cases, Sweatt v. Painter, McLaurin v. Oklahoma State Regents and Henderson v. United
States.
1956: Elvis Presley introduces his new single, "Hound Dog," on The Milton Berle Show, and
scandalized the audience with his suggestive hip gyrations.
1956 – Federal court ruled that racial segregation on Montgomery city buses violated
Constitution.
1967: The Six-Day War begins when Israel launches simultaneous attacks against Egypt and
Syria, Jordan also joined the fray, but the Arab coalition was no match for Israel's proficient
armed forces. In six days of fighting, Israel occupied the Gaza Strip and the Sinai Peninsula of
Egypt, the Golan Heights of Syria, and the West Bank and Arab sector of East Jerusalem, by
the time the United Nations cease-fire took effect on June 11th, Israel had more than doubled its
size.
1973: Doris A. Davis elected mayor of Compton, California – the first African American woman
mayor of a major city.
1976: Thirty-five members of the Teamsters, concerned about the infiltration of organized crime
in the union and other issues, meet in Cleveland to form Teamsters for a Democratic Union.
1979: Blues legend Muddy Waters (aged 64), married Marva Jean Brooks on her 25th birthday.
1981: The Morbidity and Mortality Weekly Report of the Centers for Disease Control and
Prevention reports that five people in Los Angeles, California, have a rare form of pneumonia
seen only in patients with weakened immune systems, in what turns out to be the first
recognized cases of AIDS.
1989: Solidarity who is anti-communist party in Poland, looks set to claim success in the
country's elections. Due to the conditions set by the controlling communist party in Poland the
communists will still remain in control, as the opposition has been allowed to contest only one
third of the seats.
1989 – The Tank Man halts the progress of a column of advancing tanks for over half an hour
after the Tiananmen Square protests of 1989.
1998: A strike begins at a General Motors Corp. parts factory in Flint, Mich., that spreads
and ultimately forces the closure of GM plants across the country for seven weeks. The Flint
workers were protesting the removal of key dies from their plant and feared their jobs would be
lost. The company ended the dispute by assuring the plant would remain open until at least the
year 2000.
2005: Two women, Fatima al-Sabah and Fawzia al-Bahr, were appointed to Kuwait's municipal
council, the first time in its history. The council mainly focused on civic planning, including roads
and public services, and the appointment was hailed as a gain for women's rights in the country.
2012: A recall election in the state of Wisconsin took place as incumbent Republican Scott
Walker faced off against Democrat mayor of Milwaukee Tom Barrett. Walker survived the vote
which many observers thought of as a key test for the November presidential elections.
2012 – The last transit of Venus of the 21st century begins.
Born on this day in history:
1646: Elena Cornaro Piscopia born (mathematician and prodigy)
1723 – Adam Smith, Scottish economist and philosopher (d. 1790)
1836: Miriam Leslie born (editor, publisher)
1866: Sophie Bell Wright born (educator, relief worker)
1867: Anna Beach Pratt born (social worker, educator, connected with the New York School of
Philanthropy)
1878 – Pancho Villa, Mexican general (d. 1923)
1883 – John Maynard Keynes, English economist (d. 1946)
1884: Dame Ivy Compton-Burnett born
1887: Ruth Fulton Benedict born (anthropologist)
1899 – Otis Barton, American diver, engineer, and actor, designed the bathysphere (d. 1992)
1902 – Arthur Powell Davies, American minister, author, and activist (d. 1957)
1925 – Art Donovan, American football player and radio host (d. 2013)
1929: Margaret Drabble born (writer)
1934 – Bill Moyers, American journalist, 13th White House Press Secretary.
1945 – Olympic track and field star John Carlos born in New York City. John Carlos would
become famous at the 1968 Olympic Summer Games for raising a black gloved fist during the
playing of the American anthem.
1946: Born on this day, Freddie Stone, guitar, Sly and The Family Stone, (1971 US No.1 &
1972 UK No.15 single 'Family Affair').
1947: Laurie Anderson born (performance artist, writer, composer)
1950 – Ronnie Dyson, American singer and actor (d. 1990)
1951 – Suze Orman, American financial adviser, author, and television host.
1956 – Kenny G, American saxophonist, songwriter, and producer (The Love Unlimited
Orchestra)
1969 – Brian McKnight, American singer-songwriter and producer
1971: Born on this day, Mark Wahlberg, Marky Mark, (1991 US No.1
single, 'Good Vibrations').
On this day in history, we lost:
1832: Kaahumanu died (ruler of Hawaii)
1893: Mary Ann Shadd Cary died (journalist, teacher, abolitionist, activist)
1910 – O. Henry, American author (b. 1862)
1968: Senator Robert Kennedy is assassinated at the Ambassador Hotel in Los Angeles after
winning the California presidential primary.
1993 – Conway Twitty, American singer-songwriter and guitarist (b. 1933)
1999: Jazz singer and songwriter Mel Tormé died aged 73. Biggest hit was the 1956 UK No. 4
single 'Mountain Greenery' and his 'Christmas Song' (Chestnuts Roasting On An Open Fire) has
been recorded more than 1,700 times.
2004 – Ronald Reagan, American actor and politician, 40th President of the United States (b.
1911)
2012 – Ray Bradbury, American author (b. 1920)
Sources: The People History; This Day in Labor History; Wikipedia List of Historical Anniversaries; This Day in Women's History; This Day in African History;History.com; History Orb; Yenoba; Selected Black Facts; Phil Konstantin's North American Indian History; and This Day in Music