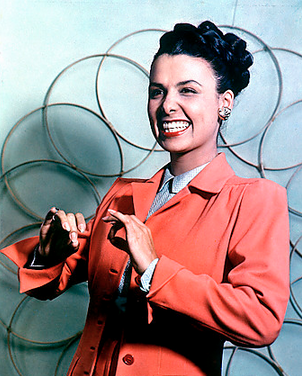 Podcast: Play in new window | Download
Subscribe: RSS
June 30, 2014 – Segment 1
Marc talks about what happened on this day in history, including Independence Day in Korea, the Democratic Republic of Congo, Rwanda and Burundi, the day Congress created present day Oklahoma, and the birthday of Lena Horne.
Today is:
Independence Day, The Democratic Republic of Congo gains independence from Belgium in 1960.
On this day Rwanda and Burundi were also gained independence from Belgium, following a referendum that say the people of Rwanda vote to abolish the Belgian Monarchy.
Today also marks Koreas declaration of independence from China in 1894
On This Day:
1520 –Spanish conquerors under Cortes plunder, Aztec gold reserves
1521 –Spanish Captain Francisco Gordillo and Pedro de Quexes land in and claim Florida for the King of Spain.
1755 –The Philippines close all non-Catholic Chinese restaurants.
1802 –Treaty with the SENECA North American Indians is concluded at Buffalo Creek, Ontario County New York, in which all SENECA lands are ceded to the "Holland Land Company". A new treaty signed that day gave the same Native Americans $1200.00 for what is known as the "Little Beard" reservation.
1834 –Congress creates Indian Territory, present day Oklahoma
1839 – Cinque leads successful slave revolt on the ship Amistad
1859 –Charles Blondin becomes the first person to cross the Niagara Falls on a tightrope
1860 – The Oxford Evolution debate takes place at the Oxford University Museum in Oxford England. Debate took place seven months after Charles Darwin's "The Origin of Species" was published. Many prominent philosophers took part in the debate. Thomas Huxley, Samuel Wilberforce and Robert FitzRoy were amongst the notable participants and it is said that Wilberforce asked Huxley if it were his grandfather or grandmother that he claimed his descent from a monkey…
1861 –William James Mayo, surgeon and founder of the Mayo Clinic in Minnesota was born on this day in 1861.
1865 –Eight alleged conspirators are found guilty in the assassination of Abraham Lincoln
1870 –Ada Kepley become the first female law graduate in the US after receiving her law degree from Union College of Law, now known as Northwest University.
1871 –Guatemala revolts for pro agrarian rights and reforms
1894 –London Tower Bridge opens
1906 –John Hope becomes the first black president of Morehouse College.
1906 –Pure Food and Drug and Meat inspections act adopted. Newspaper journalists known as "muckrakers' had alerted the public to safety issues stemming from carless food preparation procedures and the increase in drug dependency from patent medications.
1908 –Allen Allensworth founded he town of Allensworth in the San Joaquin Valley, California. The ordained minister and military chaplain (Buffalo Soldiers 1886) founded what would be the only town in the state of California to be founded, financed and governed by African Americans
1908 –Large fireball impacts Siberia. Dubbed the Tunguska explosion over 1,000 scholarly papers have been written on the incident.
1910 –Russia absorbs Finland
1914 – Mahatma Gandhi's first arrest as he is campaigning for Indian rights in South Africa
1917 –The incomparable Lena Horne was born on this day in 1917 in Brooklyn, NY. Horne was a singer, dancer, actress and civil rights activist. She got her start in show-business as a chorus girl at the Cotton Club in Harlem at the age of 16. She went on to become the first black performer to sign with a major studio in Hollywood (MGM). Horne was never featured in a leading role as she oft had to be edited out of films due to her race. At the time there were many theaters at the time, especially in the south, that would not feature films with black actors. After being black listed in Hollywood for her political views, Horne became a popular performer on the hotel and nightclub circuit and was in very high demand. In 1957 Lena Horne's album "Lena Horne at the Waldorf Astoria" became RCA/Victors biggest selling album by a female artist ever. During WW2, Horne reused to perform to segregated audiences and audiences where German soldiers were seated in front of African American Servicemen. She also spoke at the 1965 March on Washington for Freedom and Jobs. Lena Horne has been honored with 4 Grammy awards, an NAACP Springam medal and was inducted into the International Civil Rights Hall of Fame. Horne died 5/9/2010.
1930 –First round the world radio broadcast, Schenectady, NY
1930 ­–Economist, social critic and author Thomas Sowell was born in Gastonia, NY. Raised in Harlem, a 17 year old Sowell dropped out of school and worked odd labor jobs until he was drafted into the Marine Corps in 1951. He received his GED upon discharge from the military and earned a BA of Economics from Harvard University (Magna Cum Laude) in 1955. Sowell taught economics at Howard University, Cornell University, Brandeis University and UCLA. In 1990 He received the Francis Boyer Award, the highest honor presented to an African American by the American Enterprise Institute. He was also awarded the National Humanities Medal for scholarship in history, economics and political science. Sowell writes a nationally syndicated column in Forbes magazine and The Wall Street journal amongst other notable publications.
1931-Hall of fame jazz pianist Andrew Hill was born on this day in Chicago Ill. 1931. Began studying piano at the age 13 and was touring with likes of Charlie Parker and Miles Davis whilst still a teenager. Was the composer in residence at Colgate University, CA from 1970-1972.Also was the first person to receive a posthumous honorary doctorate form Berkley School of Music.
1934 –Light of the Long Knives as Hitler stages a bloody purge of the Nazi Party.
1935 –Senegalese socialist party holds its first congress
1936 -40 hr work week law approved.
1936 –Haile Selassie asks the League of Nations for sanctions against Italy.
1936 –Margaret Mitchell's sweeping southern saga "Gone with the Wind" published
1938 –Superman 1st appears in DC comics Action Comics Series, Issue #1.
1944 –Universal strike against Nazi terror in Copenhagen
1944 –Battle of Cherbourg ends with an American victory
1948 –President harry Truman signs bill proclaiming February 1st as National Freedom Day. The movement was initiated by Major Robert Wright Sr., a former slave, the movement was to commemorate President Abraham Lincolns signing of the 13th amendment of the US constitution.
1948 –Last British troops leave Israel.
1953 –First Chevrolet Corvette manufactured.
1958 –NAACP v Alabama; Supreme court hands down decision stating that Alabama's demands for a membership list of NAACP members violated the 14th amendment.
1966 –Leopoldville, becomes Kinshasa, DRC.
1967 – Major Robert H. Lawrence Jr. is named the first black Astronaut. Born 10/2/1935 in Chicago Ill. Lawrence Jr earned a BS in Chemistry and a Doctoral degree in physical chemistry from Ohio State. Considered one of the pioneers of the space programs, Lawrence served as a test pilot for a variety of hybrid vehicles and aircraft which would lay down the foundation of space travel. He was chosen as an astronaut for mission called Manned Orbiting Laboratory, which we refer to today as the International Space Station. 1967 his name was inscribed on the Space Mirror Memorial at the Kennedy Space Center.
1971 –Ohio, 38th state to approve of lower voting age of 18, thus ratifying the 26th amendment.
1971 –Rosa Jinsey Young "The mother of Black Lutheranism in Alabama" , dies on this day in 1971. The Payne University graduate established the Rosebud Literary and Industrial school. The school was on the brink of financial collapse when it was rescued by the Lutheran Church. Lutheran instruction was added to the curriculum and with the support of the church Young went on to help fund 5 other Lutheran based schools across the state of Alabama including the Lutheran Academy and College, now Concordia College. Received an honorary doctorate degree from Concordia theological seminary for her dedicated service.
1982 –Federal Equal Rights Amendment fails, 3 states short of ratification. Originally written by Alice Paul, a feminist and suffragist, The ERA was drafted to end discrimination based on sex. The amendment states "Equality of rights under the law shall not be denied or abridged by the United States or by any State on account of sex." ERA has been introduced into every congress since 1982.
1989 – US Attorney General Thornburgh orders Joseph Doherty to be deported back to Northern Ireland on this day in 1989. The former volunteer for the Belfast Brigade of the Provisional IRA was sentenced in absentia during his trial for the murder of SAS Captain Herbert Westmacott, the highest ranking member of the SAS killed in Northern Ireland. In all, Doherty was charged with three counts of murder and after a daring prison escape, was tried and convicted in absentia; a sentence of life imprisonment with a minimum of 30 years served was handed down upon him. After escaping from the Crumlin Road Jail, Doherty travelled to the United Sates on a false passport where he worked as a construction worker in NJ and bartender at Clancy's Bar in Manhattan. Doherty was arrested by the FBI in 1983. He claimed exemption from extradition on the grounds that the killing of Westmacott was a military operation and he himself was a political prisoner. Doherty was a celebrity of sorts and was supported by a number of influential New Yorkers including, Mayor David Dinkins and Cardinal Archbishop of New York John Joseph O'Connor. Doherty was returned to NI and served out his time in prison at the infamous HM Prison Maze from 1992-1998. He was released under the terms of the Good Friday Agreement.
1990 –Merging of West and East German economies.
1991 –Abolition of the racially based Land Measures act was enacted to repeal the Group Areas act in South Africa. The Group Areas Act assigned racial groups different residential and business sections in urban areas of the country based solely on skin color. Nonwhites were forcibly moved off of land and made to commute long distances between home and work.
1992 –Former PM Margaret Thatcher joins House of Lords as Baroness Thatcher of Kesteven.
2002 –Brazil beats Germany 2-Nil at World Cup South Korea/Japan making this Brazils 5th WC title.
2005 –Spain legalizes same sex marriage.
2013 –Mohamed Morsi sworn in as President of Egypt.
Birthdays
1819, William Wheeler American Politician, US Vice President (1877-1881)
1879, Walter Hampden, American actor
1892, Bo Carter, American singer- songwriter guitarist
1894, Gavrilo Princip, Bosnian assassin of the Arch Duke Ferdinand
1947, Jasper van t' Hof, Jazz Pianist
1953, Jane Denton British nurse and midwife
1955, David Allen Grier, American actor, screenwriter and producer
1963, Rupert Graves, English actor
1966, Mike Tyson, American Boxer
1979 Matisyahu, Reggae singer
Today in Music:
1931, Andrew Hill, hall of fame jazz pianist born on this day
1943, Florence Ballard of the Supremes was born on this day
1956, Adrian Wright of the Human League was born on this day
1960, Clarence Cameron White, Violinist educator and composer died
1973, George Harrison knocked Paul McCartney from the top of the US singles chart with 'Give Me Love, Give Me Peace On Earth'. His second US No.1
1975, The Jackson Five announced that they were leaving Motown Records for Epic Records. The brothers were forced to change their name to The Jacksons since Motown owned the other name.
1975, Cher married Greg Allman four days after her divorcing Sonny Bono, the couple split after ten days, followed by a three year on and off marriage.
1976, Police raided the home of Neil Diamond searching for drugs, they found less than one ounce of marijuana.
1977, Marvel Comics launched a comic book based on the rock group Kiss
1995, Phyllis Linda Hyman Singer and Actress committed suicide on this day.
2001, Joe Henderson, hall of fame jazz tenor saxophonist died.
Sources: The People History; This Day in Labor History; Wikipedia List of Historical Anniversaries; This Day in Women's History; This Day in African History;History.com; History Orb; Yenoba; Selected Black Facts; Phil Konstantin's North American Indian History; and This Day in Music