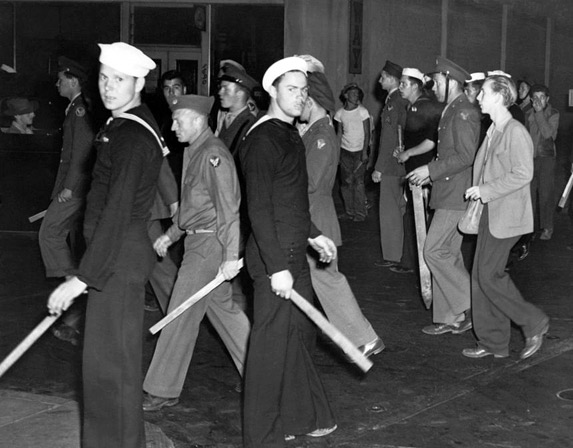 Podcast: Play in new window | Download
Subscribe: RSS
June 3, 2014 – Segment 1
Marc shares some of the events that happened on this day in history, including the 1943 Zoot Suit Riots, when white US Navy soldiers clashed with Latino youth in LA, the births of Memphis Minnie, Raul Castro and Curis Mayfield, and the deaths of author Franz Kafka and Jack Kevorkian.
On this day in history:
1539: Having been in Florida for only a few days, today, Hernando de Soto formally claims
Florida for the King of Spain.
1833: Today, Secretary of War Lewis Cass gives orders directly to the United States Marshal's
office to remove white settlers, and trespassers, from CREEK lands in Alabama.
1833 – Fourth national Black convention met in Philadelphia with sixty-two delegates from eight
states. Abraham D. Shadd of Pennsylvania was elected president.
1839 – In Humen, China, Lin Tse-hsü destroys 1.2 million kg of opium confiscated from British
merchants, providing Britain with a casus belli to open hostilities, resulting in the First Opium
War.
1854 – Anthony Burns, a fugitive slave, was arrested in Boston. His master refused an offer of
$1200 made by Boston citizens for his freedom.
1885 – In the last military engagement fought on Canadian soil, the Cree leader, Big Bear,
escapes the North-West Mounted Police.
1900: Int'l Ladies Garment Workers Union founded.
1918: A federal child labor law, enacted two years earlier, was declared unconstitutional.
1943 – In Los Angeles, California, white U.S. Navy sailors and Marines clash with Latino youths
in the Zoot Suit Riots.
1949 – Wesley A. Brown became the first Black graduate of Annapolis Naval Academy.
1961: Clarence Gideon is arrested and charged with breaking into a poolroom in Florida. His
case managed to change one the chief principles of American criminal justice.
In Gideon v. Wainwright, in the Supreme Court it was ruled that a fair trial "cannot be realized if
the poor man charged with [the] crime has to face his accusers without a lawyer to assist him."
Due to Clarence Gideon's perseverance, every criminal suspect is entitled to representation by
a lawyer.
1967: Aretha Franklin went to No.1 on the US singles chart with her version of the Otis Redding
hit 'Respect'. A No.10 hit on the UK chart. Aretha scored her first UK No.1 20 years later with a
duet with George Michael 'I Knew You Were Waiting'.
1967: The Doors 'Light My Fire' was released in the US, where it went on to be No.1 on the
singles chart two months later. When The Doors were booked to appear on The Ed Sullivan
Show they were asked to change the line "girl, we couldn't get much higher", as the sponsors
were uncomfortable with the possible reference to drug-taking. The band agreed to do so, and
did a rehearsal using the amended lyrics; however, during the live performance, lead singer Jim
Morrison sang the original lyric, after which they were informed they would never appear on the
Ed Sullivan show again.
1972: Sally Priesant ordained, first woman rabbi in the United States.
1989: Following student unrest spreading to the rest of the population China starts the use of
troops to quell protesters which is not successful the first time in Tiananmen Square.
2008: Over four hundred children in Texas who had been taken from a polygamist sect began
returning to their families after a court ruled the officials who had conducted the raid on the
ranch did not provide sufficient evidence that the children were in immediate danger. The court
also placed restrictions on the return of the children, mandating that the parents take parenting
classes and comply with all possible chide abuse investigations.
2009: New Hampshire became the sixth state in the United States to make gay marriage legal.
The governor, John Lynch, signed the legislation allowing same-sex marriage surrounded by
supporters.
Born on this day in history:
1853: Hannah Kent Schoff born (reformer, PTA founder).
1877 – Roland Hayes, first African American to give a recital in Boston's Symphony Hall, born.
1871 – Miles Vandehurst Lynk, founder of the first African American medical journal and
organizer of the National Medical Association, born.
1897 – Memphis Minnie, American singer-songwriter (d. 1973)
1904 – Charles R. Drew, American physician and surgeon (d. 1950)
1906: Josephine Baker born (entertainer)
1906: Mildred Edie Brady born (journalist, editor, reformer, consumer advocate)
1911: Jean Harlow born (actress)
1924 – Jimmy Rogers, American singer and guitarist (d. 1997)
1925 – Tony Curtis, American actor (d. 2010)
1926: Colleen Dewhurst born (actress)
1930 – Dakota Staton, American singer (d. 2007)
1931 – Raúl Castro, Cuban politician, 17th Prime Minister of Cuba
1940 – Loretta Long, American actress and singer.
1942 – Curtis Mayfield, American singer-songwriter and producer (The Impressions) (d. 1999)
1944: Martha Clarke born (dancer, choreographer)
1946 – Eddie Holman, American singer.
1949 – Floyd Lloyd, Jamaican singer.
1951: Born on this day, Deniece Williams, US singer, (1978 US No.1 & UK No.3 single with
Johnny Mathis 'Too Much Too Little Too Late', 1984 US No.1 & UK No.2 single 'Let's Hear It For
The Boy'). Worked as a backing singer with Stevie Wonder's group Wonderlove.
1961: Born on this day, El Debarge, Debarge, (1985 UK No.4 single 'Rhythm Of The Night).
1962 – David Cole, American songwriter and producer (C+C Music Factory).
1986 – Rafael Nadal, Spanish tennis player.
On this day in history, we lost:
1861 – Stephen A. Douglas, American politician (b. 1813)
1888: Alice Fisher died (nurse)
1924 – Franz Kafka, Czech author (b. 1883)
1940: Helen Marot died (reformer, librarian, labor organizer, public official, writer)
1989: Ayatollah Khomeini who had led the 1979 revolution and overthrow of Mohammad Reza
Pahlavi, the last Shah of Persia and became the country's Supreme Leader of the new Islamic
Republic of Iran dies.
2001 – Anthony Quinn, Mexican-American actor and producer (b. 1915)
2011: Controversial doctor, Jack Kevorkian, died at the age of eighty-three. Kevorkian was
known as "Doctor Death" and had spent eight years in prison for aiding in assisted suicides of
one hundred and thirty people. He was released from prison in 2007 and a movie about him and
his life was made in 2010. Kevorkian advocated assisted suicide for terminally ill patients and
his trial and conviction of murder for assisting a suicide sparked much debate on the subject.
2012 – Andy Hamilton, Jamaican-English saxophonist and composer (b. 1918)
2013: The United States' oldest Senator, Frank Lautenberg, died at the age of eighty-nine after
suffering from complications of pneumonia. Lautenberg had served over three decades during
five different terms.
Sources: The People History; This Day in Labor History; Wikipedia List of Historical Anniversaries; This Day in Women's History; This Day in African History;History.com; History Orb; Yenoba; Selected Black Facts; Phil Konstantin's North American Indian History; and This Day in Music