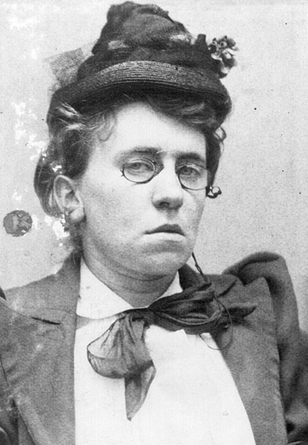 Podcast: Play in new window | Download
Subscribe: RSS
June 27, 2014 – Segment 1
Marc talks about what happened in this day in history, including the day the Liberty bell came home to Philadelphia after the British departure, the day Prudence Crandall, a white woman, was arrested for conducting an academy for black girls in Canterbury, CT, and the birthday of anarchist Emma Goldman.
Today is:
Independence Day, Djibouti, France's last colony in Africa, gains its independence on this day in 1977. The small east African nation changed its name from French Somaliland to Djibouti, after the country's largest city. Hassan Gouled Aptidon became the country's first president.
On This Day in History:
1652- New Amsterdam (New York) enacts the first speed limit law in North America
1693 – First woman's magazine "Ladies' Mercury" published in London
1766 – The Venerable Pierre Toussaint was born this day on this day in the former slave colony of Saint-Domingue. He was brought to NY with his owners in 1787, where he was to take an apprenticeship with the city's leading hairdresser. Toussaint received his freedom after the death of his master and went on to amass substantial wealth as a hairdresser. He purchased the freedom of the woman who was to become his wife and together they dedicated their lives to performing charitable works. They opened a shelter for orphans and began the city's first school for black children. Toussaint played an integral role in the funding of the famed St. Patrick's Cathedral in lower Manhattan. He also was a major benefactor of the Oblate Sisters of Providence, a community of black nuns founded in Baltimore MD. His generosity was boundless. His philanthropic works were not limited to the church as he also gave freely within his community opening a credit bureau, employment agency and a guesthouse where he provided food and shelter to weary travelers and priests. Toussaint died in 1855. His body was exhumed in 1990 and buried in a crypt below the altar at St. Patrick's Cathedral. He was declared venerable by Pope John II.
1778 – Liberty bell comes home to Philadelphia after the British departure. The bell was removed in 1777 as Philadelphia lay defenseless following Washington's defeat at the Battle of Brandywine. Afraid that the beloved bell would be recast into munitions, armed locals moved the bell to Bethlehem, Pennsylvania and finally on to Allentown, guarding it for the duration of the war. Though returned in 1778, the Liberty Bell was held in storage until the 1785 when it was placed on the upper floor of the renovated Philadelphia State House.
1806 – Buenos Aires captured by the British
1833 – Prudence Crandall, a white woman, was arrested for conducting an academy for black girls, in Canterbury, CT. Born in 1803 to a Quaker family, Crandall, an abolitionist, was educated at the prestigious New England Friends' Boarding School. She went on to open a private girls academy in Canterbury where she taught the daughters of the town's most affluent families. In 1833 a young African American girl by the name of Sarah Harris was enrolled in Crandall's school. Refusing to give in to the demands of the parents of her white pupils and the surrounding community, Crandall refused to expel Harris, rather she opened another school for African American girls. As the school opened in 1833 the young students (most of which were from affluent families within the black community of New England) were pelted with stones, eggs and manure by the local whites who were opposed to African Americans receiving any kind of formal education. Crandall was refused service by local shopkeepers and had to have supplies for her school shipped in. Within months of the school opening, "Black Laws" passed in Canterbury Connecticut deeming it illegal to open schools or academies that taught African American students. Prudence Crandall was arrested and put in jail. Her first trial resulted in a hung jury. She was found guilty after her second trial but that conviction was overturned by high court. The threats and violence never ceased, and though she won her day in court; Crandall went on to close the school on September 10, 1834out of concern for her students safety, after it had been ransacked by an angry mob.
1844 – Mormon leader Joseph Smith and his brother Hyrem are killed by a mob in Carthage, Ill.
1847 – New York and Boston are linked by telegraph wires.
1867 – Bank of California opens
1869 –Emma Goldman was born on this day in 1869. Born in what is now known as Kaunus, Lithuania. At the age of 16 Goldman immigrated to Rochester New York, where she had a sister. She joined the growing anarchist movement in 1889. She embraced anarchism for its vision of absolute freedom, liberty and true social justice. A passionate orator and talented writer, Goldman worked tirelessly, speaking out against inequality, exploitation, and sexism. Her calls for birth control, women's rights and her advocacy for unions and worker's rights made her unpopular with mainstream Americans and the political elite. Emma Goldman had been arrested many times, most notably during the "Great Panic of 1893" which saw the collapse of the NY Stock Market and unemployment rates soar to over 20%. She spoke to a crowd of nearly 3,000 people in union square where she told the crowd "Well then, demonstrate before the palaces of the rich; demand work. If they do not give you work, demand bread. If they deny you both, take bread." Undercover agents testified in court that she had urged the crowd to "take everything…by force". Goldman was arrested and charged with "inciting to riot". Goldman suffered a stroke on May 14th 1940 and died in Toronto Canada at the age of 70.
1893 –George Dixon becomes the first black world boxing champion (bantam).
1893 – NYSE Crashes during the "Great Panic" of 1893
1894 –Crystal Bird Fauset was born today in Princess Anne, MD. Faucet was the first African American woman elected to the state legislature in the United States. In an amazing career that spanned many decades, the Columbia University graduate founded the Women's Activities Club for the DNC, served on the Federal Housing Advisory Board in 1935 and was elected to PA state legislature. She focused on public health, housing for the poor, public relief and women's rights in the workplace. She resigned in 1940 and went on to work for FDR as part of the Federal Council of Negro Affairs or "Black Cabinet". Fauset worked as a consultant to the office of civilian defense.
1914 –US signs treat of commerce with Ethiopia
1922- Newbury Medal first presented for children's literature is awarded to Hendrik Van Loon for "The Story of Mankind" a story of the world written especially for children.
1934­- Federal Savings and Loan is created.
1940­- Soviet Army attacks Romania
1944- Cherbourg France Liberated by Allied forces
1950 – United states Sends 35 military adisors to South Vietnam
1950­- North Korean troops reach Seoul; Harry Truman orders Air Force & Navy into Korean conflict.
1954­- CIA Sponsored rebels overthrow elected government of Guatemala. Dubbed "Operation PBSuccess", the CIA, under the authorization of President Eisenhower, funded rebels to overthrow the recent democratically elected president Jacobo Arbenz. The US was nervous, that he allowed the Communist Party of Guatemala to operate freely and of land reform policies which posed a threat to US commercial interests in the region, particularly the United Fruit Company. The land reforms had ended brutal labor practices which had negative effects on the profits of the hugely profitable and powerful company. Arbenz set out to eradicate poverty and sought to offer small land holdings to the poor workers who had long been victims of debt slavery. The next four decades saw a succession of military rulers and counter insurgency warfare that would engulf the small Central American nation and leading to the death of thousands.
1967 – The world's first ATM is installed in Enfield, London.
1969 – Police raid the Stonewall Inn, a popular gay bar on Christopher street in Downtown Manhattan just after midnight on June 28, 1969, the street erupted into violent protests that lasted for the next six days. The Stonewall riots, as they came to be known, marked a major turning point in the modern gay civil rights movement in the United States and around the world.
1974 – President Richard Nixon on official visit of the Soviet Union from June 27th to July 3rd 1974. Accompanied by Dr. Henry A. Kissinger, the President met with Soviet leaders to discuss vies on major aspects of relations between the USA and USSR.
1979- Supreme Court rules that employers may use quotas to help minorities
1980 – First female state police graduates, NJ.
1986 – Irish referendum upholds ban on divorce
1986 – Mike Tyson KO's Michael Spink in 91 seconds, in Atlantic City NJ. Reported winnings for the fight were within the area of $67M.
1990 – Salman Rushdie condemned to death by Iranian government.
1994 – Daily News raises prices to 50 cents
1994 – Aerosmith becomes first major band to allow fans to download in full, a new track for free.
This Day in Music
1964, Peter and Gordon went to No.1 on the US singles chart with the Lennon & McCartney song 'A World Without Love', also a No.1 in the UK. Peter Asher went on to become James Taylor and Linda Ronstadt's manager
1967, The Doors play at The Paramount Theatre Brooklyn, NY.
1970, The Jackson Five go No.1 with "The Love You Save."
1981, Michael Jackson had his first solo UK No.1 with 'One Day In Your Life' a song recorded by Jackson for his 1975 album, Forever, Michael.
1987, Whitney Houston became the first women in US history to enter the album chart at No.1 with 'Whitney'.
1935, Born on this day, Doc Pomus, US songwriter. Wrote many early 60's hits with Mort Shuman including, 'Sweets For My Sweet', 'Teenager In Love', 'Save The Last Dance For Me.' He died on March 14th 1991.
1944, Born on this day, Bruce Johnson, vocals, guitar, The Beach Boys.
2012, The chief medical officer of Russia said that The Beatles were to blame for the country's drug problem. Yevgeny Bryun, the nation's medical chief, said that the country's youth first got introduced to the idea of drug-taking when The Beatles traveled to India to "expand their minds"
Sources: The People History; This Day in Labor History; Wikipedia List of Historical Anniversaries; This Day in Women's History; This Day in African History;History.com; History Orb; Yenoba; Selected Black Facts; Phil Konstantin's North American Indian History; and This Day in Music