Podcast: Play in new window | Download
Subscribe: RSS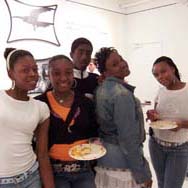 Lack of opportunity for young people in Baltimore is one of the most serious issues we face as a city. It's a matter of life and death.
Think that's an overstatement? We spoke with some young people this hour who might convince you otherwise.
They're part of a coalition that is in the process of revolutionizing how we approach education, employment, and support networks for young people. The peer to peer movement is seeking to integrate youth into the knowledge based economy now. They're working to set up a fund that will be accessible to a wide range of groups doing peer to peer work. Peer to peer simply means that young people are teaching other young people, in a whole range of after school programs that teach anything from media and video making, to math to debate. The fund would help these programs to operate, and pay the students who work for them. To find out more about peer to peer, click here for their website.
Our guests were Michaela Brown, Donasiah Clapperton, Trinya Smith, and Daimen Poole. They've all been active in peer to peer organizing, and they are each part of one or more of the more than 20 organizations in the peer to peer coalition, including BUDL, Wide Angle Youth Media, Baltimore Hip Hop Congress, and Follow Your Dreams Records.
For the second half of the hour, we were also joined by Chantell Clea, Chair of the Baltimore City Youth Commission, to discuss the decision not to put money in the city budget for the peer to peer fund.
Please click on the podcast player below to listen to the show now, or click on the mp3 link below to download it!