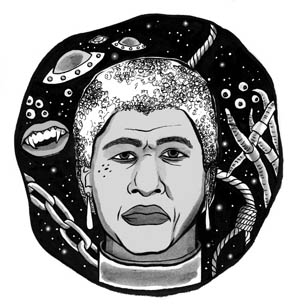 Podcast: Play in new window | Download
Subscribe: RSS
June 22, 2015 – Segment 1
On this day in history, Octavia Butler was born and Joe Lewis knocked out Max Schelling.
Transcript of this day in history included below.
Joe Louis vs Max Schmeling – 1st Round Knockout
https://www.youtube.com/watch?v=2LNzWHuygpw
This evening in 1938, almost all the radios in America, especially in Black homes and Jewish homes, were tuned into this broadcast, as Joe Lewis knocked out the German's Nazi warrior Max Schelling.  Joe Louis was the symbol of freedom and democracy for Blacks, Jews and progressives, and on this day Joe Louis's knockout of Max Schelling was seen as a triumph over fascism.
And in 1839, the blood flowed on the Cherokee lands in Oklahoma.  The US Congress passed the Indian Relocation Act in 1930 leading to years of struggle before forced removal.  Three Cherokee leaders, Major Ridge, John Ridge and Elias Boudinot signed the treaty with US agreeing to move.  That act violated the Cherokee nation's laws. Today in 1839 in Oklahoma, the three leaders, who were also slave owners, were stabbed and hacked to death by Cherokee warriors for giving away their people's lands.
When the battle for the survival of Reconstruction was at its peak and racial terror was rampant in the South, President Ulysses S. Grant created the Department of Justice today in 1870.
And as witness the events of terror in Charleston, we should remember that today in 1992, the Supreme Court held that cross burnings violated the First Amendment's guarantee of freedom of speech. The Court concluded, "Let there be no mistake about our belief that burning a cross in someone's front yard is reprehensible. But St. Paul has sufficient means at its disposal to prevent such behavior without adding the First Amendment to the fire."
And three who have contributed so much to understanding our lives culturally and bringing stories, each in their own forms, were born on this day:
She was called "Matriarch and Queen Mother of Black Dance'  — Katherine Dunham was born today in 1901.  She started out as an anthropologist studying the dances of the African Diaspora, then brought all that to her dance companies, forming the first African American dance company and becoming the Queen of Modern Dance, as the Washington Post called her.
And Ed Bradley was born today in 1941.  He volunteered to be a combat TV reporter in Vietnam, where he was wounded by a mortar shell. His reports brought the war into America's living rooms. He then became the first Black White House correspondent before becoming a founding part of CBS's 60 minutes.
And we leave you with this voice:
[OCTAVIA'S VOICE – TRT: 36 SECONDS http://www.tubechop.com/watch/6279686]
Yes, that is Octavia Butler, interviewed in that clip by Charlie Rose. She was the first science fiction writer to win a MacArthur Genius Award, whose books like Kindred, Parable of the Sower opened new portals on to the past, present and future and gave birth to the explosive new world of Afro Futurism … Today is her birthday. She was born today in 1947 in Pasadena, California.
To continue your exploration of this day in history, take a look at some of our favorite sources: Charles H. Wright Museum: Today in Black History; African American Registry; BlackPast; NYTimes on this Day; EyewitnessToHistory.com; The Civil War Trust; Voices in Labor: Today in Labor History; Union Communication Services at The Worker Institute: Today in Labor History; BBC On This Day; The Holocaust History Project; PBS African American World; PBS; Today in Women's History; South African History Online; This Day In North American Indian History; Jewish Virtual Library; The People History; Wikipedia List of Historical Anniversaries; Yenoba; and This Day in Music