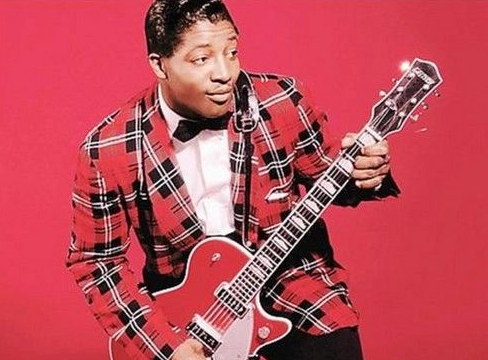 Podcast: Play in new window | Download
Subscribe: RSS
June 2, 2014 – Segment 1
Marc talks about what happened on this day in history, including the day The Quartering Act was enacted, the day President Calvin Coolidge signed the Indian Citizenship Act into law, granting citizenship to all Native Americans born within the territorial limits of the United States, and the day songwriter and guitarist Bo Diddley died.
EVENTS
1692 – Bridget Bishop is the first person to go to trial in the Salem witch trials in Salem, Massachusetts. Found guilty, she is hanged on June 10.
1763 – Pontiac's Rebellion: At what is now Mackinaw City, Michigan, Chippewas capture Fort Michilimackinac by diverting the garrison's attention with a game of lacrosse, then chasing a ball into the fort.
1774 – Intolerable Acts: The Quartering Act is enacted, allowing a governor in colonial America to house British soldiers in uninhabited houses, outhouses, barns, or other buildings if suitable quarters are not provided.
1793 – French Revolution: François Hanriot, leader of the Parisian National Guard, arrests 22 Girondists selected by Jean-Paul Marat, setting the stage for the Reign of Terror.
1854 – Fugitive slave Anthony Burns was returned to the South from Boston. It cost the federal government $100,000 to return Burns, who was later sold to a group of Bostonians who freed him.
1855 – The Portland Rum Riot occurs in Portland, Maine.
1896 – Guglielmo Marconi applies for a patent for his newest invention, the radio.
1899 – Black Americans observed day of fasting called by National Afro-American Council to protest lynching and racial massacres.
1919 – Anarchists simultaneously set off bombs in eight separate U.S. cities.
1924 – The U.S. President Calvin Coolidge signs the Indian Citizenship Act into law, granting citizenship to all Native Americans born within the territorial limits of the United States.
1962 – During the 1962 FIFA World Cup, police had to intervene multiple times in fights between Chilean and Italian players in one of the most violent games in football history.
1967 – Luis Monge is executed in Colorado's gas chamber, in the last pre-Furman execution in the United States.
1967 – Race riot in Roxbury section of Boston.
1967 – Protests in West Berlin against the arrival of the Shah of Iran turn into riots, during which Benno Ohnesorg is killed by a police officer. His death results in the founding of the terrorist group Movement 2 June.
1979 – Pope John Paul II starts his first official visit to his native Poland, becoming the first Pope to visit a Communist country.
1997 – In Denver, Colorado, Timothy McVeigh is convicted on 15 counts of murder and conspiracy for his role in the 1995 bombing of the Alfred P. Murrah Federal Building in Oklahoma City, Oklahoma. He was executed four years later.
2012 – The former Egyptian President Hosni Mubarak is sentenced to life imprisonment for his role in the killing of demonstrators during the 2011 Egyptian revolution.
BIRTHS
1740 – Marquis de Sade, French author and politician (d. 1814)
1835 – Pope Pius X (d. 1914)
1887 – Howard Johnson, American songwriter (d. 1941) 1907 – Dorothy West, American author (d. 1998)
1932 – Sammy Turner, American singer 1934 – Johnny Carter, American singer (The Flamingos and The Dells) (d. 2009)
1937 – Jimmy Jones, American singer-songwriter (d. 2012)
1941 – William Guest, American singer-songwriter and producer (Gladys Knight & the Pips)
1941 – Charlie Watts, English drummer, songwriter, and producer (The Rolling Stones and Blues Incorporated)
1948 – Jerry Mathers, American actor and director
1953 – Cornel West, American actor, philosopher, academic, and author
1959 – Lydia Lunch, American singer-songwriter, guitarist, and actress (Teenage Jesus and the Jerks, 8-Eyed Spy, Harry Crews, and My Life with the Thrill Kill Kult)
1970 – B-Real, American rapper, producer, and actor (Cypress Hill and Kush)
DEATHS
1941 – Lou Gehrig, American baseball player (b. 1903)
1942 – Bunny Berigan, American trumpet player (The Dorsey Brothers) (b. 1908)
1987 – Sammy Kaye, American bandleader and songwriter (b. 1910)
1990 – Rex Harrison, English-American actor and singer (b. 1908)
1997 – Doc Cheatham, American trumpet player, singer, and bandleader (McKinney's Cotton Pickers) (b. 1905)
2008 – Bo Diddley, American singer-songwriter and guitarist (b. 1928)
2012 – LeRoy Ellis, American basketball player (b. 1940)
Sources: The People History; This Day in Labor History; Wikipedia List of Historical Anniversaries; This Day in Women's History; This Day in African History;History.com; History Orb; Yenoba; Selected Black Facts; Phil Konstantin's North American Indian History; and This Day in Music