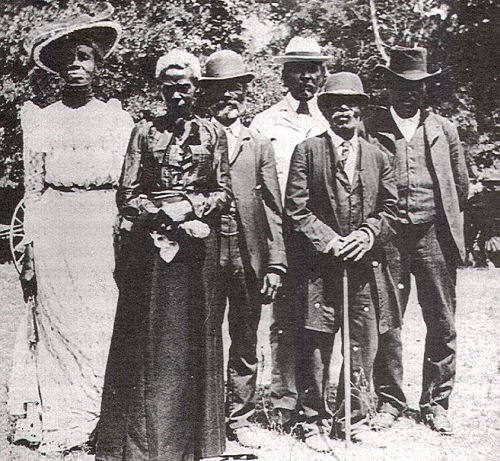 Podcast: Play in new window | Download
Subscribe: RSS
June 19, 2014 – Segment 1
Marc shares some of the events that happened on this day in history, including the 1964 passage of the Civil Rights Act, the birth of Lou Gehrig, and the announcement in Galveston, Texas that slavery was over, commemorated as Juneteenth.
Today is:
Day of the Independent Hungary (Hungary)
Juneteenth (United States)
On this day in history:        
1541: Today, de Doto's expedition meets the CASQUI Indians near modern dayHelena, Arkansas. There has been a drought in the area, and the padres offer to help. A large cross is erected and the Spaniards join in prayer. Soon it starts to rain. The CASQUIs will become allies of the Spanish.
1586 – English colonists leave Roanoke Island, after failing to establish England's first permanent settlement in North America.
1767: The Governor of Louisiana issues an order today. The order recognizes the CHITIMACHA Indians, and instructs the commander at Manchac to treat them with proper deference.
1846: The first official game played under New York Knickerbockers Base Ball Club rules was in 1846 in Hoboken, New Jersey, between the Knickerbockers and the New York Base Ball Club.
1864 – Infamous duel between the USS Kearsage and the CSS Alabama off Cherbourg, France, a brave Black sailor, Joachim Pease, displayed "marked coolness" and won a Congressional Medal of Honor.
1865: Although the Emancipation Proclamation was issued in 1863, slavery continued in Texas until June 19, 1865, when word reached Galveston, Texas that all slaves in Texas were free. One third of the people in Texas were slaves at that time. Juneteenth was celebrated annually with picnics and barbecues at public emancipation grounds, some of which are used to this day. Juneteenth became a legal state holiday in 1980.
1910: The First Father's Day was celebrated for the first time in Spokane, Washington.
1912:  Eight-hour work day adopted for federal employees.
1917:  AFL President Sam Gompers and Secretary of War Newton Baker sign an agreement establishing a three-member board of adjustment to control wages, hours and working conditions for construction workers employed on government projects. The agreement protected union wage and hour standards for the duration of World War I.
1934:  A pioneering sit-down strike is conducted by workers at a General Tire Co. factory in Akron, Ohio. The United Rubber Workers union was founded a year later. The tactic launched a wave of similar efforts in the auto and other industries over the next several years.
1937: The Women's Day Massacre in Youngstown, Ohio, when police use tear gas on women and children, including at least one infant in his mother's arms, during a strike at Republic Steel. One union organizer later recalled, "When I got there I thought the Great War had started over again. Gas was flying all over the place and shots flying and flares going up and it was the first time I had ever seen anything like it in my life…"
1953:  ILWU begins a 4-day general strike in sugar, pineapple, and longshore to protest convictions under the anti-communist Smith Act of seven activists, "the Hawaii Seven." The convictions were later overturned by a federal appeals court.
1953: Following the conviction for spying on behalf of the Soviet Union and passing U.S. atomic secrets to the Soviet Union. Julius and Ethel Rosenberg are executed at Sing Sing Prison. Spying by both sides in the 1950s was a part of the Cold War.
1953 – Bus Boycott began Baton Rouge, Louisiana.
1965: The Four Tops went to No.1 on the US singles chart with 'I Can't Help Myself'. Lead singer Levi Stubbs had not been satisfied with the recording session and was promised that he could do it again the following day, but no other session ever took place. The track that became a hit was just the second take of the song.
1964 – The Civil Rights Act of 1964 is approved after surviving an 83-day filibustering the United States Senate.
1968:  50,000 people participated in " The Poor Peoples March " organized by Martin Luther King Jr. and the Southern Christian Leadership Conference to address issues of economic justice. The campaign culminated on Washington, D.C. to demand economic aid be given to the poorest communities in the United States. Unlike many of Martin Luther King Jr's campaigns The Poor People's Campaign did not focus on just poor blacks but addressed all poor people of every minority.
1978: First Garfield comic strip appears 41 American newspapers.
1990 – The current international law defending indigenous peoples, Indigenous and Tribal Peoples Convention, 1989, is ratified for the first time by Norway.
Born on this day in history:           
1623 – Blaise Pascal, French mathematician and physicist (d. 1662)
1897 – Moe Howard, American actor, singer, and screenwriter (d. 1975)
1902 – Guy Lombardo, Canadian-American violinist and bandleader (d. 1977)
1903 – Lou Gehrig, American baseball player (d. 1941)
1918: John H. Johnson, Editor and Publisher of JET and Ebony magazines, founder of Johnson Publishing Company, the most successful African American publishing company in the U.S., owner of Fashion Fair cosmetics, and the first African American owned radio station in Chicago.
1939: Born on this day, Al Wilson, US singer, (1974 US No.1 single 'Show And Tell').
1945: Aung San Sun Kyi born (Burmese activist, 1991 Nobel Peace Prize winner).
1948 – Phylicia Rashād, American actress and singer.
1950 – Ann Wilson, American singer-songwriter and guitarist (Heart).
1954 – Kathleen Turner, American actress.
1959: Born on this day, Mark Debarge, Debarge, (1985 UK No.4 single 'Rhythm Of The Night').
1963: Born on this day, Paula Abdul, singer, dancer, (1990 US No.1 & UK No.2 single 'Opposites Attract' plus five other US No.1 singles. 1989 album 'Forever Your Girl' spent ten weeks as US No.1.). Judge on American Idol TV show.
On this day in history, we lost:      
1939 – Grace Abbott, American social worker and activist (b. 1878)
1986 – Len Bias, American basketball player (b. 1963)
2013 – Slim Whitman, American singer-songwriter and guitarist (b. 1923)
Sources: The People History; This Day in Labor History; Wikipedia List of Historical Anniversaries; This Day in Women's History; This Day in African History;History.com; History Orb; Yenoba; Selected Black Facts; Phil Konstantin's North American Indian History; and This Day in Music