Podcast: Play in new window | Download
Subscribe: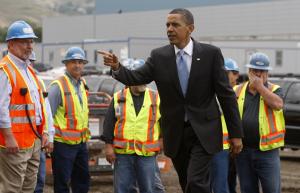 First, we talk to John Vidal, the Environmental Editor for the Guardian, who wrote an article comparing the BP oil spill to the ongoing (and more severe) environmental catastrophes in Nigeria that are largely ignored by the mainstream media.
Then, we react to President Obama's address to the nation on the future of US energy policy last night. Guests David Roberts, a staff writer for the environmental news show GRIST.ORG, Cecilia Estolano, the Chief Strategist on State and Local Initiatives at Green For All, and Jarvis Deberry, editorial writer and columist for the Times-Picayune in New Orleans, join us for a recap.