Podcast: Play in new window | Download
Subscribe: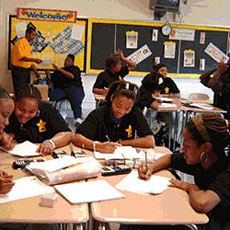 The second half of today's show started off with a brief interview with CEO of Baltimore City Public Schools, Dr. Andres Alonso, discussing the progress he's made, the steps he has left to take, and the resignation of Brian Morris.

Then we were joined in the studio by three city teachers to discuss the last school year, Dr. Alonso's plan for the system, the teachers' unions, and much more.
Ebon Soul is a history teacher at Carver Vocational-Technical High School.

Trinya Smith is a teacher of social studies for grades 6-8 at ConneXions Community Leadership Academy.

John Moneghan is a former science teacher at Patterson High School.  He is about to start teaching at Civitas Academy.