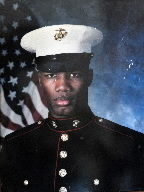 Yesterday Baltimore City Police Officer Gahiji A. Tshamba, wanted in the fatal shooting of Iraq War veteran Tyrone Brown,
turned himself in to city authorities
.  Tshamba fired 13 bullets at Brown after the two men were involved in a fight outside a Mt. Vernon bar.  We discuss the case with
A. F. James MacArthur
, Contributing Editor and Crime Correspondent for the
Investigative Voice
, and
Douglas Colbert
, Professor at the University of Maryland School of Law.