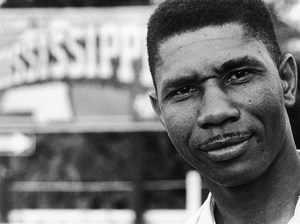 Podcast: Play in new window | Download
Subscribe: RSS
June 12, 2014 – Segment 1
Marc talks about what happened on this day in history, including the dedication of  the first known monument erected by African Americans, the day Anne Frank received her diary, and the day civil rights leader Medgar Evers was murdered.
Today is:
Russia Day (Russia)
Chaco Armistice Day (Paraguay)
Dia dos Namorados (Brazil)
Helsinki Day (Finland)
Independence Day, celebrates the independence of the Philippines from Spain in 1898.
Loving Day (United States)
World Day Against Child Labour (International)
On this day in history:
1756: Today, DELAWARE Indians, led by King Beaver, will attack the fortified garrison in Juniata County, Pennsylvania, called Bingham's Fort. The number of settlers killed or captured was estimated to be as many as two dozen.
1776 – The Virginia Declaration of Rights is adopted.
1840 – The World's Anti-Slavery Convention convenes in London, England.
1855: Walla Walla Conference: Governor Stevens bypassed the entire structure of the American Constitutional System, giving Congress sole power to ratify treaties.
1876 – The first known monument erected by African Americans is dedicated to Richard Allen in Philadelphia's Fairmont park.
1886: The Georgia State Supreme Court sustained the will of the late David Dickson, thus making Amanda Eubanks the wealthiest Negro in America. Dickson, a former slaveholder, willed more than half a million dollars to Eubanks. White relatives of Dickson, a bachelor, had contested the will on the grounds that it was illegal for a white man to leave property to his black illegitimate children.
1904: Fifty thousand members of the Amalgamated Meat Cutters and Butcher Workmen employed in meatpacking plants walk off their jobs; demands include equalization of wages and conditions throughout U.S. plants.
1935: At age 17, Ella Fitzgerald recorded her first songs – "Love and Kisses" and "I'll Chase the Blues Away." They came to be big hits for her.
1942: Anne Frank receives a diary to use to record her thoughts.
1943 – Holocaust: Germany liquidates the Jewish Ghetto in Brzeżany, Poland (now Berezhany, Ukraine). 1,180 Jews are led to the city's old Jewish graveyard and shot.
1945: The U.S. Supreme Court invalidates two sections of a Florida law: one required state licensing of paid union business agents, the other required registration with the state of all unions and their officers.
1963 – Civil rights group demonstrated at Harlem construction sites to Protest discrimination in building trades unions. Demonstrations and marches were held in metropolitan areas in June, July and August to dramatize discontent over housing, school and job discrimination.
1965: The Supremes scored their fifth consecutive US No.1 single (they were the first American group to accomplish this feat), when 'Back In My Arms Again', went to the top of the charts.
1967: The United States Supreme Court in Loving v. Virginia declares all U.S. state laws which prohibit interracial marriage to be unconstitutional.
1981: Major League Baseball strike begins, forces cancellation of 713 games. Most observers blamed team owners for the strike: they were trying to recover from a court decision favoring the players on free agency.
1982: Around 700,000 demonstrators gathered in New York City's Central Park demanding an end to the proliferation of nuclear weapons.
1987: While standing in front of the Berlin Wall President Ronald Reagan challenges Soviet leader Mikhail Gorbachev to tear down the Wall down.
1991 – Russians elect Boris Yeltsin as the president of the republic.
1994: Nicole Brown Simpson and Ronald Goldman are murdered outside her home in Los Angeles, California. O.J. Simpson is later acquitted of the killings, but is held liable in wrongful death civil suit.
1997: Mary Robinson appointed United Nations High Commissioner for Human Rights (highest UN office held by a woman).
2009 – A disputed presidential election in Iran leads to wide ranging protests in Iran and around the world.
Born on this day in history:
1829: Johanna Spyri born (writer, author of Heidi)
1881: Isabel de Palencia born (editor, political activist, Spanish loyalist)
1912: Eva Crane born (scientist)
1916 – Raúl Héctor Castro, Mexican-American politician, 14th Governor of Arizona.
1916: Alice Potter born (illustrator: Puffin Picture books)
1924 – George H. W. Bush, American lieutenant and politician, 41st President of the United States.
1929: Anne Frank born (diarist, Holocaust victim)
1930 – Jim Nabors, American actor and singer.
1930: Barbara Harris born (first woman bishop of the Episcopalian Church)
1941: Born on this day, Chick Corea, jazz musician. Worked with Miles Davis, Stanley Clarke, Bobby McFerrin.
1948: Born on this day, Barry Bailey, Atlanta Rhythm Section, (1977 US No.7 single, 'So In To You', 1979 UK No.48 single 'Spooky').
On this day in history, we lost:
1800: Ann Teresa Mathews (Mother Bernardina Mathews) died (born 1732; co-founder of the first Roman Catholic convent in the United States).
1963 – Civil rights leader Medgar Evers is murdered in front of his home in Jackson, Mississippi by Ku Klux Klan member Byron De La Beckwith.
Sources: The People History; This Day in Labor History; Wikipedia List of Historical Anniversaries; This Day in Women's History; This Day in African History;History.com; History Orb; Yenoba; Selected Black Facts; Phil Konstantin's North American Indian History; and This Day in Music