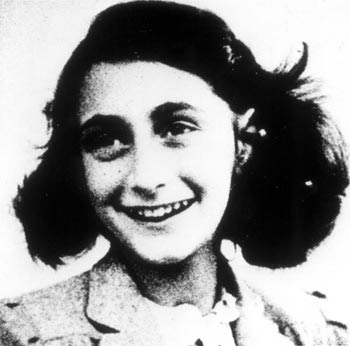 Podcast: Play in new window | Download
Subscribe: RSS
June 12, 2015 – Segment 1
On this day in history, Nelson Mandela was sentenced to life in prison for sabotage against the apartheid government of South Africa and Anne Frank received her first diary as a 13th birthday gift.
Transcript of this day in history included below.
An Ideal For which I am Prepared to Die – Nelson Mandela
That was Nelson Mandela, speaking in a South African courtroom on this day in 1964, when he was sentenced to life in prison for sabotage. He was charged as a member of the Spear of the Nation, a militant arm of the African National Congress, that sought to overthrow the apartheid government of South Africa. He said "I do not deny that I planned sabotage. I did not do this in a spirit of recklessness. I planned it as a result of a calm and sober assessment." Mandela wasn't released until 1990.
On this day in 1942, Anne Frank was give a diary for her thirteenth birthday. Anne Frank was a Jewish teenager who was born in Germany but who spent most of her life in the Netherlands. In 1942, as persecution of Jews increased in Europe, her family went into hiding. For two years the family lived  in cramped concealed rooms hidden behind a book case in the building where her father worked. Then they were informed on to the Nazis,, arrested, and forced into concentration camps. Anne Frank died in the Bergen-Belson concentration camp in 1945. Her father, Otto Frank, survived the Holocaust, and published her diary in 1947. It was an international bestseller, and still a seminal wokr read by millions to this day.  The edition that Otto Frank published, though, is heavily edited, and a complete, unedited version, was published in 1997 by surviving members of Frank's family. Her cousin, Buddy Elias, said the new edition showed a different impression of Anne Frank. "It shows her in a truer light, not as a saint, but as a girl like every other girl. She was nothing, actually; people try to make a saint out of her and glorify her. That she was not. She was an ordinary, normal girl with a talent for writing."
On this day in 1963, civil rights leader Medgar Evars was murdered in front of his home in Jackson, Mississippi by KKK member Byron De La Beckwith. Evars was involved in a boycott campaign against racist white merchants in Jackson and worked on the campaign to enroll James Meredith in University of Mississippi. On June 12, 1963, he pulled into his driveway after a meeting. He was carrying NAACP T-shirts that read "Jim Crow Must Go" when he was struck in the back with a bullet that ricocheted and hit his house. Evars was murdered just hours after then president John F. Kennedy made a televised speech in support of civil rights.
And today marks the start of the "long hot summer" of 1967, when more than 150 riots rocked the country. The largest riots of the summer happened in Newark and Detroit, but there were also riots in Houston, Buffalo, Milwaukee and Minneapolis. Today is the day it all started, with a riot in Tampa.
And on this day in 1912, Massachusetts became the first state to adopt a minimum wage law. It set a minimum wage for women and children, but not for men. The Massachusetts 1912 report of the commission on Minimum Wage Boards said that, whenever wages "are less than the cost of living and the reasonable provision for maintaining the worker in health, the industry employing her is in receipt of the working energy of a human being at less than its cost, and to that extent is parasitic."
Here's a song to think about on this June the 12th.  It's American Skin (41 Shots) by Bruce Springsteen, as performed on this day in 2000. It was his first performance of the song in New York, and the crowd at Madison Square Garden responded with a mixture of cheers and boos. The song is about the NYPD's killing of Amadou Diallou. Amadou Diallo was a 22 year old man from Guinea who was approached by four plain clothed NYPD officers outside of his Bronx apartment. He pulled out his wallet and the police fired 41 shots, killing Diallo. They later claimed they thought he was pulling a gun. Bruce Springsteen's song about the incident was controversial, and led to The Patrolmen's Benevolent Association of the City of New York, the largest union representing New York City police officers, calling for a boycott of Springsteen's show. After the killing of Trayvon Martin, he began performing this song live again, and last year he recorded a studio version of it as a tribute to victims of police violence.
41 shots
https://www.youtube.com/watch?v=VofX-e9AG5k