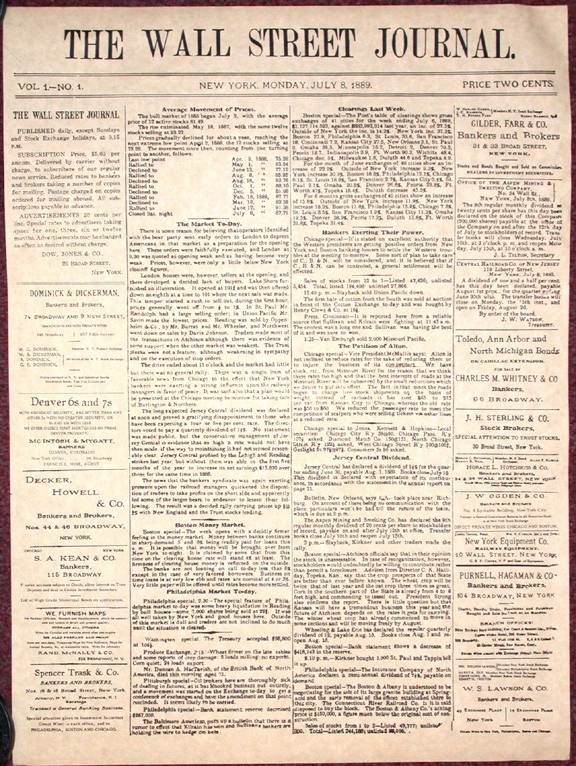 Podcast: Play in new window | Download
Subscribe: RSS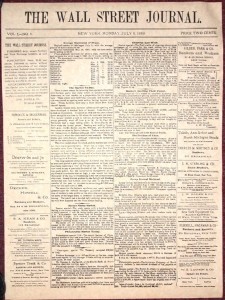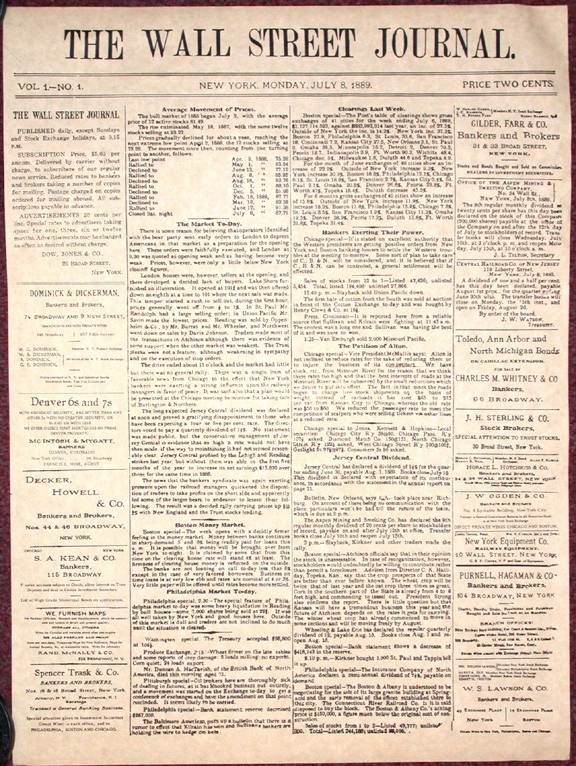 July 8, 2014 – Segment 1
Marc discusses events from this day in history, including the US congress allowing the registration of trademarks in 1870, and the start of the Wall Street Journal in 1889.
On this day in history:        
1099 – First Crusade: 15,000 starving Christian soldiers march in a religious procession around Jerusalem as its Muslim defenders look on.
1520: Hernán Cortés and his army have managed to escape from Tenochtitlán (modern Mexico City). Today near Otumba, they encounter an Aztec army. They Spanish manage to win the battle against a much larger army.
1539: The Francisco de Ulloa Expedition is designed to explore the coast of Baja California. This expedition proves California is not an island. Three ships, the Santa Agueda, the Trinidad, and the Santo , leave Acapulco, Mexico.
1822 – Chippewas turn over a huge tract of land in Ontario to the United Kingdom.
1842 – First anthracite coal strike in U.S.
1867 – The Pacific Mail Steamship Co. fires all employees who had been working an 8-hour day, then joins with other owners to form the "Ten-Hour League Society" for the purpose of uniting all mechanics "willing to work at the old rates, neither unjust to the laborers nor ruinous to the capital and enterprise of the city and state." The effort failed.
1876 – White supremacists kill five Black Republicans in Hamburg, South Carolina.
1889 – The first issue of The Wall Street Journal is published.
1905 – Founding convention of the Industrial Workers of the World (I.W.W., or Wobblies) concludes in Chicago. Charles O. Sherman, a former American Federation of Labor organizer, is elected president.
1947: There were a number of reports of a mysterious flying disc ( Spaceship ) landing in Roswell, New Mexico. At first reports were denied by the U.S. military, then a report appeared which stated they had been lucky enough to obtain one of the DISCS which was later denied. The debate whether an alien spacecraft actually landed in Roswell, New Mexico, still continues today with many believing it was a government cover up.
1948 – The United States Air Force accepts its first female recruits into a program called Women in the Air Force (WAF).
1954: The US backed Castillo Armas takes over as leader of Guatemala from the communist leader President Jacobo Arbenz Guzman , and was considered a successful covert operation against international communism by the Central Intelligence Agency (CIA).
1960: The US Pilot of a U-2 Spy Plane Francis Gary Powers is charged with espionage in a Soviet Union court. In August he was found guilty and sentenced to 10 years in prison but two years later he was exchanged for Soviet spy Rudolf Abel.
1966 – Some 35,000 members of the Machinists union begin what is to become a 43-day strike that shuts down five major U.S. airlines, about three-fifths of domestic air traffic.  The airlines were thriving, and wages were a key issue in the fight.
1968 – The Chrysler wildcat strike begins in Detroit, Michigan.
1970 – Richard Nixon delivers a special congressional message enunciating Native American self-determination as official US Indian policy, leading to the Indian Self-Determination and Education Assistance Act of 1975.
1987: Oliver North has broken 10 months of silence concerning the Iran contra affair when he testified before the house senate committee investigating the Iran Arms Sale, that all his orders came from senior members of the white house staff including orders to shred documents and to prepare false statements.
1994 – Kim Jong-il begins to assume supreme leadership of North Korea upon the death of his father, Kim Il-sung.
1995: TLC started a seven week run at No.1 on the US singles chart with 'Waterfalls', the group's second US No.1, a No.4 hit in the UK.
2011 – Space Shuttle Atlantis is launched in the final mission of the U.S. Space Shuttle program.
2011: The US state of Texas executed Humberto Leal Garcia, a thirty-eight year old Mexican citizen who had been convicted of raping and killing an American girl in 1994. Despite pleas to hold off on the execution from US Officials, Mexican Officials, and the UN, Texas carried out the sentence of death by lethal injection. The United Nations stated that the US breached international law by violating the Vienna Convention when Leal Garcia was told he could not have access to Mexican consular officials.
Born on this day in history:           
1739: Rebecca Jones born (Quaker minister)
1821: Maria White Lowell born (poet, Transcendentalist, wife of James Russell Lowell)
1831 – John Pemberton, American chemist, invented Coca-Cola (d. 1888)
1839 – John D. Rockefeller, American businessman and philanthropist, founded the Standard Oil Company (d. 1937)
1844: Mary Bailey Lincoln (Mrs. D.A. Lincoln) born (educator, cookbook writer: Boston Cook Book)
1862 – Labor organizer Ella Reeve "Mother" Bloor born on Staten Island, N.Y. Among her activities: investigating child labor in glass factories and mines, and working undercover in meat packing plants to verify for federal investigators the nightmarish working conditions that author Upton Sinclair had revealed in The Jungle.
1885 – Hugo Boss, German fashion designer (d. 1948)
1908 – Louis Jordan, American singer-songwriter, saxophonist, and actor (Tympany Five) (d. 1975)
1924 – Johnnie Johnson, American pianist and songwriter (d. 2005)
1929: Shirley Ann Grau born (writer)
1946: Cynthia Gregory born (ballet dancer)
1952: Anna Quindlen born (journalist, writer)
On this day in history, we lost:
1939 – Havelock Ellis, English physician (b. 1859)
1967 – Fatima Jinnah, Pakistani surgeon and politician (b. 1893)
2003 – Ladan and Laleh Bijani, Iranian conjoined twins (b. 1974)
2011 – Betty Ford, American wife of Gerald Ford, 40th First Lady of the United States (b. 1918)
2012: Ernest Borgnine, an Oscar-winning film and television actor died of renal failure at the age of ninety-five. Borgnine won an Academy Award for the 1955 film Marty and was known for appearing in The Poseidon Adventure and The Wild Bunch.