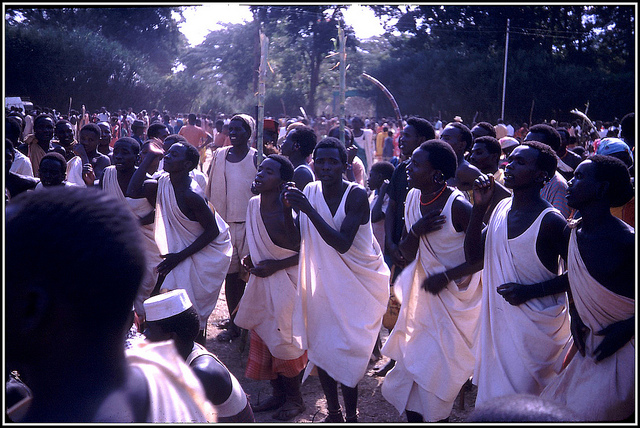 Podcast: Play in new window | Download
Subscribe: RSS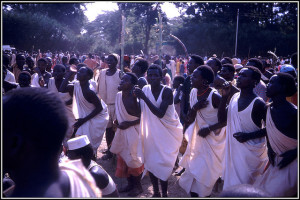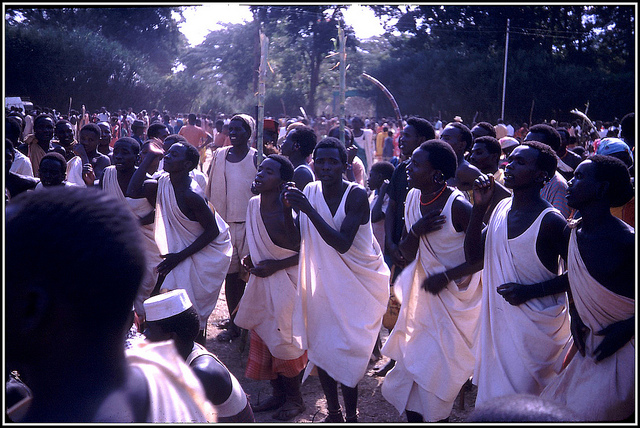 July 7, 2014 – Segment 1
Marc discusses events from today in history, including the birthday of Charles Albert Tindley, the gospel music composer of "I Shall Overcome Someday" with a fascinating personal history, and duel holidays Saba Saba Day in Tanzania and Tanabata Day in Japan. It is the anniversary of the Jewish Nationalization Act in Great Britain, and of the first US military draft.
Today is:
Independence Day, as the Solomon Islands celebrate their Independence from Great Britain on this day in 1978.
The east African nation of Tanzania celebrates Saba Saba day, a nationwide political celebration that commemorates the founding of the Tanganyika African National Union political party, also known as TANU. TANUs political and social aim was to create a socialist state that would grant greater powers to workers and peasants through major manufacturing and production, free and fair trade and economic self-sufficiency.  The party was instrumental in the struggle for the nation's sovereignty and was dedicated to the promotion of Tanzanian tradition and the creation of a national culture and identity.
On this day we look towards the nation of Japan as they celebrate Tanabata Day, a star festival that originated in China.  The festival celebrates the legend of two deities represented by the stars Altair and Vega; lovers separated by the Milky Way. The lovers are permitted to meet only one day a year, on the 7th day of the 7th month of the lunar-solar calendar.  Tanabata traditional celebrations include the writing of wishes for good fortune on pieces of paper and hanging them from bamboo trees.  Those pieces of paper are set alight and oft floated down a river during the waning minutes of the day, close to midnight.
On this Day
1456 –"Nullification Trial" of Joan of Arc clears her of heresy and declares her innocent, 25 years after her execution.
1668 –Isaac Newton receives his MA from Trinity College, Cambridge,
1753 –The Jewish Naturalization Act is passed by British Parliament, offering naturalization and citizenship to the Jewish populace in Great Britain which at that time was numbered at about 8,000.  Also known as the Jew Bill of 1753, the Act granted the Jews in Britain the opportunity of citizenship through application to Parliament.  The Act was repealed only a few months later in 1754 after mounting public pressure in the form of outcry, boycott and violence against Jews.
1754 – Kings College opens in New York City. The oldest institution of higher education in the state of New York, the school suspended instruction for 8 years in 1776 after the American Revolution. It was renamed Columbia University upon reopening in 1784 and is the 5th oldest University/College in the United States.
1801 –Toussaint L'Ouverture puts forth the new constitution declaring Haitian independence.  The constitution establishes Toussaint as Governor for Life and giving him dictatorial powers over the people of Haiti.  Known as the Constitution of Saint Domingue, the document abolished slavery and racially discriminatory employment practices.  L'Ouverture, backed by his army of ex slaves, still identifies as a French colony and continues to impose a plantation system which he relies on to buoy the shaken economy. The constitution was rejected by the French government and Haitian independence was not officially proclaimed until January 1st 1803.
1863 –Today marks the 1st military draft by the US ($100.00 exemption cost).
1865 –Mary Jenkins Surratt was executed today as a conspirator in the assassination of President Abraham Lincoln. The owner of the tavern and boardinghouse where the plot was hatched, she was hung along with three other convicted conspirators Lewis Powell, David Herold and George Atzerodt.  Questions surrounding her guilt and the conclusiveness of the evidence brought forth against here are still argued amongst scholars and historians to this day.
1892 –Katipunan: Revolutionary Philippine Brotherhood is formed, leading to the eventual fall of the Spanish empire in Asia.
1903 –The "March of the Mill Children" led by Mary Harris "Mother" Jones, begins on this day.  Jones leads striking adult and child textile workers on a protest march from Philadelphia PA, to the door of President Theodore Roosevelt's summer home in Oyster Bay Long Island NY.  The march was organized to bring public attention to the terrible conditions for child and to demand a 55 hour work week.
1914 –Baltimore Orioles offer Babe Ruth, Ernie Shore and Ben Egan for to Philadelphia Athletics, Connie Mack for the sum of $10,000.00.  Mack declines offer, pleading poverty.
1928 –The first loaf of sliced bread is believed to have been sold this day by the Chillicothe Baking Company of Chillicothe Missouri.
1930 –Scottish novelist, short story writer, poet and physician Arthur Ignatius Conan Doyle died on this day 1930 in Crowborough England.  Doyle was the creator of the world's best known sleuth Sherlock Holmes.  Doyle was also a supporter of the reform of the Congo Free State and wrote a pamphlet denouncing the crimes and horrors of that colony called The Crime of Congo.  A longtime campaigner for equality and social justice, he investigated two closed cases which lead to the exoneration of two men that had been falsely accused.  Doyle died of a heart attack at the age of 71.
1953 –Che Guevara embarks on road trip through Bolivia, Peru, Ecuador, Panama, Costa Rica, Nicaragua, Honduras and El Salvador.
1961 –Jimmy Hoffa elected chairman of the teamsters.
1967 –Actress Vivien Leigh dies in London.  The British actress was born in Darjeeling India and found great success on stage and screen.  Her most famed roles were that of Scarlett O'Hara in "Gone with the Wind", and as Blanch Dubois in the screen adaptation of the Tennessee Williams play "A Streetcar Named Desire".  Leigh died from complications from tuberculosis at the age of 53.
1972 –First female member of the FBI sworn in.
1973 –Shoelace Park in the Bronx named.
1981 –Sandra Day O'Connor nominated to the Supreme Court by President Ronald Regan.  Born in El Paso, Texas O'Connor attended Stanford University where she earned her BA in economics and went on to graduate with honors from Stanford Law School.  Though she graduated at the top of her class, O'Connor was unable to find work in the private sector due to gender discrimination. Thus she embarked on a career working in the public sector and soon proved to be well suited for a life in politics.  She served as the Assistant Attorney General of Arizona for four years from 1965-1969 and went on to become the first woman elected to State Senate Majority leader in 1973. Regan had pledged to nominate a woman to the Supreme Court during his 1980 campaign and fulfilled that promise with O'Connor's nomination on July 7th.  O'Connor was confirmed with a decision of 99-0.
1987 –Marine Lt. Col. Oliver North begins public Testimony in the Iran Contra hearings.  He plead his innocence stating he "Never carried out a single act. Not one."
1991 – SA government lifts bans and restrictions on Winnie Mandela.  Mandela's movements were restricted to her home in Orlando, Soweto on nights, weekend and public holidays and was not permitted any visitors aside from her daughters.  She was accused of breaking these orders on many occasions and was arrested many times.  She was eventually banished from Orlando to a small black township located in the Orange Free State province.
2005 –7/7 Bombings of London, England.  Three underground stations and a double decker bus were attacked by suicide bombers killing 56 people, including the perpetrators. All four of the bombers were young Britons that had been radicalized by Islamic extremism.  The 7/7 bombing is the worst attack on London since WWII.
This Day in Music
1851, Charles Albert Tindley, gospel music composer born on this day in Berlin, MD.  Tindley took correspondence courses through the Boston University School of theology. He earned a Doctorate whilst working as church janitor; most notable works "I'll Overcome Someday" 1901 (believed to be the derivative of civil rights anthem We Shall Overcome), "Stand By Me" 1905, and "Someday", 1906.  Tindley was posthumously inducted in the Gospel Hall of Fame.
1913, Blues musician Joseph William "Pinetop" Perkins was born on this day in Belzoni, Mississippi.  Played with the Muddy Waters band and didn't release first recording as a leader until 1988's "After Hours".  In 2000 he was awarded the National Heritage Fellowship, the highest honor in folk and traditional arts by the National Endowment for the Arts. Perkins was the 2005 Grammy Lifetime Achievement recipient, and his 2008 Best Traditional Blues Album Grammy win for, "Joined at the Hip: "Pinetop" Perkins & Willie "Big Eyes" Smith" makes Perkins the oldest ever recipient of a Grammy.
1950, Theodore "Fats" Navarro, hall of fame Jazz trumpeter dies at the age of 26.  Navarro was born in Key West, Florida 1923.  He began playing the trumpet at the age of 6 and moved to New York in 1946, where he found great success and playing with the  likes of Billy Eckstine,   Benny Goodman, Coleman Hawkins, Illinois Jacquet and Kenny Clarke.  Posthumously inducted into the Downbeat Hall of Fame in 1982.
1954, Elvis Presley makes radio debut as a Memphis radio station plays "That's all Right", his first recording or Sun Records.
1957, John Lennon and Paul McCartney meet for the first time at the Woolten Parish Church Fete.
1963, James Brown reaches No.2 on the album charts with "Live at The Apollo".  The album spent 66 weeks on the Billboard Album Chart and ranked 24 on the list of Rolling Stones 500 greatest albums of all time.
1967, Pink Floyd makes their first ever appearance on BBC TV show, Top of the Pops.
1971, American jazz trumpeter, singer and bandleader Louis Armstrong dies.  Born in New Orleans, Louisiana in 1901, Armstrong is widely recognized as the founding father of Jazz.
1973, Queen releases debut single "Keep Yourself Alive" in the UK.
1974, Van McCoy, singer producer and songwriter dies in Englewood, NJ.  McCoy had a No.1 single "The Hustle", with his band Van McCoy and Soul City.  Collaborated with Gladys Knight and the Pips, The Stylistics and Aretha Franklin.
Birthdays
1752, Joseph-Marie Jacquard, French inventor of the Jacquard loom.
1860, Gustav Mahler, Austrian Composer and Conductor
1887, Marc Chagall Belorussian –born French painter, printmaker and designer
1899, George Cukor, American motion-picture director
1904, Simon Beck, French Chef and author
1907, Robert Heinlein, American science fiction writer
1917, Lawrence O'Brien, American politician and NBA Commissioner (1975- 84')
1930, John Little, Scottish Footballer
1933, David McCullough, American historian and author
1937, Tung Chee Hwa, Hong Kong businessman and politician.  1st Chief of Executive of Hong Kong.
1940, Ringo Starr, English singer-songwriter, drummer and actor.  (The Beatles, Ringo Starr & his All Star Band, Plastic Ono Band)