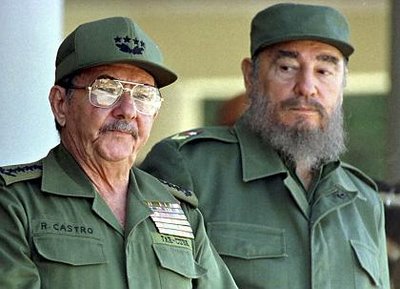 July 31, 2014 – Segment 1
Marc shares some of the events that happened on this day in history, including the expulsion of Jews from Spain, Columbus landing on Trinidad, and Fidel Castro handing over power to his brother Raul.
Due to a technical error, no podcast is available for this segment. 
EVENTS
1492 – The Jews are expelled from Spain when the Alhambra Decree takes effect. 
1498 – On his third voyage to the Western Hemisphere, Christopher Columbus becomes the first European to discover the island of Trinidad.
1703 – Daniel Defoe is placed in a pillory for the crime of seditious libel after publishing a politically satirical pamphlet, but is pelted with flowers.
1763: Captain James Dalyell, and 280 soldiers attack Pontiac's village at 2:30 am this morning. Pontiac is informed of Dalyell's plans, so he sets up an ambush at the Parent's Creek bridge with 400 Indians. When Dalyell's troops approach the bridge, the Indians attack. Twenty soldiers, including Dalyell, and seven Indians are killed in the fighting. The creek, near Detroit, is now called Bloody Run. Major Robert Rogers helps Dalyell's survivors to escape.
1779: General John Sullivan leads an expedition in retaliation against the Iroquois' actions in the Wyoming Valley Massacre.
1941 – The Holocaust: under instructions from Adolf Hitler, Nazi official Hermann Göring, orders SS General Reinhard Heydrich to "submit to me as soon as possible a general plan of the administrative material and financial measures necessary for carrying out the desired Final Solution of the Jewish question."
1945 – Pierre Laval, the fugitive former leader of Vichy France, surrenders to Allied soldiers in Austria.
1961 – At Fenway Park in Boston, Massachusetts, the first All-Star Game tie in Major League Baseball history occurs when the game is stopped in the 9th inning because of rain.
1972 – The Troubles: In Operation Motorman, the British Army re-takes the urban no-go areas of Northern Ireland. It is the biggest British military operation since the Suez Crisis of
1956, and the biggest in Ireland since the Irish War of Independence. Later that day, nine civilians are killed by car bombs in the village of Claudy.
2006 – Fidel Castro hands over power to brother Raúl Castro.
2012 – Michael Phelps breaks the record set in 1964 by Larisa Latynina for the greatest number of medals won at the Olympics.
BIRTHS
1912 – Milton Friedman, American economist, Nobel Prize laureate (d. 2006)
1921 – Whitney Young, American activist (d. 1971)
1923 – Ahmet Ertegun, Turkish-American record producer, founded Atlantic Records (d. 2006)
1965 – Najwa Najjar, Palestinian filmmaker
1965 – J. K. Rowling, English author
DEATHS
1966 – Bud Powell, American pianist (b. 1924)
2012 – Gore Vidal, American journalist, author, and screenwriter (b. 1925)