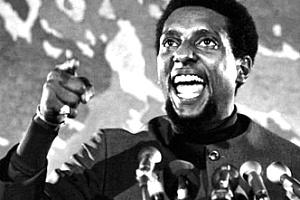 Podcast: Play in new window | Download
Subscribe: RSS
July 29, 2014 – Segment 1
Marc shares some of the events that happened on this day in history, including the 1968 Papal ban of the contraceptive pill, as well as all other artificial means of birth control, the birth of Kwame Toure', formerly known as Stokley Carmichael, and the death of Cass Elliot.
On this day in history:
1706: Spaniard Juan de Uribarri is leading twenty soldiers, twelve settlers and 200 Indian allies from Santa Fe to rescue a band of enslaved Indians held by the Cuartelejo Apaches in what is now eastern Colorado. They cross the Arkansas River near present day Pueblo, Colorado.
1837: Henry Dodge, representing the United States, and the Chippewa Indians sign a treaty (7 Stat., 536.) at St. Peters, Wisconsin. The Chippewas trade large land holdings for $9,500 immediately, $19,000 worth of supplies, and a release from their debts.
1858 – On July 29, 1858, the United States and Japan signed the Treaty of Amity and Commerce (the Harris Treaty). Townsend Harris, the first U.S. diplomatic representative to Japan, negotiated the arrangement, which became effective July 4, 1859. A New York merchant with experience in Asia, Townsend was appointed consul general to Japan in August 1856 and began his assignment shortly thereafter. Harris was not welcomed and was ignored by the Japanese authorities for more than a year. He operated in diplomatic isolation out of the Gyokusenji Buddhist temple in Shimoda. Harris is credited with opening the Japanese Empire to foreign trade and culture. In addition to Shimoda and Hokadote, which already traded with the U.S., the Harris Treaty opened new ports to U.S. trade; granted U.S. citizens extraterritorial rights (exempting them from the jurisdiction of Japanese law); and permitted Americans their religious freedom. The tariff rates attached to the treaty favored the United States over Japan, but the treaty provided an opportunity to renegotiate in 1872. The Japanese Government also was allowed to "…purchase or construct in the United States ship-of-war, steamers, merchant ships, whale ships, cannot, munitions of war, and arms of all kinds … [as well as] to engage in the United States scientific, naval, and military men, artisans of all kind, and mariners to enter into its service…" The Harris Treaty made reciprocal diplomatic representation possible. In 1860, a delegation of more than seventy Japanese traveled to the United States. Congress appropriated $50,000 for the visitors, who spent seven weeks touring the United States. Another trip was made twelve years later when, in accordance with the Harris Treaty, the Japanese attempted to gain concessions from the U.S. These visits are credited with helping to dispel cultural stereotypes and furthering diplomatic ties between the two countries.
1864 – American Civil War: Confederate spy Belle Boyd is arrested by Union troops and detained at the Old Capitol Prison in Washington, D.C.
1891 – The Coast Seamen's Union merges with the Steamship Sailors' Union to form the Sailors' Union of the Pacific
1899 – The First Hague Convention is signed.
1903 – A preliminary delegation from Mother Jones' March of the Mill Children from Philadelphia to President Theodore Roosevelt's summer home in Oyster Bay, Long Island, publicizing the harsh conditions of child labor, arrives today. They are not allowed through the gates
1919 – The National Association of Negro Musicians met for the first time in Chicago, IL, on this date in 1919.  The group convened under the direction of Clarence Cameron White for the purpose of advancing Black music and the careers of Black musicians.
1921 – Adolf Hitler becomes leader of the National Socialist German Workers Party.
1932 U.S.A. Bonus Protesters Jul. 29th 1932 : World War I Vets who are starving like many others due to the great depression march on Washington demanding that the bonus payment they are due to receive in 1945 is paid out early. Legislators refuse their requests so 20,000 vets set up camp in Washington trying to put further pressure on the government. President Herbert Hoover ordered the eviction and two veterans were killed, he then called on the army to disperse the remaining Bonus protesters and the Bonus Army headed home on July 29, 1932.
1945 World War II USS Indianapolis Sinking 29th July 1945 : I-58 Japanese submarine sinks the American cruiser Indianapolis, killing 883 seamen in the worst loss in the history of the U.S. navy. More than 800 fell into the Pacific many died due to injuries during the sinking but the remaining seamen were left to flounder in the Pacific, fend off sharks, drink sea water it was 84 hours before help arrived and only 318 survived the rest were eaten by sharks or drowned. The USS Indianapolis had just delivered key components of the Hiroshima atomic bomb to the Pacific island of Tinian prior to it's sinking by the submarine.
1956 – Nineteen firefighters die while responding to a blaze at the Shamrock Oil and Gas Corp. refinery in Sun Ray, Texas
1958 U.S.A. NASA Created 29th July 1958 : NASA ( National Aeronautics and Space Administration ) is created by the National Aeronautics and Space Act to make sure America will win the space race and 11 years and billions of dollars later, Neil Armstrong stepped out of the lunar module Eagle and onto the moon's surface on July 20th, 1969.
1965 – Vietnam War: The first 4,000 101st Airborne Division paratroopers arrive in Vietnam, landing at Cam Ranh Bay.
1968 Vatican Pope Paul VI Jul. 29th 1968 : Pope Paul VI banned the contraceptive pill, as well as all other artificial means of birth control.
1970 – Following a 5-year table grape boycott, Delano-area growers file into the United Farm Workers union hall in Delano, Calif., to sign their first union contracts
1979: Women's History Summer Institute at Sarah Lawrence College, July 13-29, led to founding of Women's History Month.
1991 – Bernard A. Harris, Jr. officially became a NASA astronaut on this date in 1991.  Harris had previously served as a NASA clinical scientist and flight surgeon.
1993 – The Supreme Court of Israel acquits alleged Nazi death camp guard John Demjanjuk of all charges and he is set free.
1996 – Carl Lewis won his fourth consecutive Olympic Gold Medal (1984, 1988, 1992, and 1996) in the long jump on this date in 1996.  With this Olympic Gold Medal, his ninth, Lewis tied an all-time Olympic Gold-winning record.
1999 U.S.A. Woodstock 99 Jul. 29th 1999 : New York State Police have suspended an officer who posed with half naked women at Woodstock 99 while colleagues were quelling a riot at the festival, the officer is also facing criminal charges.
1999 U.S.A. Day Trader Goes On Killing Spree Jul. 29th 1999 : Day Trader ( Mark O. Barton ) opens fire at the All-Tech Investment Group Inc Atlanta brokerage office, killing nine and wounding 13 others before shooting himself to death, he had earlier killed his wife and two children. It is thought he went on the killing spree after losing over $100,000 while day trading between June 9th and July 27th.
2006 Sudan Peace Agreement Broken Jul. 29th 2006 : After signing a peace agreement on May 5th of 2006, the Sudanese government violated the agreement when they attacked the rebel group the Justice and Equality Movement, a group not involved in the peace deal, in the Jebel Moon mountains. The peace agreement between Sudanese government and the Minni Minnawi faction was used by both parties as a way to attack rebel groups who were not a part of the agreement.
2008 U.S.A. Ronald Gray Jul. 29th 2008 : Former United States President and Commander in Chief, George W. Bush approved the first execution of an American soldier in over fifty years on this day. Ronald Gray a serial killer who was found guilty of the rape and murder of 4 victims, a member of the armed forces in the states of North Carolina was convicted of rape and murder in 1988 and sentenced to death.
Born on this day in history:
1926 – Don Carter, one of the greatest professional bowlers of all time, was born in St. Louis, Missouri, on July 29, 1926. A childhood job as a pinsetter gave Carter his start. Practicing on a lane that he constructed in his basement, Carter perfected his game and joined the St. Louis Budweiser team. In 1953, he received the first of six "bowler of the year" designations. He dominated the sport during its heyday.
1936 – Elizabeth Dole, American politician, 20th United States Secretary of Labor
1937 – Daniel McFadden, American economist, Nobel Prize Laureate
1941 – Stokley Carmichael (Kwame Toure'), civil rights activist, was born in Trinidad
Music History BIRTHDAYS:
1590 – Gilles Hayne, composer
1646 – Johann Theile, German composer (Adam & Eve)
1723 – Christleib Siegmund Binder, composer
1739 – Johannes Ritschel, composer
1755 – Franz Gotz, composer
1778 – Carl Borromaus Neuner, composer
1853 – Henry Morton Dunham, composer
1865 – Nicola Spinelli, composer
1883 – Manuel Infante, Spanish composer/conductor
1887 – Rudi Stephan, composer
1887 – Sigmund Romberg, Nagykanizsa Hungary, operetta composer (Blossom Time)
1893 – Arre Merikanto, Finnish composer (12-tones music)
1900 – Alexander Vasil'yevich Mosolov, composer [OS]
1900 – Don Redman, Piedmont WV, orchestra leader (Sugar Hill Times)
1900 – Don Redman, American musician (d. 1964)
1909 – Georgy Mushel, composer
1911 – Jan Cikker, composer
1916 – Charlie Christian, American jazz guitarist (d. 1942)
1925 – Mikis Michael George Theodorakis, Chios Greece, composer (Raven)
1928 – Bidzina Alexandrovich Kvernadze, composer
1930 – Paul Taylor, dancer/choreographer (Paul Taylor Dance Company) [or 6/5]
1935 – Leonard Lee, rocker (Shirley & Lee)
1935 – Peter Schreier, Meissen Germany, tenor (Dresden State Opera 1961)
1939 – Annea Lockwood, composer
1946 – Neal Doughty, Evansville IN, rock keyboardist (Reo Speedwagon)
1951 – Dean Pitchford, rocker
Singer-songwriter Geddy LeeSinger-songwriter Geddy Lee (1953)
1953 – Geddy Lee, Toronto Canada, lead vocalist/bassist (Rush-Tom Sawyer)
1955 – "Country" Jem Finer, English banjo player (Pogues-Straight to Hell)
1956 – Patti Scialfa, singer (As Long as I Can Be)/Mrs Bruce Springsteen
1957 – Alessandra Marc, American operatic soprano
1959 – John Sykes, Irish hard rock guitarist (Thin Lizzy-Blue Murder)
1966 – Martina McBride, country singer
1968 – Paavo Lotjonen, Finnish Cellist (Apocalyptica)
1971 – Lisa Ekdahl, Swedish singer songwriter
1973 – Wanya Morris, [Squirt], Phila Pa, rapper (Boyz II Men)
1975 – Seth Greisinger, Kansas City KS, baseball pitcher (Olympics-bronze-96)
1987 – Sabra Johnson, American dancer
Music History DEATHS:
1669 – Christopher Simpson, composer, dies
1786 – Franz Asplmayr, composer, dies at 58
1797 – Christoph Rheineck, composer, dies at 48
1808 – Selam III, poet/composer/sultan of Turkey (1789-1808), dies
1825 – Micah Hawkins, composer, dies at 48
1838 – Jonathan Huntington, composer, dies at 66
1844 – Franz Xaver Wolfgang Mozart, composer, dies at 53
1856 – Robert A Schumann, German pianist/composer (Humoresque), dies at 46
1859 – Auguste Mathieu Panseron, composer, dies at 63
1886 – Adolf Muller, composer, dies at 84
1906 – Alexandre Luigini, composer, dies at 56
1930 – Alexander von Fielitz, composer, dies at 69
1933 – Gerhard Rusenkrone Schjelderup, composer, dies at 73
1963 – Dorian Le Gallienne, composer, dies at 48
1966 – Pal Jardanyi, composer, dies at 44
1970 – John G B Barbirolli, English conductor/composer, dies at 70
1970 – Jonel Perlea, composer, dies at 69
1974 – Cass Elliot, singer (Mamas & Papas), dies from heart attack in London at 32
1978 – Wesley La Violette, composer, dies at 84
1980 – Jan Tausinger, composer, dies at 58
1984 – Fred Waring, orchestra leader (Fred Waring Show), dies at 84
1996 – Jason Thirsk, American bassist (Pennywise) (b. 1967)
2004 – Rena Vlahopoulou, Greek actress and singer (b. 1923)
2008 – Ishmeet Singh Sodhi, Indian Playback Singer (b. 1989)
Sources: The People History; This Day in Labor History; Wikipedia List of Historical Anniversaries; This Day in Women's History; This Day in African History;History.com;History Orb; Yenoba; Selected Black Facts; Phil Konstantin's North American Indian History; and This Day in Music