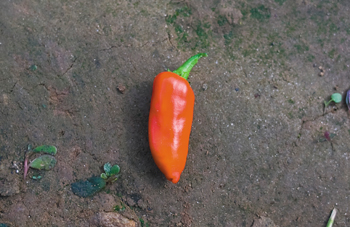 Have you ever heard of the Maryland Fish Pepper? In another Urbanite Radio Story, we look at the history of this local hot pepper.  It faded out of popularity and was almost lost, but a few people are working to bring the Fish Pepper back to Maryland.
Our guests are:
Scott Carlson, founder of the Rodgers Forge Farm Initiative, and author of the Urbanite article The Prodigal Pepper.
Mick Kipp, owner of the local spice store the Whiskey Island Pirate Shop in the Mill Valley General Store. He's partnering with One Straw Farm to bring back the fish pepper for a line of spice rubs and sauces.
Alexia Savold, a horticulturalist for the Accokeek Foundation, a nonprofit that preserves Maryland history at a site along the Potomac River
Michael Twitty, a local culinary historian who focuses on the food eaten by African Americans during slavery
To listen to the audio, click here.