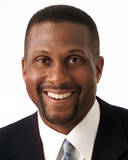 In our first segment, Marc spoke with Chuck Schmitz, who is the subject of an article in this month's Urbanite magazine, entitled "Lost In Translation."  The article focuses on Chuck Schmitz's experience while serving as an Arabic translator and cultural interpreter for now former Guantanamo detainee, Salim Ahmed Hamdan.  Chuck Schmitz is an Associate Professor of Geography at Towson University, as well as President of the American Institute for Yemini Studies. 
In our second segment, we were joined by Public broadcasting's Tavis Smiley, to discuss his new book Accountable: Making America as Good as its Promise.
This show is a rebroadcast. Click here to listen to the podcast on the original show page.