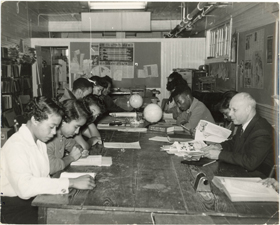 In our second hour today, we explore a surprising alliance.  During World War II, many Jewish professors fled from Nazi Germany and were offered positions at historically black colleges.  We discuss the intertwined history of African Americans and Jews with the curators of Beyond Swastika and Jim Crow: Jewish Refugee Scholars at Black Colleges, a new exhibit at the Reginald F. Lewis Museum.
Joining us are:
John Milton Wesley, student of Jewish refugee scholar Dr. Ernst Borinski
Dr. Michelle Joan Wilkinson, Director of Collections and Exhibitions at the Reginald F. Lewis Museum
Anita Kassof, Assistant Director at the Jewish Museum of Maryland
To listen to the audio, click here.