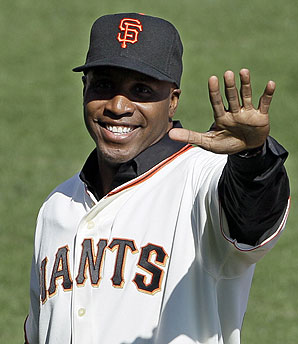 Podcast: Play in new window | Download
Subscribe: RSS
July 24, 2014 – Segment 1
Marc shares some of the events that happened on this day in history, including the abolition of slavery in Chile, Alabama dropping rape charges against the so-called "Scottsboro Boys," and the birth of Barry Bonds.
EVENTS
1567 – Mary, Queen of Scots, is forced to abdicate and replaced by her 1-year-old son James VI.
1701 – Antoine de la Mothe Cadillac founds the trading post at Fort Pontchartrain, which later becomes the city of Detroit, Michigan.
1823 – Slavery is abolished in Chile.
1866 – Reconstruction: Tennessee becomes the first U.S. state to be readmitted to the Union following the American Civil War.
1900 – Race riot, New Orleans. Two white policemen killed.
1901 – O. Henry is released from prison in Columbus, Ohio after serving three years for embezzlement from a bank.
1919 – Race Riot, Washington, D.C. Triggered by raids on Black residential areas by white soldiers. Six persons killed and more than one hundred wounded.
1922 – The draft of the British Mandate of Palestine was formally confirmed by the Council of the League of Nations; it came into effect on 26 September 1923.
1929 – The Kellogg–Briand Pact, renouncing war as an instrument of foreign policy, goes into effect (it is first signed in Paris on August 27, 1928 by most leading world powers).
1935 – The Dust Bowl heat wave reaches its peak, sending temperatures to 109°F (43°C) in Chicago, Illinois and 104°F (40°C) in Milwaukee, Wisconsin.
1937 – Alabama drops rape charges against the so-called "Scottsboro Boys".
1959 – At the opening of the American National Exhibition in Moscow, U.S. Vice President Richard Nixon and Soviet Premier Nikita Khrushchev have a "Kitchen Debate".
1967 – During an official state visit to Canada, French President Charles de Gaulle declares to a crowd of over 100,000 in Montreal: Vive le Québec libre! ("Long live free Quebec!"). The statement, interpreted as support for Quebec independence, delighted many Quebecers but angered the Canadian government and many English Canadians.
1974 – Watergate scandal: the United States Supreme Court unanimously ruled that President Richard Nixon did not have the authority to withhold subpoenaed White House tapes and they order him to surrender the tapes to the Watergate special prosecutor.
1974 – Konstantinos Karamanlis arrives in Greece following the collapse of the Greek military junta, beginning Greece's metapolitefsi era.
1983 – The Black July anti-Tamil riots begin in Sri Lanka, killing between 400 and 3,000. Black July is generally regarded as the beginning of the Sri Lankan Civil War.
1990 – Iraqi forces start massing on the Kuwait-Iraq border.
 2001 – Bandaranaike Airport attack is carried out by 14 Tamil Tiger commandos, all died in this attack. They destroyed 11 Aircraft (mostly military) and damaged 15, there are no civilian casualties. This incident slowed down Sri Lankan economy.
2002 – Democrat James Traficant is expelled from the United States House of Representatives on a vote of 420 to 1.
2013 – A high-speed train derails in Spain rounding a curve with an 80 km/h (50 mph) speed limit at 190 km/h (120 mph), killing 78 passengers.
BIRTHS
1783 – Simón Bolívar, Venezuelan commander and politician, 2nd President of Venezuela (d. 1830)
1802 – Alexandre Dumas, French author and playwright (d. 1870)
1897 – Amelia Earhart, American pilot and author (d. 1937)
1900 – Zelda Fitzgerald, American author (d. 1948)
1951 – Lynda Carter, American actress and singer
1951 – Gypie Mayo, English guitarist and songwriter (Dr. Feelgood and The Yardbirds) (d. 2013)
1952 – Gus Van Sant, American director, producer, and screenwriter
1964 – Barry Bonds, American baseball player
DEATHS
1862 – Martin Van Buren, American lawyer and politician, 8th President of the United States (b. 1782)
1954 – Mary Church Terrell, educator and civil rights leader.
1980 – Peter Sellers, English actor, singer, director, and screenwriter (b. 1925)