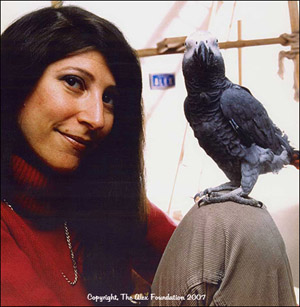 In the first half of today's show, Marc talked with author Janet Sarbanes, an author and Baltimore native who now teaches narrative writing and theory of narrative in the MFA Writing Program at the California Institute of the Arts. She recently published a new story collection, Army of One. On today's show she offered readings from that new work, and discussed her work, the meaning of creative thought, and how she became an author.
In the second half of the show Marc talked with scientist and author Dr. Irene Pepperberg, whose experiments in language and animal cognition are the subject of her recent book Alex & Me: How a Scientist and a Parrot Uncovered a Hidden World of Animal Intelligence — and Formed a Deep Bond in the Process. Pepperberg's groundbreaking experiments with Alex, an African Grey parrot, sought to show that Alex could understand meaning and syntax. Pepperberg is an adjunct professor of psychology at Brandeis university and a lecturer and research associate at Harvard University, and is the founder of the Alex Foundation, which supports further research into the intelligence of African Greys.
This show is a rebroadcast. Click here to listen to the podcast on the original show page.