Podcast: Play in new window | Download
Subscribe: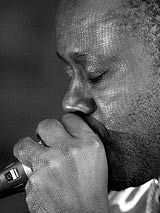 Aubrey Sarvis, Executive Director of the Servicemembers Legal Defense Network, joins us for an update on the repeal of "Don't Ask, Don't Tell," which bans openly gay and lesbian members of the military from serving.
Finally, an interview with Baltimore beatboxing legend Shodekeh, who will be performing with the Baltimore Symphony Orchestra tomorrow evening, in the U.S. premiere of Jan Mikael Vainio's Fujiko's Fairy Tale. Make sure to listen for the live music in studio, and make sure not to miss the exciting concert tomorrow, Friday, July 23rd at 7:30 pm. More information and tickets are available from the BSO.