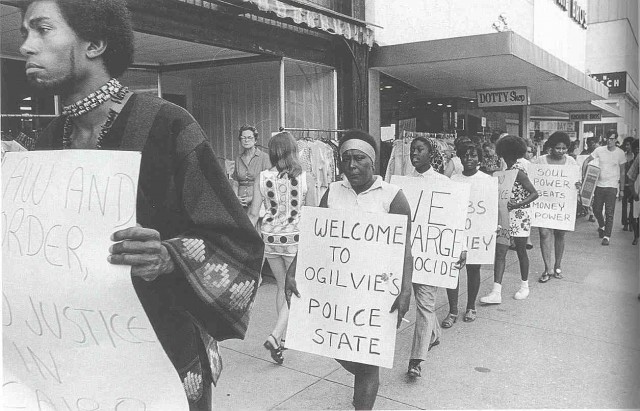 Podcast: Play in new window | Download
Subscribe: RSS
July 17, 2014 – Segment 1
Marc talks about what happened on this day in history, including the day of the 1771 Bloody Falls Massacre, the birthday of Frank Snowden, foremost scholar on blacks in ancient history, and 1967 race riot in Cairo, Illinois.
EVENTS
180 – Twelve inhabitants of Scillium in North Africa are executed for being Christians. This is the earliest record of Christianity in that part of the world.
1771 – Bloody Falls Massacre: Chipewyan chief Matonabbee, traveling as the guide to Samuel Hearne on his Arctic overland journey, massacres a group of unsuspecting Inuit.
1791 – Members of the French National Guard under the command of General Lafayette open fire on a crowd of radical Jacobins at the Champ de Mars, Paris, during the French Revolution, killing as many as 50 people.
1911 – Frank Snowden, foremost scholar on blacks in ancient history : Blacks in Antiquity: Ethiopians in the Greco-Roman Experience and Before Color Prejudice: The Ancient View of Blacks, born
1918 – Tsar Nicholas II of Russia and his immediate family and retainers are murdered by Bolshevik Chekists at the Ipatiev House in Yekaterinburg, Russia.
1919 – Some 35,000 Chicago stockyard workers strike
1932 – Altona Bloody Sunday: A riot between the Nazi Party paramilitary forces, the SS and SA, and the German Communist Party ensues. 1933 – After successfully crossing the Atlantic Ocean, the Lithuanian research aircraft Lituanica crashes in Europe under mysterious circumstances.
1936 – Spanish Civil War: An Armed Forces rebellion against the recently elected leftist Popular Front government of Spain starts the civil war.
1944 – World War II: Napalm incendiary bombs are dropped for the first time by American P-38 pilots on a fuel depot at Coutances, near Saint-Lô, France.
1945 – World War II: the main three leaders of the Allied nations, Winston Churchill, Harry S. Truman and Joseph Stalin, meet in the German city of Potsdam to decide the future of a defeated Germany.
1955 – Disneyland is dedicated and opened by Walt Disney in Anaheim, California.
1967 – Race riot, Cairo, Illinois. National Guard mobilized.
1968 – A revolution occurs in Iraq when Abdul Rahman Arif is overthrown and the Ba'ath Party is installed as the governing power in Iraq with Ahmed Hassan al-Bakr as the new Iraqi President. 1
973 – King Mohammed Zahir Shah of Afghanistan is deposed by his cousin Mohammed Daoud Khan while in Italy undergoing eye surgery. 1979 – Nicaraguan dictator General Anastasio Somoza Debayle resigns and flees to Miami, Florida.
1981 – Fulton County (Atlanta) grand jury indicted Wayne B. Williams, a twenty-three-year-old photographer, for the murder of two of the twenty-eight Black youths killed in a series of slayings and disappearances in Atlanta. William denied the charges but was convicted in February, 1982.
1998 – A diplomatic conference adopts the Rome Statute of the International Criminal Court, establishing a permanent international court to prosecute individuals for genocide, crimes against humanity, war crimes, and the crime of aggression.
BIRTHS
1912 – Art Linkletter, Canadian-American radio and television host (d. 2010)
1917 – Phyllis Diller, American comedian, actress, and singer (d. 2012)
1918 – Red Sovine, American singer-songwriter and guitarist (d. 1980)
1920 – Gordon Gould, American physicist, invented the laser (d. 2005)
1925 – Jimmy Scott, American singer (d. 2014)
1935 – Donald Sutherland, Canadian actor
1939 – Spencer Davis, Welsh singer-songwriter and guitarist (The Spencer Davis Group)
1948 – Ron Asheton, American guitarist, songwriter, and actor (The Stooges) (d. 2009)
1952 – David Hasselhoff, American actor, singer, and producer
1954 – Angela Merkel, German politician, 8th Chancellor of Germany
1955 – Paul Stamets, American mycologist and author
1961 – Guru, American rapper, producer, and actor (Gang Starr) (d. 2010)
1963 – Regina Belle, American singer-songwriter and producer
1971 – Cory Doctorow, Canadian author and activist
1978 – Panda Bear, Baltimore-born singer-songwriter and keyboard player (Animal Collective and Jane)
DEATHS
1790 – Adam Smith, Scottish economist and philosopher (b. 1723)
1959 – Billie Holiday, American singer-songwriter and actress (b. 1915)
1961 – Ty Cobb, American baseball player and manager (b. 1886)
1967 – John Coltrane, American saxophonist and composer (b. 1926)
2005 – Laurel Aitken, Jamaican singer (b. 1927)
2009 – Walter Cronkite, American journalist (b. 1916)
Sources: The People History; This Day in Labor History; Wikipedia List of Historical Anniversaries; This Day in Women's History; This Day in African History;History.com; History Orb; Yenoba; Selected Black Facts; Phil Konstantin's North American Indian History; and This Day in Music