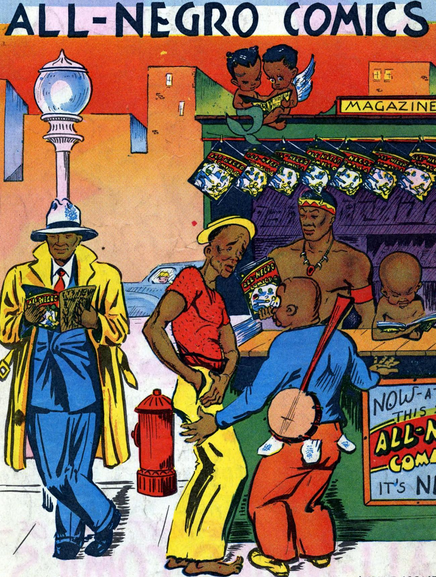 July 15, 2014 – Segment 1
Marc shares some of the events that happened on this day in history, including the day All-Negro Comics, the first known comic magazine written and drawn by African American writers and artists, was copyrighted; the day the steel strike of 1959 began; and the birthday of jazz pianist Philly Joe Jones.
Due to technical difficulties, this podcast is not available. 
1149 –The reconstructed Church of the Holy Sepulchre is consecrated in Jerusalem
1381 –John Ball, leader of the Peasant's Revolt is hung drawn and quartered in the presence of Richard II of England.
1606 –the painter Rembrandt is born in Leiden, Netherlands
1830 –Indian tribes, Sioux, Sauk and Fox sign fourth Treaty of Prairie du Chien giving the US most of Minnesota, Iowa and Missour.
1838 –Ralph Wald Emerson delivers address at Harvard Divinity School declaring Jesus a great man but not a God. The Protestant community reacts with outrage.
1870 – Georgia becomes the last former Confederate state to be re admitted in the Union.
1918 –The Second Battle of the Marne beging near the River Marne.
1922 –Japanese Communist Party is established in Japan.
1927 –Eighty nine people are killed in riot between the Social Democratic Party of Austria and a right wing alliance between wealthy industrialists and the Catholic Church. 84 protesters and 4 police officers were killed in the violence. Over 600 injured.
1948 –Alcoholic Anonymous founded in Britain.
1955 –Eighteen Nobel Laureates sign the Mainau Decleration against Nuclear Weapons, later signed by thirty-four others.
1959 –Steel strike of 1959 begins, leading to the significant importation of steel for the first time in the history of the US.
1966 –Vietnam War: The US and South Vietnam begin Operation Hastings; w/c was successful in as far as its plan to push the North Vietnamese army back over the DMZ. The Battled raged on until the 28th of July and victory was declared by the US on the 3 of August. United States general Walt described the operation as follows" We found them well quipped; well trained and aggressive to the point of fanaticism. The attacked in massed formations and died by the hundreds."
1970 –Denmark beats Italy 2-0 in the first world female soccer championship.
1973 –Paul Getty III kidnapped
1979 –President Jimmy Carter delivers "Malaise" speech where he declares the greatest threat to the nation as "this crisis in the growing doubt about the meaning of our own lives and in the loss of a unity of purpose for our nation."
1983 -8 killed, 54 wounded by Armenian extremists bomb at Orly, France
2002 –John Walker Lindh pleads guilty to supplying aid to the enemy and to possession of explosives during the commission of a felony.
2002 –Anti Terrorism court of Paistan ha ds down death sentence to British born Ahmed Omar Saeed Sheikh and life terms to three others suspected of murdering Wall Street Journal reporter Daniel Pearl
Historic Birthdays
Rembrandt Van Rijn 7/15/1606 – 10/4/1669
Dutch painter, draftsman and etcher
Clement Moore 7/15/1779 – 7/10/1863
American scholar; wrote "The Night Before Christmas"
Sir Henry Cole 7/15/1808 – 4/18/1882
English art patron and educator
Mother Cabrini 7/15/1850 – 12/22/1917
Italian-born American founder of the Missionary Sisters of the Sacred Heart; canonized in 1946
Alfred Northcliffe 7/15/1865 – 8/14/1922
English newspaper publisher
Jacques Riviere 7/15/1886 – 2/14/1925
French writer, critic and editor
Thomas Francis, Jr. 7/15/1900 – 10/1/1969
American microbiologist and epidemiologist
Philly Joe Jones 7/15/1923 – 8/30/1985
American jazz percussionist
Today in Black History
July 15, 1864 Maggie Lena Walker, hall of fame businesswoman, educator and the first black female bank president, was born in Richmond, Virginia. Walker attended the Colored Normal School to be trained as a teacher and received her diploma with honors in 1883. After graduation, she taught for three years. In 1899, Walker was elected Right Worthy Grand Secretary-Treasurer of the Independent Order of St. Luke, a Black social and civic organization. In 1902, Walker founded the order newspaper, St. Luke Herald and opened the St. Luke Penny Savings Bank with her as president July 31, 1903. By 1920, the bank had loaned money to purchase 600 homes. In 1930, the bank merged with two other Black owned banks in Richmond to become the Consolidated Bank and Trust Company with Walker as chairman of the board. The bank continues to operate today as the oldest continuously operating minority-owned bank in the country. As a result of her business acumen, the order became financially successful and by 1924 had 100,000 members, 1500 local chapters, and assets of almost $400,000. Walker served as the leader of the Independent Order of St. Luke and chairman of the bank until her death December 15, 1934. She was the founder and lifelong head of the Colored Women's Council of Richmond which raised money for local projects and maintained a community house. She was the co-founder and vice president of the Richmond branch of the NAACP and served on the national board for ten years. She also served as a trustee of Hartshorn College and Virginia Union University. Her home in Richmond was designated a National Historic Landmark May 15, 1975 and was opened as a museum in 1985. The Maggie L. Walker Governor's School for Government and International Studies in Richmond is named in her honor. In 2001, Walker was posthumously inducted into the Junior Achievement U.S. Business Hall of Fame. "Maggie L. Walker and the I. O. of St. Luke: The Woman and Her Work" was published in 1927.
• July 15, 1933 Webster Anderson, Congressional Medal of Honor recipient, was born in Winnsboro, South Carolina. Anderson joined the United States Army in 1953 and served during the Korean War. By October 15, 1967 he was serving as a staff sergeant in Battery A, 2nd Battalion, 320th Field Artillery Regiment, 101st Airborne Infantry Division during the Vietnam War. On that day, his actions earned him the medal. His citation partially reads, "During the early morning hours Battery A's defensive position was attacked by a determined North Vietnamese Army infantry unit supported by heavy mortar, recoilless rifle, rocket propelled grenade and automatic weapon fire. The initial onslaught breached the battery defensive perimeter. Sfc. Anderson, with complete disregard for his personal safety, mounted the exposed parapet of his howitzer position and became the mainstay of the defense of the battery position. Sfc. Anderson directed devastating direct howitzer fire on the assaulting enemy while providing rifle and grenade defensive fire against enemy soldiers attempting to overrun his gun section position. While protecting his crew and directing their fire against the enemy from his exposed position, 2 enemy grenades exploded at his feet knocking him down and severely wounding him in the legs. Despite the excruciating pain and though not able to stand, Sfc. Anderson valorously propped himself on the parapet and continued to direct howitzer fire upon the closing enemy and to encourage his men to fight on. Seeing an enemy grenade land within the gun pit near a wounded member of his gun crew, Sfc. Anderson heedless of his own safety, seized the grenade and attempted to throw it over the parapet to save his men. As the grenade was thrown from the position it exploded and Sfc. Anderson was again grievously wounded. Although only partially conscious and severely wounded, Sfc. Anderson refused medical evacuation and continued to encourage his men in the defense of the position. Sfc. Anderson by his inspirational leadership, professionalism, devotion to duty and complete disregard for his welfare was able to maintain the defense of his section position and to defeat a determined attack." Despite losing both of his legs and part of an arm, Anderson survived his wounds and retired from the army. Anderson was presented the medal, America's highest military decoration, by President Richard M. Nixon November 24, 1969. He died August 30, 2003.
• July 15, 1938 Ernest Eugene Barnes, Jr., former professional football player and artist, was born in Durham, North Carolina. Barnes played football and majored in art at North Carolina Central University. He was drafted by the New York Titans in the 1960 AFL Draft and played for four years before retiring in 1964, disillusioned with aspects of the professional game. While playing, he continued painting and his most famous painting, "The Sugar Shack" (1971), was featured on the cover of Marvin Gaye's album "I want You" and in the closing credits of the television situation comedy "Good Times." He was named Official Artist of the 1984 Los Angeles Olympic Games and received the 1984 and 2004 Sports Artist of the Year Award from the American Sport Art Museum and Archives. Barnes was commissioned to produce paintings by a number of organizations, including the Los Angeles Lakers, Carolina Panthers, and the National Basketball Association. In 1990, he received an honorary Doctorate of Fine Arts degree from North Carolina Central and in 1999 received The University Award, the highest honor given by the University of North Carolina Board of Governors. Barnes published his autobiography, "Pads to Palette," in 1995. He died April 27, 2009.
• July 15, 1942 Vivian Juanita Malone, one of the first two African Americans to enroll at the University of Alabama, was born in Mobile, Alabama. Malone earned a bachelor's degree from Alabama A & M but the school lost its accreditation. To get an accredited degree, she applied to the University of Alabama and was admitted as a junior. When she and James Hood attempted to enroll June 11, 1963, Alabama Governor George Wallace blocked the door to Foster Auditorium. Despite harassment, Malone became the first Black graduate of the university May 30, 1965, earning her Bachelor of Arts degree in business management. She then joined the Civil Rights Division of the United States Department of Justice and in 1996 retired as director of Civil Rights and Urban Affairs and director of Environmental Justice for the U.S. Environmental Protection Agency. In 2000, she received an honorary Doctor of Humane Letters degree from the University of Alabama. Malone died October 13, 2005.
• July 15, 1947 All-Negro Comics, the first known comic magazine written and drawn by African American writers and artists, was copyrighted. The only known issue of the magazine was a 48-page, standard sized comic book with a glossy color cover and newsprint interior and a June, 1947 issue date. The magazine sold for 15 cents. Time magazine referred to the magazine as "the first to be drawn by Negro artists and peopled entirely by Negro characters."
• July 15, 1952 Johnny Lee Stallworth, hall of fame football player, was born in Tuscaloosa, Alabama. Stallworth played college football at Alabama A&M University where he earned his Bachelor of Science degree in business administration in 1974. He was selected by the Pittsburgh Steelers in the 1974 NFL Draft and over his 14 season professional career was a four-time Pro Bowl selection and the 1984 NFL Comeback Player of the Year. After retiring from football, Stallworth earned his Master of Business Administration degree and in 1986 founded Madison Research Corporation, specializing in providing engineering and information technology services to government and commercial clients. He sold the company in 2006 and in 2009 became a part-owner of the Pittsburgh Steelers. The John Stallworth Foundation was established in 1980 to annually provide scholarships to students at Alabama A&M University. Stallworth was inducted into the Pro Football Hall of Fame in 2002.
• July 15, 1953 Jean-Bertrand Aristide, former Roman Catholic priest and the first democratically elected President of Haiti, was born in Port-Salut, Haiti. Aristide was educated at the College Notre Dame, graduating with honors in 1974. After completing his post-graduate studies in 1979, Aristide continued his studies in Europe. He returned to Haiti in 1982 to be ordained a priest and immediately became an outspoken critic of the Duvalier government. As a result, his order sent him into three years of exile in Montreal. In 1985, Aristide returned to Haiti and founded an orphanage for urban steet children in 1986. As a leading voice for the aspirations of Haiti's dispossessed, Aristide survived at least four assassination attempts. In 1988, he was expelled from his order and in 1994 he left the priesthood. In 1990, Aristide was elected President of Haiti, the first democratically elected president. In 1991, Aristide was ousted by a military coup and went into exile. In 1994, he returned to Haiti to complete his presidential term in office which ended in 1996. In 2000, Aristide was again elected president but again he was ousted in a 2004 rebellion and forced into exile in South Africa. Aristide returned to Haiti in 2011. He has published a number of books, including his autobiography, "Aristide: An Autobiography," in 1993.
• July 15, 1961 Forest Steven Whitaker, actor, producer and director, was born in Longview, Texas but raised in Los Angeles, California. While in high school, Whitaker took voice lessons, performed in musicals, and caught the "acting bug." Whitaker was accepted into the Music Conservatory at the University of Southern California to study opera as a tenor and subsequently was accepted into the Drama Conservatory. He graduated from USC in 1982. Whitaker's first film role of note was in "Fast Times at Ridgemont High" (1982). In 1988, he starred in "Bird" which earned him the Best Actor Award at the Cannes Film Festival and in 1992 he won acclaim for his role in "The Crying Game." In 2006, he starred in "The Last King of Scotland" which earned him the Academy Award for Best Actor in a Leading Role. Other films in which he has appeared include "The Great Debaters" (2007), "Hurricane Season" (2009), "Our Family Wedding" (2010), and "The Last Stand" (2013). Whitaker made his directorial debut in 1993 with the HBO movie "Strapped." In 1995, he directed the film "Waiting to Exhale." Other films directed by Whitaker include "Hope Floats" (1998) and "First Daughter" (2004). Whitaker was awarded a star on the Hollywood Walk of Fame in 2007. He recently starred in the television series "Criminal Minds: Suspect Behavior."
• July 15, 2012 Nkosazana Dlamini-Zuma became the first female chairperson of the African Union Commission. Dlamini-Zuma was born January 27, 1949 in Natal, South Africa.
Sources: The People History; This Day in Labor History; Wikipedia List of Historical Anniversaries; This Day in Women's History; This Day in African History;History.com; History Orb; Yenoba; Selected Black Facts; Phil Konstantin's North American Indian History; and This Day in Music