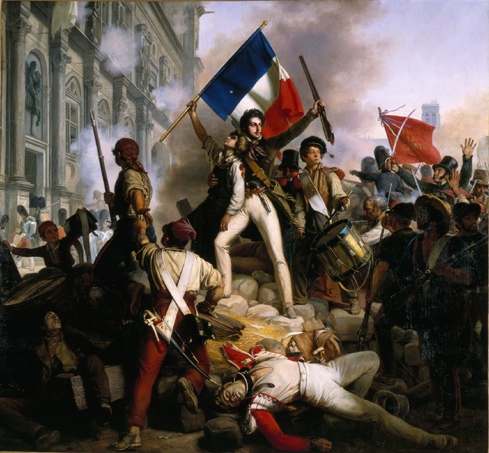 Podcast: Play in new window | Download
Subscribe: RSS
July 14, 2014 – Segment 1
Marc shares some events from this day in history: The beginning of the French Revolution, the birth of guitarist Lady Bo, the arrival of Marcus Garvey in Jamaica, and the day Alabama and Mississippi Democrats walked out of the DNC.
EVENTS
1789 – French Revolution: citizens of Paris storm the Bastille.1790 – French Revolution: citizens of Paris celebrate the unity of the French people and the national reconciliation in the Fête de la Fédération.1791 – The Priestley Riots drive Joseph Priestley, a supporter of the French Revolution, out of Birmingham, England.1798 – The Sedition Act becomes law in the United States making it a federal crime to write, publish, or utter false or malicious statements about the United States government.
1877 – The Great Railroad Strike of 1877 begins in Martinsburg, West Virginia, US, when Baltimore and Ohio Railroad workers have their wages cut for the second time in a year.  1
881 – Billy the Kid is shot and killed by Pat Garrett outside Fort Sumner.
1914 – Marcus Garvey arrived in Jamaica after a long tour which had taken him through Central America and Europe. Five days later on July 19 he launched the largest independent organization the world has ever seen – the Universal Negro Improvement Association , UNIA, intended to be the mouthpiece of black women, men and children all over the world.1921 – Italian immigrants and anarchists Nicola Sacco and Bartolomeo Vanzetti are convicted in Massachusetts of murder and payroll robbery—unfairly, most historians agree—after a 2-month trial, and are eventually executed. Fifty years after their deaths the state's governor issued a proclamation saying they had been treated unfairly and that "any disgrace should be forever removed from their names."
1928 – New Vietnam Revolutionary Party is founded in Huế amid providing some of the communist party's most important leaders in its early years.1933 – Gleichschaltung: in Germany, all political parties are outlawed except the Nazi Party.1933 – The Nazi eugenics begins with the proclamation of the Law for the Prevention of Hereditarily Diseased Offspring that calls for the compulsory sterilization of any citizen who suffers from alleged genetic disorders.
1948 – Alabama and Mississippi Democrats bolted the Democratic convention after adoption of a "strong" civil rights plank.
1948 – Palmiro Togliatti, leader of the Italian Communist Party, is shot and wounded near the Italian Parliament.1957 – Rawya Ateya takes her seat in the National Assembly of Egypt, thereby becoming the first female parliamentarian in the Arab world.1958 – Iraqi Revolution: in Iraq the monarchy is overthrown by popular forces led by Abdul Karim Kassem, who becomes the nation's new leader. 1960 – Jane Goodall arrives at the Gombe Stream Reserve in present-day Tanzania to begin her famous study of chimpanzees in the wild.1969 – The United States $500, $1,000, $5,000 and $10,000 bills are officially withdrawn from circulation. 1976 – Capital punishment is abolished in Canada.
2002 – French President Jacques Chirac escapes an assassination attempt unscathed during Bastille Day celebrations.
2003 – In an effort to discredit U.S. Ambassador Joseph C. Wilson, who had written an article critical of the 2003 invasion of Iraq, Washington Post columnist Robert Novak reveals that Wilson's wife Valerie Plame is a CIA "operative".
BIRTHS
1862 – Gustav Klimt, Austrian painter and graphic artist (d. 1918)
1896 – Buenaventura Durruti, Spanish soldier and anarchist (d. 1936)
1903 – Irving Stone, American author (d. 1989)
1910 – William Hanna, American animator, director, producer, and actor, co-founded Hanna-Barbera (d. 2001)
1912 – Woody Guthrie, American singer-songwriter and guitarist (Almanac Singers) (d. 1967)
1913 – Gerald Ford, American commander, lawyer, and politician, 38th President of the United States (d. 2006)
1918 – Ingmar Bergman, Swedish director, producer, and screenwriter (d. 2007)
1938 – Jerry Rubin, American activist, author, and businessman (d. 1994)
1940 – Lady Bo, who played with Bo Diddley and was the first female guitarist in history to be hired by a major rock & roll musician, is born Peggy Jones in New York, NY, USA.
1941 – Maulana Karenga, American philosopher, author, and activist, created Kwanzaa
DEATHS
1924 – Isabella Ford, English activist (b. 1855)