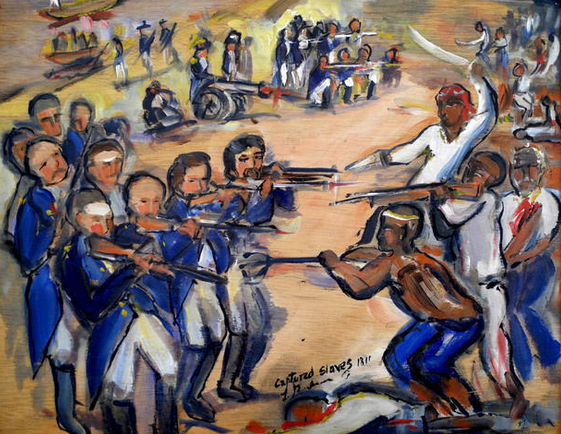 Podcast: Play in new window | Download
Subscribe: RSS
January 8, 2015 – Segment 1
Marc talks about what happened on this day in history, including the German Coast Rebellion outside of New Orleans, the day African-American men were given the right to vote in Washington DC, and the day the first issue of The Woman's Journal and Suffrage News was published.
Transcript of this day in history is included below. 

This is Marc Steiner, and today is January the 8th.
(Interview with Bobby Fischer)
That was the voice of the great chess player Bobby Fischer. In 1958, at the age of 14 years old, he won the United States Chess Championship for the first time. Fourteen years old! He went on to become a World Grandmaster, a symbol of the Cold War between the United States and Soviet Union.
Today in 1811, what was known as the German Coast Rebellion began. It is described as the largest slave rebellion in the history of the United States and it began in what was the new American territory of Louisiana, outside of New Orleans. It was multi-racial society that White Southerners did not know how to manage. Thousand of Haitians fled their revolution with their slaves to Louisiana. Charles Delondes was one of those slaves who led the rebellion that took over the same plantation on which he was enslaved, killing two of the slave owners. Over 200 of the enslaved from neighboring plantations and Maroons living free in the swamps began a march on Orleans. Most spoke no English and many were African or Haitian born. The rebellion was brutally put down by US Army and Haitian Creole planters two days later on the 10th of January. As remembered on that day:
"A total of 95 insurgents were killed in the aftermath of the rebellion, including Deslondes who was captured and "had his hands chopped off, then shot in one thigh and then the other until they were broken, then shot in the body, and before he had expired was put into a bundle of straw and roasted."
The legislature of the Orleans Territory approved compensation of $300 to planters for each enslaved person killed or executed. But it led to constant smaller rebellions until liberation 55 years later.
And in 1867, African American men were granted the right to vote in Washington, becoming the first place in America that granted African-American men the right to vote. President Andrew Johnson attempted to veto the bill granting ALL male citizens of DC the right to vote, but Congress overrode his veto. There will still some barred from voting rights: women, those under 21 years of age, welfare and charity recipients, those under guardianship, men convicted of major crimes, and men who voluntarily sheltered Confederate troops and spies during the Civil War.
And a few years later in 1871, the first issue of The Woman's Journal and Suffrage News was published in Massachusetts by Lucy Stone and her husband Henry B. Blackwell. It agitated for change until 1931 when it closed it's doors
And today in 1877 marked the last battle Crazy Horse and his Lakota warriors fought against the United States at Wolf Mountain in Montana. After Custer's defeat at Little Big Horn, some of the Lakota fought on. Crazy Horse and others wanted peace, but were pursued. While this battle was militarily a draw it led to the defeat of the Lakotas, and Crazy Horse led his people to reservation by May.
It's the birthday of an important Marylander: John Carroll. He was the first Roman Catholic bishop in the United States and was the only Catholic signer of the Declaration of Independence. He was a Jesuit and became a US Senator, and he tried to bring understanding between Protestants and Catholics. He never had the courage to stand against slavery, although he opposed it.
And this was the very sad and tragic day that shocked America in 2011 when Arizona Congresswoman Gabrielle Giffords and 6 other people were killed and 13 others injured, during an assassination attempt and mass shooting in Casa Adobes, Arizona, outside of a Safeway grocery store.
Here's a song and for us to think about as we go about our days on this January the 8th. It's a song by a group that we all know about: The Beatles. It's called "Norwegian Wood" and was from their album Rubber Soul. That album hit number one on this day in 1966.
(The Beatles – Norwegian Wood)
To continue your exploration of This Day In History, visit steinershow.org for resources. Thanks for listening.
To continue your exploration of this day in history, take a look at some of our favorite sources: Charles H. Wright Museum: Today in Black History; African American Registry; BlackPast; NYTimes on this Day; EyewitnessToHistory.com; The Civil War Trust; Voices in Labor: Today in Labor History; Union Communication Services at The Worker Institute: Today in Labor History; BBC On This Day; The Holocaust History Project; PBS African American World; PBS; Today in Women's History; South African History Online; This Day In North American Indian History; Jewish Virtual Library; The People History; Wikipedia List of Historical Anniversaries; Yenoba; and This Day in Music