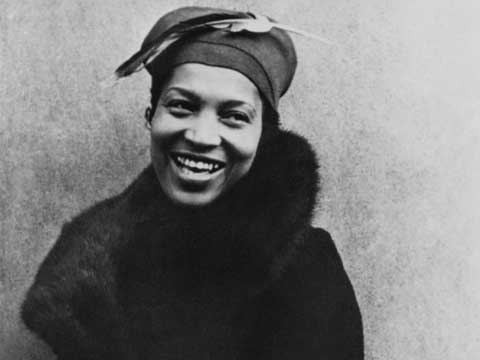 Podcast: Play in new window | Download
Subscribe: RSS
January 7, 2014 – Segment 1
Marc looks back at some of the events that happened today in history, including the day W. B. Purvis patented the Fountain Pen, the birthday of Zora Neale Hurston, and the day The Weekly Advocate, the second major Black newspaper in America, was established.
HOLIDAYS
Distaff Day, also called Roc Day, is 7 January, the day after the feast of the Epiphany. It is also known as Saint Distaff's Day, one of the many unofficial holidays in Catholic nations. Many St. Distaff's Day gatherings were held, large and small, throughout local fiber community. The distaff, or rock, used in spinning was the medieval symbol of women's work. In many European cultural traditions, women resumed their household work after the twelve days of Christmas. Women of all classes would spend their evenings spinning on the wheel. During the day, they would carry a drop spindle with them. Spinning was the only means of turning raw wool, cotton or flax into thread, which could then be woven into cloth.
The Festival of Seven Herbs is the long-standing Japanese custom of eating seven-herb rice porridge (nanakusa-gayu) on January 7. The seventh of the first month has been an important Japanese festival since ancient times. The custom of eating nanakusa-gayu on this day, to bring longevity and health, developed in Japan from a similar ancient Chinese custom, intended to ward off evil. Since there is little green at that time of the year, the young green herbs bring color to the table and eating them suits the spirit of the New Year.
Pioneers Day (controversial) Liberia – Commemorates the first Americo-Liberians to arrive in 1820 with the help of the American Colonization Society. Pioneers Day is controversial because of the historically tense relationship between the so-called "Congoes" (Americo-Liberians, who are 2.5 – 5 percent of Liberia's total population of 3.5 million) and "country people" (indigenous Liberians)The way they celebrate this is music, dancing, and singing spiritual songs.[2][3]
Victory From Genocide Day in Cambodia – This national holiday was established to commemorate the end of the Khmer Rouge regime in 1979
EVENTS
1610 – Galileo Galilei makes his first observation of the four Galilean moons: Ganymede, Callisto, Io and Europa, although he is not able distinguish the last two until the following day.
1782 – The first American commercial bank, the Bank of North America, opens.
1785 – Frenchman Jean-Pierre Blanchard and American John Jeffries travel from Dover, England, to Calais, France, in a gas balloon.
1802: President Thomas Jefferson believes that the Indians have more land than they need. He feels that if they become indebted at the government trade houses, they will sell their lands to pay the debts. He has also voiced the opinion that if they become farmers, they will need less land. Today, he will address the WEA, POTAWATOMI, and MIAMI Indians on that latter issues. He extols the virtues of renewable food and clothing supplies. "We will with pleasure furnish you with implements for the most necessary arts, and with persons who may instruct you how to make and use them."
1806: Black Fox (Inali) is the Principal Chief of the CHEROKEEs and a signatory to the treaty. He will receive $100 a year, as a part of the treaty. The CHEROKEEs will cede almost 7,000 square miles, in Tennessee and Alabama under this agreement. The treaty will be repudiated by most CHEROKEEs. Lands given away will include the Great Island of the Holston River.
1837 – The Weekly Advocate, the second major Black newspaper in America, was established in New York by Philip A. Bell
1840 – Joseph Cinque and slaves who seized the slave ship Amistad and killed its captain and most of its crew were tried for murder and mutiny in New Haven, CT, beginning on this date in 1840.  The court found that they had the right to resist slavery.
1890 – W. B. Purvis, inventor, patented the Fountain Pen on this date
1892 – An explosion at Osage Coal and Mining Company's Mine Number 11 near Krebs, Okla., kills 100, injures 150 when an untrained worker accidentally sets off a stash of explosives
1894 – William Kennedy Dickson receives a patent for motion picture film.
1919 – Montenegrin guerrilla fighters rebel against the planned annexation of Montenegro by Serbia, but fail.
1920 – The New York State Assembly refuses to seat five duly elected Socialist assemblymen.
1931: the Committee for Unemployment Relief announced some 4 to 5 million Americans were unemployed. The Depression continued to grow worse, and by 1932, some 13 million Americans were without jobs.
1935 – Benito Mussolini and French Foreign minister Pierre Laval sign the Franco-Italian Agreement.
1939 – Wobbly Tom Mooney, accused of a murder by bombing in San Francisco, pardoned and freed after 22 years in San Quentin
1943 – World War II: North Africa – Oum-el-Araneb, the main Axis base in south Libya, is captured by General Philippe Leclerc's Free French troops.
1948 – Kentucky Air National Guard pilot Thomas Mantell crashes while in pursuit of a supposed UFO.
1948 – Ralph Bunche, acting United Nations (UN) Mediator in Palestine, announced a cease-fire in the Palestinian/Israeli conflict
1950 Ernest Tubb made his debut appearance at "The Grand Ole Opry" in Nashville, TN.
1953: President Harry Truman announced the U.S. has developed a hydrogen bomb (H-Bomb). He made this announcement in his final State of the Union Address.
1955 – Marian Anderson became the first Black person to appear at the Metropolitan Opera House while playing "Ulrica" in Verdi's Masked Ball. She sang before a crowd of more than 75,000 people and a radio audience in the millions. One of the 20th century's best-known notable African American women, opera singer (contralto) Marian Anderson's career was shadowed by racial prejudice, including the infamous incident in 1937 when the DAR refused to let her sing at Constitution Hall in Washington, DC — and First Lady Eleanor Roosevelt arranged for her to sing on the Washington Mall, instead.
1959 – The United States recognizes the new Cuban government of Fidel Castro.
1963: An Iowan Representative was reported on this date to have proposed to have the secret voting policy changed. If this policy is amended, this area's house sifting and steering committees would be required to make a public record of how each member would vote on each bill.
1976 – Dr. Mary Frances Berry was named Chancellor of the University of Colorado on this date in 1976-the first woman to serve as Chancellor of a large research university.
1976: A British naval frigate has been involved in a collision with an Icelandic gunboat inside the 200 mile exclusion zone for foreign trawlers Iceland is enforcing. This was known as the cod war with both sides claiming different legal rights. Britain says Iceland has no right to unilaterally enforce a 200-mile limit until it becomes law, and Iceland is saying that says it is applying the 200 mile fishery limit agreed by over 100 nations, including Britain, at the 1974 Law of the Sea Conference.
1977, Andy Gibb was at No.1 on the US singles chart with 'I Just Want To Be Your Everything' a song written by his Bee Gee brother Barry.
1979: Vietnamese troops seize the Cambodian capital of Phnom Penh, toppling the brutal regime of Pol Pot and his Khmer Rouge
1979 – Andrew Jackson Young received the 63rd NAACP Spingarn Medal on this date in 1979 for his work with the UN, for his exemplary service as a U.S. Congressman, and for his uncompromising activism in the Civil Rights Movement.
1980: The people of India have voted Indira Gandhi back into power with a landslide majority.
1985 – In a 6 to 3 decision, the Supreme Court upheld the use of Affirmative Action
1987 – The British army suggests that 600 troops returning from tour in Kenya should take an AIDS test.
1990: The Leaning Tower of Pisa has been closed to the public for the first time in 800 years due to fears the tower may topple over, The tilt is currently 16ft off the perpendicular and increases by about one-twelfth of an inch every year .
1991 – Roger Lafontant, former leader of the Tonton Macoute in Haiti under François Duvalier, attempts a coup d'état, which ends in his arrest.
1999 : On this day in 1999, a trial for the impeachment of President Clinton was started. He was originally accused of lying under oath and obstructing justice. Later on, was also charge of actions such as witness tampering and abuse of power. Clinton was also at one time sued for sexual harassment charges by Paula Jones. He was also accused of having relations with Ms. Monica Lewinsky. He denied the affair with Ms. Lewinsky at first and then later admitted to explicit details of a relationship with her.
2006 : Tom DeLay steps down as House majority leader following newspaper articles and possible charges of corruption
2009 – The presidents of 12 of the nation's largest unions meet and call for reuniting the American labor movement, which split into two factions in 2005 when seven unions left the AFL-CIO and formed a rival federation. The meeting followed signals from President-elect Barack Obama that he would prefer dealing with a united movement, rather than a fractured one that often had two competing voices. Unions from both sides of the split participated in the meeting. The reunification effort failed.
2010 – Muslim gunmen in Egypt open fire on a crowd of Coptic Christians, killing eight of them and one Muslim bystander.
2011 :  In the Islamic-controlled town of Jowhar, Somalia, men and women are banned from shaking hands with each other. The Islamic group al-Shabab also banned women and men from walking with each other or talking to each other in public unless they are related.
2013 : A missing Henri Matisse painting titled Le Jardin, stolen from the Museum of Modern Art in Stockholm in 1987, was found by an art recovery specialist who successfully negotiated the return of the painting.
BIRTHS
1800 – MILLARD FILLMORE – The 13th president of the United States and the last Whig to be president who entered office upon the death of his predecessor, Zachary Taylor.
1837 – THOMAS HENRY ISMAY – Founder of the Ocean Steam Navigation Company, better known as the White Star Line, famous for its ocean liner, the RMS Titanic.
1901 – Zora Neale Hurston, writer, was born in Eatonville, FL, on this date in 1901.  Hurston, who wrote Their Eyes Were Watching God, is widely known for her contribution to the "Harlem Renaissance."
1908 – Red Allen, American trumpet player (d. 1967)
1911 – BUTTERFLY MCQUEEN – Actress who played Prissy, Scarlett O'Hara's maid, in the classic film, Gone with the Wind.
1912 – CHARLES ADDAMS – Creator of The Addams Family, a popular cartoon that spawned movies, musicals, and tv shows. In 1961, he received an Edgar Award from the Mystery Writers of America.
1913 – JOHNNY MIZE – Ten-time All-Star who hit 359 home runs during his fifteen-year career.
1922 – JEAN PIERRE RAMPAL – Innovative jazz/classical flute player who brought the flute back into popularity during the 1960's and 70's.
1928 – WILLIAM PETER BLATTY – Bestselling author of The Exorcist, which was then made into a successful cult film in 1973, three years after the novel's publication.
1937, Born on this day, Paul Revere, keyboards, Paul Revere and the Raiders, (1971 US No.1 single 'Indian Reservation', plus 14 other US Top 30 hit singles.
1941 – Colonel Fredrick Drew Gregory, nephew of Dr. Charles Richard Drew and the first Black astronaut commander of the Space Shuttle, was born
1942, Born on this day, Danny Williams, singer, (1961 UK No. 1 'Moon River', the Oscar-winning song was from the film Breakfast At Tiffany's).
1946, Born on this day, Andy Brown, drums, The Fortunes, (1965 UK No.2 & US No.7 single 'You've Got Your Troubles').
1948, Born on this day, Kenny Loggins, singer, songwriter, (one half of Loggins & Messina 1971-76), 1984 US No.1 & UK No. 6 single 'Footlose' from the film of the same name.
1959, Born on this day, Kathy Valentine, bass, The Go- Go's, (1982 US No.2 single 'We Got The Beat', 1982 UK No.47 single 'Our Lips Our Sealed').
1962, Born on this day, Taja Sevelle, (real name Nancy Richardson), US singer, she started recording at age 15 in 1987. (1988 UK No.7 single 'Love Is Contagious').
DEATHS
1964, Harmonica player Cyril Davies died of leukaemia died aged 32. Davies was a driving force in the early 60's blues movement forming Blues Incorporated with Alexis Korner.
1989: Showa Tenno Hirohito died today after serving over 60 years as the Japanese Emperor. He served as ruler over the 124 monarch that has existed in Japan since the year 660 B.C.  Hirohito took the throne in 1928 after the death of his father. He was one of the longest-standing rulers of this country.
2004, Drummer John Guerin died of pneumonia aged 64. Worked with Joni Mitchell, Frank Zappa, Linda Rondstadt, Gram Parsons, Todd Rundgren. He also played on the original title tune for the television series Hawaii Five-O.
Sources: The People History; Wikipedia List of Historical Anniversaries; This Day in Women's History; This Day in Jewish History; This Day in African History;History.com; History Orb; Yenoba; Phil Konstantin's North American Indian History; and This Day in Music