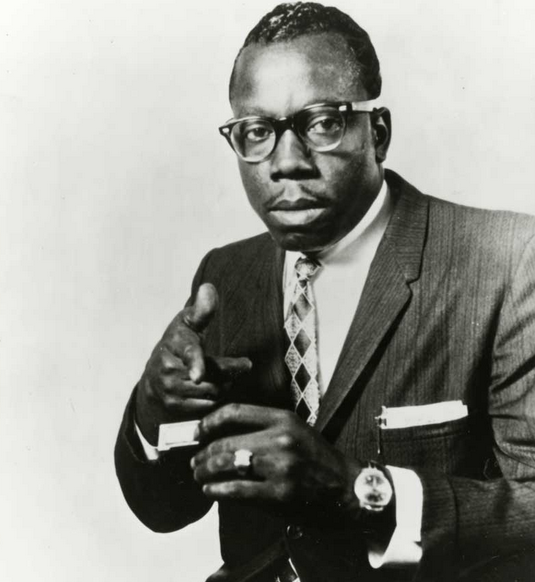 Podcast: Play in new window | Download
Subscribe: RSS
January 31, 2014 – Segment 1
Marc shares some of what happened on this day in history, including the day Congress passed the Thirteenth Amendment, the day James Baldwin's "The Fire Next Time" was published, and the day Slim Harpo died.
EVENTS
1606 – Gunpowder Plot: Guy Fawkes is executed for plotting against Parliament and King James.
1747 – The first venereal diseases clinic opens at London Lock Hospital.
1814 – Gervasio Antonio de Posadas becomes Supreme Director of Argentina.
1865 – Congress passed the Thirteenth Amendment which, on ratification, abolished slavery in America. The vote in the House was 121 to 24.
1865 – American Civil War: Confederate General Robert E. Lee becomes general-in-chief.
1929 – The Soviet Union exiles Leon Trotsky.
1930 – 3M begins marketing Scotch Tape.
1934 – Etta Moten sings for President and Mrs. Franklin D. Roosevelt at a White House Dinner. It is the first time an African American actress performs at the White House.
1938 – Some 12,000 pecan shellers in San Antonio, Texas—mostly Latino women—walk off their jobs at 400 factories in what was to become a three-month strike against wage cuts.  Strike leader Emma Tenayuca was eventually hounded out of the state
1940 – Ida M. Fuller is the first retiree to receive an old-age monthly benefit check under the new Social Security law.  She paid in $24.75 between 1937 and 1939 on an income of $2,484; her first check was for $22.54
1943 – World War II: German Field Marshal Friedrich Paulus surrenders to the Soviets at Stalingrad, followed 2 days later by the remainder of his Sixth Army, ending one of the war's fiercest battles.
1945 – US Army private Eddie Slovik is executed for desertion, the first such execution of an American soldier since the Civil War.
1945 – World War II: About 3,000 inmates from the Stutthof concentration camp are forcibly marched into the Baltic Sea at Palmnicken (now Yantarny, Russia) and executed.
1946 – Yugoslavia's new constitution, modeling that of the Soviet Union, establishes six constituent republics (Bosnia and Herzegovina, Croatia, Macedonia, Montenegro, Serbia and Slovenia).
1949 – These Are My Children, the first television daytime soap opera is broadcast by the NBC station in Chicago.
1950 – President Harry S. Truman announces a program to develop the hydrogen bomb.
1962 – Lt. Comdr. Samuel L. Gravely assumed command of destroyer escort, USS Falgout. Navy said he was the first Black to command a U.S. warship.
1963 – James Baldwin's influential collection of essays The Fire Next Time is published.
1968 – Viet Cong attack the United States embassy in Saigon, and other attacks, in the early morning hours, later grouped together as the Tet Offensive.
1968 – Nauru gains independence from Australia.
1971 – The Winter Soldier Investigation, organized by the Vietnam Veterans Against the War to publicize war crimes and atrocities by Americans and allies in Vietnam, begins in Detroit, Michigan.
1978 – After scoring successes with representation elections conducted under the protective oversight of the California Agricultural Labor Relations Board, the United Farm Workers of America officially ends its historic table grape, lettuce and wine boycotts
1990 – The first McDonald's in the Soviet Union opens in Moscow.
1995 – President Bill Clinton authorizes a $20 billion loan to Mexico to stabilize its economy.
1996 – An explosives-filled truck rams into the gates of the Central Bank of Sri Lanka in Colombo, Sri Lanka killing at least 86 and injuring 1,400.
1988 – Washington Redskins quarterback Doug Williams, the first African American quarterback to play in a Super Bowl game, is named MVP in Super Bowl XXII.
2002 – Union and student pressure forces Harvard University to adopt new labor policies raising wages for lowest-paid workers
2005 – Five months after Hurricane Katrina, the New Orleans school board fires every teacher in the district in what the United Teachers of New Orleans sees as an effort to break the union and privatize the school system
2009 – In Kenya, at least 113 people are killed and over 200 injured following an oil spillage ignition in Molo, days after a massive fire at a Nakumatt supermarket in Nairobi killed at least 25 people.
2010 – Avatar becomes the first film to gross over $2 billion worldwide.
2011 – A winter storm hits North America for the second time in the same month, causing $1.8 billion in damage across the United States and Canada and killing 24 people.
2013 – An explosion at the Pemex Executive Tower in Mexico City kills at least 33 people and injures more than 100.
BIRTHS
1872 – Zane Grey, American author (d. 1939)
1894 – Isham Jones, American saxophonist, bandleader, and composer (d. 1956)
1902 – Tallulah Bankhead, American actress (d. 1968)
1905 – John O'Hara, American author (d. 1970)
1914 – Boxer Jersey Joe Walcott born
1915 – Alan Lomax, American historian, author, and scholar (d. 2002)
1915 – Thomas Merton, American monk and author (d. 1968)
1919 – Jackie Robinson, American baseball player (d. 1972)
1921 – Carol Channing, American actress and singer 1923 – Norman Mailer, American author and journalist (d. 2007)
1935 – Kenzaburō Ōe, Japanese author, Nobel Prize laureate
1937 – Philip Glass, American composer
1941 – Dick Gephardt, American politician 1942 – Derek Jarman, English director and author (d. 1994)
1949 – Ken Wilber, American author
1956 – John Lydon, English singer-songwriter (Sex Pistols and Public Image Ltd)
1960 – Grant Morrison, Scottish author and screenwriter
1981 – Justin Timberlake, American singer-songwriter, dancer, and actor ('N Sync)
DEATHS
1956 – A. A. Milne, English author (b. 1882)
1970 – Slim Harpo, American singer and harmonica player (b. 1924)
1974 – Samuel Goldwyn, Polish-American film producer (b. 1882)
2007 – Molly Ivins, American columnist and author (b. 1944)
Sources: The People History; Wikipedia List of Historical Anniversaries; This Day in Women's History; This Day in African History;History.com; History Orb; Yenoba; Selected Black Facts; Phil Konstantin's North American Indian History; and This Day in Music