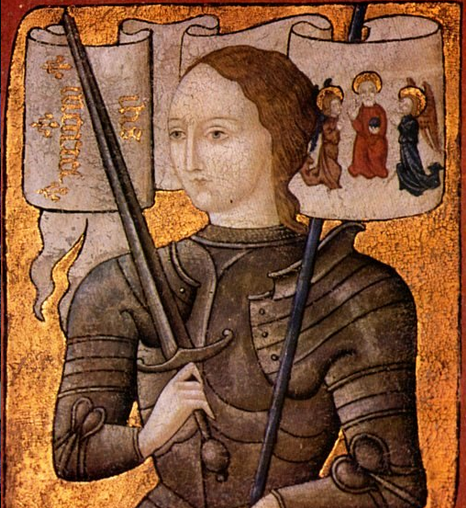 Podcast: Play in new window | Download
Subscribe: RSS
January 3, 2014 – Segment 1
Marc shares some of what happened on this day in history, including the point in the year when the Earth is closest to the Sun, the day Joan of Arc was handed over to Bishop Pierre Cauchon, and the day Stephen Austin received a grant of land in Texas from Mexico.
Holidays
Perihelion, the point in the year when the Earth is closest to the Sun, occurs around this date.
Events
1431 – Joan of Arc is handed over to Bishop Pierre Cauchon.

1541: On this date, de Soto visits the main CHICKASAW town. He wants to visit Caluca, and he gets guides and interpreters from the CHICKASAW.

1653 – By the Coonan Cross Oath, the Eastern Church in India cuts itself off from colonial Portuguese tutelage.

1749 – Benning Wentworth issues the first of the New Hampshire Grants, leading to the establishment of Vermont.

1823 – Stephen F. Austin receives a grant of land in Texas from the government of Mexico.

1848 – Joseph Jenkins Roberts is sworn in as the first president of the independent African Liberia.

1852: The ship Thetis arrives in Hawaii with 175 Chinese field workers bound to serve for five years at $3 per month

1861 – American Civil War: Delaware votes not to secede from the United States.

1870 : Construction work begins on the Brooklyn Bridge one of the oldest suspension bridges in the United States connecting the boroughs of Manhattan and Brooklyn by spanning the East River.

1879: U.S.Army Captain Henry Wessells at Fort Robinson, in northwestern Nebraska, receives orders from General Sheridan and Secretary of the Interior Carl Schurz which states that Dull Knife and his CHEYENNEs return to their reservation.

1917: Wobbly Tom Mooney tried in San Francisco for Preparedness Day bombing

1919 – At the Paris Peace Conference, Emir Faisal I of Iraq signs an agreement with Zionist leader Chaim Weizmann on the development of a Jewish homeland in Palestine and an Arab nation in a large part of the Middle East.

1924 : A precious treasure was found located near Luxor, Egypt, where King Tut's tomb was discovered two years prior. This special object was a stone sarcophagus, which contained a mummy inside of Pharaoh Tutankhamen of Egypt.

1925 : Following his election as the Italian leader in 1922 Benito Mussolini the leader of the National Fascist Party in 1925 he declares he is taking dictatorial powers over Italy ending elections

1931: In a familiar scene during the Great Depression, some 500 farmers, black and white, their crops ruined by a long drought, march into downtown England, Ark., to demand food for their starving families, warning they would take it by force if necessary. Town fathers frantically contacted the Red Cross; each family went home with two weeks' rations

1932 – Martial law is declared in Honduras to stop a revolt by banana workers fired by the United Fruit Company.

1933 – Minnie D. Craig becomes the first female elected as Speaker of the North Dakota House of Representatives, the first female to hold a Speaker position anywhere in the United States.

1935: Ethiopia asks League of Nations to guarantee peace with Italy.

1940 : Charlie Barnet and his Orchestra records the would-be hit "Southland Shuffle" for Bluebird Records. The famed Billy May was featured as the trumpet player on the album

1941: WWI – 5,000 Prisoners are taken by Australian troops during a major assault on Italian forces at Bardia.

1947: The NAACP report issued on this date in 1947 called 1946 "one of the grimmest years" in NAACP history. The report blasted the nation's lack of response to the wave of lynchings and reports of horrendous crimes against Black veterans. There were reports of veterans murdered with blowtorches and having their eyes gouged out.

1949 : The Colgate Theatre was born, and a series of productions entitled by the same name (Colgate Theatre) were put on. Television adaptations of radio shows such as Vic and Sade and Mr. and Mrs. North were also created. Colgate Theatre is located on the Colgate University in Hamilton, New York. This company still puts on quite a few productions.

1949: The Supreme Court rules against the closed shop, a labor-management agreement that only union members can be hired and must remain members to continue on the job

1953 – Frances P. Bolton and her son, Oliver from Ohio, become the first mother and son to serve simultaneously in the U.S. Congress.

1959 : Alaska became the 49th state of the United States of America. A new U.S. flag of 13 stripes and 39 stars waved in the air.

1959 – Separatists in the Maldives declare the establishment of the United Suvadive Republic.

1961 : The relationship between United States and Cuba rapidly deteriorated and President Dwight D. Eisenhower closed the American Embassy that was located in Havana, Cuba. No longer did the United States and Cuba have diplomatic relations.

1961: Adam Clayton Powell, Jr. was elected Chairman of the House Education and Labor Committee

1962 : Prime Minister , the leader of Cuba at this time, was excommunicated from the Catholic Church. Other official leaders of Cuba's communist regime of this time were thrown out as well. He was thrown out for violating a large number of the Roman Catholic Church's Code of Canon Law.

1965 : Thousands of antigovernment demonstrators in Saigon clash with government marines and police over concern that American influence in South Vietnam was increasing.

1966: North Carolina attorney, Floyd B. McKissick, was named National Director of the Congress of Racial Equality (CORE)

1966: Robert C. Henry assumed the office of mayor of Springfield, OH. Henry was Ohio's first Black mayor.

1969: After being re-elected to a second term, Rep. Adam Clayton Powell, Jr. was seated by Congress

1969 : A new album by John Lennon called Two Virgins featuring John Lennon and Yoko Ono in the nude are confiscated at Newark Airport and are not allowed to be sold in the US , also vice squad officers closed down a record store in Chicago displaying the Album due to it being considered pornographic

1971: Cave paintings, dated to 6,000 BC, are discovered in the Uweinat Mountains, Egypt.

1976 – The International Covenant on Economic, Social and Cultural Rights comes into effect.

1977 : Apple Computer is incorporated 6 months after Apple had begun selling it's Apple I personal computer kit for $666.66 created by Steve Jobs and Steve Wozniak.

1980 : The new president of Afghanistan leader defends the Soviet invasion and coup last week stating Soviet troops are defending his country "against outside threats".

1981: AFL-CIO American Institute for Free Labor Development employees Mike Hammer and Mark Pearlman are assassinated in El Salvador along with a Peasant Workers' Union leader with whom they were working on a land reform program

1984: The Rev. Jesse Jackson secured the release of Black Navy Lieutenant Robert Goodman on this date in 1984. One month earlier, Goodman was shot down over Damascus, Syria, and was held hostage.

1985: Leontyne Price, world-renowned opera singer, made her historic last performance at the Metropolitan Opera as "Aida"

1993 : US President George Bush, and Russian Boris Yeltsin, have signed the second Strategic Arms Reduction Treaty Start II – in Moscow which will cut the number of nuclear warheads they have by between 3,000 and 3,500.

1994 – More than seven million people from the former Apartheid Homelands, receive South African citizenship.

1999 – Israel detains, and later expels, 14 members of Concerned Christians.

2008: Barack Obama won the Iowa caucus

2009 : Following the US government loan to GM Chrysler recieves $4bn loan to stop the company being forced into bankrupcy

2013 : Batasuna, the Basque nationalist party has announce that it would shut down operation in the country of France. The party was banned from Spain in 2003.
Births
1793 – Lucretia Mott, American activist (d. 1880)

1887 – Helen Parkhurst, American educator and author (d. 1973)

1892 – J. R. R. Tolkien, English philologist and author (d. 1973)

1934 – Carla Anderson Hills, American lawyer and civil servant

1945 – Stephen Stills, American singer-songwriter, musician, and producer (Buffalo Springfield, Crosby, Stills, Nash & Young and Manassas)

1946 – John Paul Jones, English bass player, songwriter, and producer (Led Zeppelin and Them Crooked Vultures)

1946 – Cissy King, American singer and dancer

1947 – Zulema, American singer-songwriter (Faith Hope and Charity) (d. 2013)

1954 – Ross the Boss, American guitarist and songwriter (The Dictators, Manowar, and Manitoba's Wild Kingdom)
Sources: The People History; Wikipedia List of Historical Anniversaries; This Day in Women's History; This Day in Jewish History; This Day in African History;History.com; History Orb; Yenoba; Phil Konstantin's North American Indian History; and This Day in Music